The definition of a hero is a mythological or legendary figure of great strength or ability. I believe that a remarkable leader who possesses these qualities is Henry Louis "Hank" Aaron. Sacrifice, perseverance, dedication, and courage are a selection of his finest qualities. Hank sacrificed his schooling to better himself and his family by joining the Indianapolis Clowns of the Negro Leagues. His courage was exemplified at both the beginning and end of his career. After being recruited by the Braves in 1952, Hank was assigned to the Eau Claire Bears, a team that traveled throughout the Midwest. During the team's many bus trips, Hank encountered racism at truck stops, motels, restaurants and at the games. Aaron's diligence and positive attitude towards his teammates, coaches, family and friends defined his personality and reputation. Hank's perseverance and tireless work ethic lead to the glory that would ultimately culminate in the pinnacle of his career. Aaron played baseball in a bygone era where players began and ended their careers on the same team. His loyalty to the Braves and dedication to the game itself resulted in a sequence of events in baseball records that formed the foundation of the legendary status he holds today.
Henry Louis Aaron was born on February 5, 1932 and raised in a segregated section of Mobile, Alabama. Being one of seven children, the family lived without plumbing or electricity. His father worked at the local Alabama Dry Dock and Shipbuilding Company. His occupation was steady and worthwhile, despite the racial slurs and abuse he endured. Over the next several years, Hank would encounter similar forms of racial discrimination and abuse. Young Henry was a noted baseball player from early on and dreamed of playing professional baseball. Determined to become a greater athlete, Hank devoted his afternoons to baseball. His parents strongly encouraged him to immerse himself in his athletic interests by enrolling him in local amateur and semi-pro leagues. When Jackie Robinson broke the color barrier in 1947 by joining the Brooklyn Dodgers, professional baseball slowly began to integrate African-Americans. After a short stint in the minor leagues, Hank rose to the major leagues and his career skyrocketed.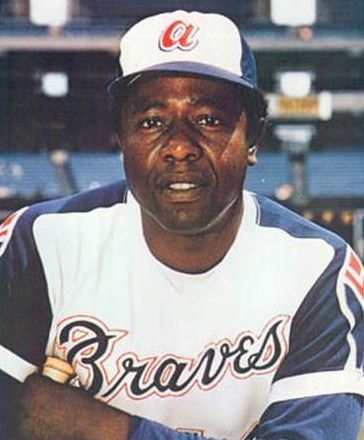 Hank AaronTexas Rangers via tradingcarddb.com [Public domain] via Wikimedia Commons
Hank Aaron, who recently turned seventy-seven, lives in Atlanta, Georgia and serves as the senior vice president for the Braves. Like many of the other Milwaukee Braves, Hank became a heroic role model for children of all ages, particularly those who played baseball. An entire generation of baseball fans recognized that if Hank could rise from poverty to stardom, so could they. His love for the game became an inspiration for baseball fans of all ages in Milwaukee, the Midwest and the Nation. After the 1974 season, Aaron left the Braves and played two seasons as the designated hitter for the Milwaukee Brewers. At the time of his retirement, the forty-two-year-old veteran had raised his all-time homer output to 755. After leaving the Brewers in 1976, Aaron became a vice president and director of player development for the Braves, where he scouted new team prospects and oversaw the coaching of minor leaguers. His overall efforts contributed toward making the Braves one of the strongest teams in the National League. Aaron was voted into the Baseball Hall of Fame at Cooperstown, New York in 1982 and in 1997 Hank Aaron Stadium in Mobile was dedicated to him. Henry's dedication to the game, loyalty to the Braves, athletic skills and plethora of baseball records, some of which still stand today, have all built a legacy that will remain unparalleled for many years to come.
My Hero suggested viewing: Hank Aaron - Baseball Player & Civil Rights Activist | Mini Bio .
From Biography.com
I believe Hank Aaron displays an abundant amount of qualities that define his charismatic attitude. A hero is a person of distinguished courage or ability and is admired for their gallant deeds and noble instincts. Aaron displayed courage throughout his entire career. The abuse he endured required a substantial amount of courage. His greatest deed was being a highly principled role model for children, young men and adults. Hank holds many baseball records, several of which are still intact. Aaron's dignified approach to the game, those around him and life itself embodies the definition of a true hero.
In conclusion, Henry Louis Aaron is an ideal role model for children who love the game of baseball. Hank possesses many qualities that qualify him as a hero. Sacrifice, perseverance, dedication and courage personify his personality and reputation. Ranging from his schooling to the abuse he incurred as a professional athlete, Hank Aaron was an example of a genuine sports hero. Truth be told, I believe Hank Aaron is the type of person that would have become a hero in any walk of life.
Page created on 7/10/2013 10:51:55 AM
Last edited 2/9/2021 9:21:02 PM