Shahzad Ismaily leans on conga drums in his Figure 8 Studio, which he designed, on Feb. 10, 2023, in New York. He is a largely self-taught musician who plays many instruments. Melanie Stetson Freeman/Staff
March 30, 2023
Many people have probably never heard of Shahzad Ismaily. But for a number of high-profile songwriters, the veteran musician and producer has become what pop star Feist calls "a secret weapon."
In a recording studio, Mr. Ismaily is renowned for being able to play just about any instrument in any number of genres. He is in demand as a collaborator, and is a member of a cross-genre experimental jazz trio with a well-reviewed new release. Even so, perhaps his rarest gift is teaching artists how to reach a higher plane of creativity. As Mr. Ismaily puts it, he's a music doula.
"He's the most remarkable musician I think I've ever come in contact with in that sense that it's like he's communing with the spirit of music," says Leslie Feist, who records under her last name.
Mr. Ismaily is also a consummate networker. Not out of careerism – he hadn't even heard Feist's 2007 hit "1234" when they first met at a festival in Berlin – but out of innate curiosity. "I saw that she was reading a recent translation of 'The Odyssey' by Emily Wilson, which is, I think, the first time it was translated by a woman," he says.
He invited Feist, who likened "Odyssey" passages to lyrics, to bring the book to a rehearsal room for a jam session. He recalls that his proposal to her was: "We improvise. You open the book, grab a sentence, and deliver it however you want to – melody, no melody, spoken, sung. You just drop it into the sound."
Mr. Ismaily's session with the songwriter (more on that later) exemplifies how he generates musical ideas. When the Monitor recently visited his Brooklyn recording studio, he explained that when you're immersed in the channel of flowing improvisation, "things are taking place so quickly, so coincidentally, so unnervingly right that you start to think that the choices that are coming to you to make are not yours. They're of an 'other' side."
The New York studio is designed to be a cocoon for creativity. Its paneled walls, made from reclaimed wood, glow with the warmth of a sunset. Guitars and basses hang on pegs. Next to an upright piano, its innards exposed to reveal felt hammers and strings, sits a slightly bruised drum kit. Mr. Ismaily provides a hypothetical example of how, if he's playing a rhythm in response to a guitar part, he tries to visualize what the music evokes.
"I decide, 'Okay, the song is about the ocean,'" says Mr. Ismaily. "I'm now going to specifically think about oceanic sounds. But from the drum set point of view. And then all of a sudden, something rich and more textured is happening. And then the songwriter, who has up until that point worked with many drummers for more standard viewpoints, is excited."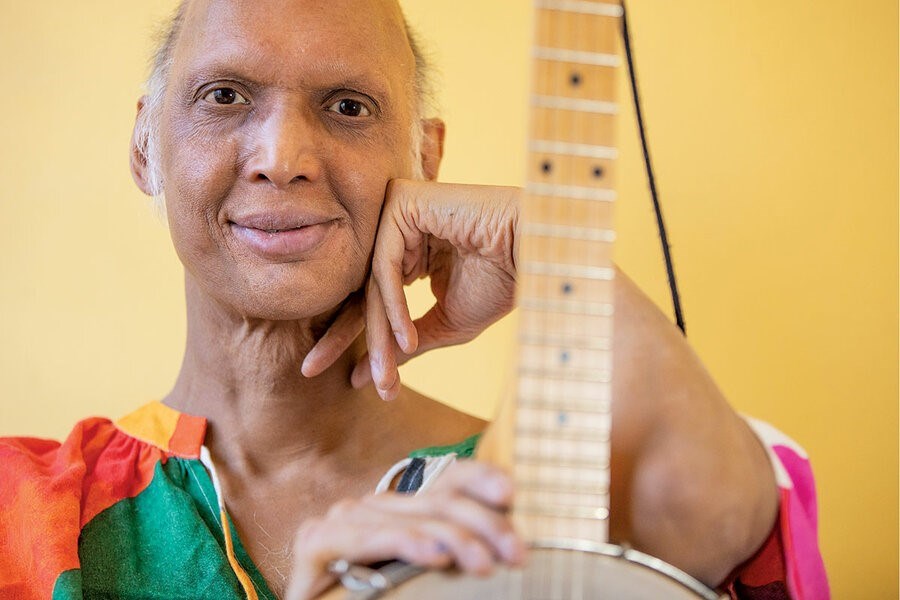 Melanie Stetson Freeman/StaffShahzad Ismaily, a multi-instrumentalist, is part of a successful jazz trio and has worked with artists ranging from Feist to Yoko Ono.
Songwriter Cass McCombs says in an interview that "a lot of rock music relies on these set rules and structural things that people have already established years and years ago." By contrast, when Mr. McCombs recruited Mr. Ismaily to play on his 2022 album "Heartmind," he witnessed the form "being created, like, right in front of your face."
Mr. Ismaily's quest is to always ask himself, "What is the most unusual choice I can make right now?" That left-field sensibility stems from a lesson he learned during his childhood. As the son of Pakistani immigrants in a small Philadelphia town, he realized he could either buy into the narrative of others – that he didn't belong and that there was something wrong with him – or he could choose his own story. "Your unusualness is also your empowered space," says Mr. Ismaily, sitting at a control room recording console. "It's also your beauty."
He spent years playing nightly gigs in New York with anyone who'd have him. That led to opportunities to work with veteran musicians such as Damien Rice and Yoko Ono, and, more recently, English folk and electronica artist Beth Orton and American singer-songwriter Laura Veirs. Lately, his reputation has attained critical mass among a younger cohort of adventurous indie songwriters.
Grammy Award-winning artist Arooj Aftab sought him out for her breakout 2021 solo album, "Vulture Prince." The two musicians with a shared Pakistani heritage later formed a trio with jazz pianist and MacArthur "genius grant" recipient Vijay Iyer. Mr. Ismaily recalls that after his first gig with Ms. Aftab, she said he should come over to her place sometime and have a meal. The way she expressed the invitation left an impression on him.
"She was saying, 'To play music together is not simply to walk into a room and play a gig and then walk out of the room,'" says the lanky musician. "It is to be in community with one another. It is to care about each other's lives outside the momentary sphere of that sound."
In the trio, Mr. Ismaily's primary role is playing bass. The group's meditative soundscapes, a series of exploratory journeys into inner space, showcase Ms. Aftab's plaintive vocals in Urdu. Their well-reviewed debut album "Love in Exile," released in March, consists of spontaneous live performances.
Mr. Ismaily compares improvising music to witnessing how a doula assisted the birth of his young daughter, whom he co-parents with a former girlfriend. By making the space that you're in feel breathable, comfortable, and safe, one can more easily express one's vulnerabilities through song. In an email sent via her publicist, Ms. Aftab expresses wonder at how Mr. Ismaily is able to "channel the purest parts of a cruel world and make it into a self-restoring kind of story through music."
Mr. Ismaily describes being a music doula this way: "If I sit next to you and I'm purely nonjudgmental of what you say and what you do, and I hold you with a kind of unconditional love and acceptance, does that allow you to go one layer further toward the parts of yourself that you've held at arm's length?"
Which isn't to imply that Mr. Ismaily's oeuvre is somber. When Feist first jammed with him ahead of the 2018 People Festival in Germany, she connected with his playfulness. It tempered the intimidation she felt about improvising songs via selecting random "Odyssey" pages.
"In the end, it became such a powerful experience. I felt like a 15-year-old again, just at the very beginning of music, but on a whole other level," says the Canadian. "He kind of helped me turn a corner and arrive somewhere in my own relationship with what I've done for so long."
On her new album, "Multitudes," out this month, Feist invited Mr. Ismaily and bass player Gabe Noel to freely express themselves on top of the song structures she'd created. It resulted in songs that were more loosely knit and less confined than anything she'd previously created. Mr. Ismaily's contributions include a melancholy synth on the album closer, "Song for Sad Friends." It complemented Feist's lyric about how transformation often occurs after one hits rock bottom. "His pathos is really evident on how he played on that song," she says.
Mr. Ismaily is hoping to be a guest performer at a show on Feist's spring tour. Each time he first takes to the stage, the musician begins teasing out interesting chord patterns. He compares it to a prayer that's inviting the music in.
"What moves me is the idea that improvisers practice, and what they practice is the ability to let your guard down, either alone or with a group," he says. "[It's] the ability to move your ego to the right and listen beyond it for something that is eternal and that is eternally present."
Related stories