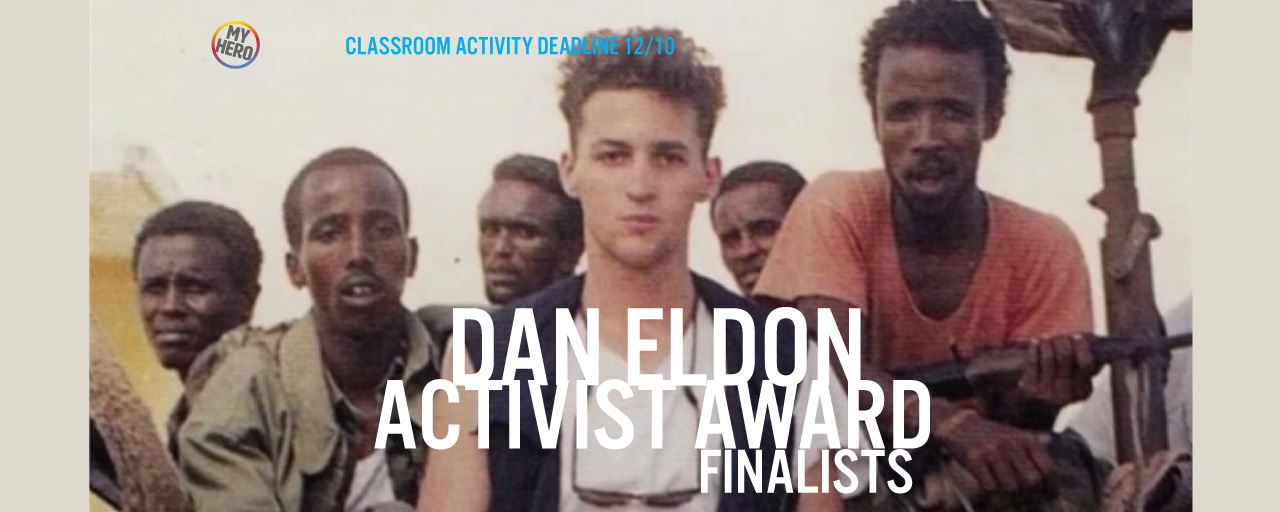 Dan Eldon Activist AwardMY HERO
CONTACT: WENDY MILETTE FOR IMMEDIATE RELEASE
Director
MY HERO International Film Festival
949-376-5964
[email protected]


CAST YOUR VOTE FOR THE 2019 DAN ELDON ACTIVIST AWARD
DECEMBER 4, 2019 - The finalists have been chosen for the 2019 Dan Eldon Activist Award and MY HERO wants your input in selecting the winning film. The Eldon Award is named for photojournalist Dan Eldon, who, at age 22, was killed on assignment in Somalia in 1993. His mother Kathy Eldon presents the award each year at the MY HERO International Film Festival. The award comes with a cash prize of $500 to support the efforts of filmmakers who call attention to activists working to improve the world.
The six finalist films feature activists who are making the world a better place. We invite you to watch the films, select your favorite, and make a suggestion to the judges using the link below.
Link to Dan Eldon Activist Award Ballot
Finalists include:
What If - a short documentary directed by Noah Berlow discusses the adverse effects of homelessness on children and explores potential solutions offered by the nonprofit Illumination Foundation, which is aimed at helping Orange County and other areas in Southern California.
Literacy for Environmental Justice: Cultivating Youth Leaders in Southeast San Francisco - a film by Kristin Tieche introduces new youth leaders of San Francisco's Bayview-Hunter's Point, an area that has been at the forefront of the environmental justice movement since the 1940s.
Words Have Power - directed and produced by Lynne Cherry, the film tells the story of 10-year-old Jaysa, who rallies her community with speeches about the rise in cases of asthma and suffering caused by the local power plant, culminating in the shutting down of the plant.
Truth to Power - the documentary produced and directed by John Antonelli shows the successful efforts of grassroots activists Makoma Lekalakala and Liz McDaid, who built a coalition to stop a secret nuclear deal between their South African government and Russia.
Defending the Deep - directed by Will Parrinello, the documentary chronicles ocean champion Claire Nouvian's advocacy campaign against destructive deep-sea bottom trawling, which pressured a French supermarket giant and fleet owner to alter its fishing practices.
Global Dance Heroes - Global Inspiration! - produced by The Global Dance Initiative, the film highlights two dance instructors, on opposite sides of the globe, whose programs teach ballet to those with Down syndrome.
Page created on 12/4/2019 12:00:00 PM
Last edited 12/6/2019 3:02:35 AM