by
Gareth P. Jones

from

Newport, Monmouthshire, UK

My hero is my best friend and assistance dog, a golden retriever aptly named Hero. We first met on an assessment day at Canine Partners for Independence, a small charity that trains dogs to help severely disabled people. I had been disabled (tetraplegic: i.e., all four limbs affected by paralysis) for five years at this point. My life had been very troubled and a constant struggle during those years, as Nicole (my partner) and family would testify!

Hero chose me to be his partner from a number of potential recipients. The C.P.I. training staff recognized his eagerness to work for me and saw how he would proudly sit by my side during breaks. I ended up being fast-tracked onto the next available recipient training course. Thankfully, I made the grade and passed on 3rd March 2000.

Since then Hero has been like my shadow; we're never apart. Before I had to have someone around all the time to assist me, but now I'm empowered and have my personal space once again. Hero is never put out when asked to do something, whether picking up objects I drop, opening or closing doors, helping me undress, or anything else.

Family and friends have said how much happier I am these days. When it struck me how little I was going out during the summer months, apart from visiting family and friends, Hero and I began to take many walks--- so many, in fact, that I achieved a most enviable suntan!

One of the most unfortunate side effects of my disability is what the medical profession call 'Root Pain'. Doctors are unable to control my pain, which I endure daily. On some days it incapacitates me to such a degree that I have to lie down. Hero understands this is a difficult time for me and lies beside me, at times with his chin resting upon my chest. Even if the whole day has passed without a walk, he knows this isn't the time to insist. He's just there for me.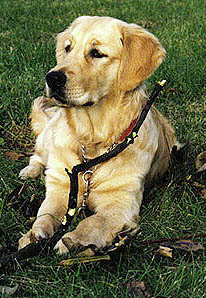 We walk regularly, down on the Caldicot Moors road. This road has no public vehicle access and is used by local farmers to gain access to the fields when needed. The rest of the time it's open to pedestrians and cyclists. While walking, I noticed one of the gates was open and thought it would make a welcome change for both of us. Hero and I entered and after a bit of fun we went to leave. But my electric wheelchair had other thoughts. It lost traction in the sodden ground. I thought it funny at first, until I realized I'd left my mobile phone at home. This is quite an isolated spot and I could expect a long wait. The rain clouds were moving in rapidly, so there wasn't likely to be any other dog walker to rescue me.
I looked at Hero, who was feeling pleased with himself for carrying a ball-on-a-rope. He offered it to me, and I realized he might be able to pull me out of the field. I hooked the handle of the ball-on-a-rope to my wheelchair and asked him to pull. At first he pulled gently, as he does due to my disability, but when he realized what was required, he pulled forcefully until I had traction closer to the road.
We may have missed the downpour that day, but we both ended up in the dog house when we got home. So pleased with our achievement and keen to tell Nicole of our little adventure, we both forgot Hero and my wheelchair were covered in mud! If Hero hadn't pulled me out of that field I wouldn't be here today. I owe my life to him.
Page created on 8/26/2010 9:21:57 AM
Last edited 3/1/2018 8:29:35 PM
Extra Info
Canine Partners for Independence is a British Charity which seeks to provide a better quality of life and more independence for disabled people by means of specially trained dogs such as Hero. For more information about this organization, or to find out how you can help, please visit their web site or write to Alistair Lang at:
or at:
Canine Partners for Independence, Unit E2
Brickyards, Steep Marsh
Petersfield, Hampshire
GU32 2BN
United Kingdom.