Every musician brings their own experience to a composer, says Simone Dinnerstein. A yearlong sabbatical helped her reinvent her musical voice.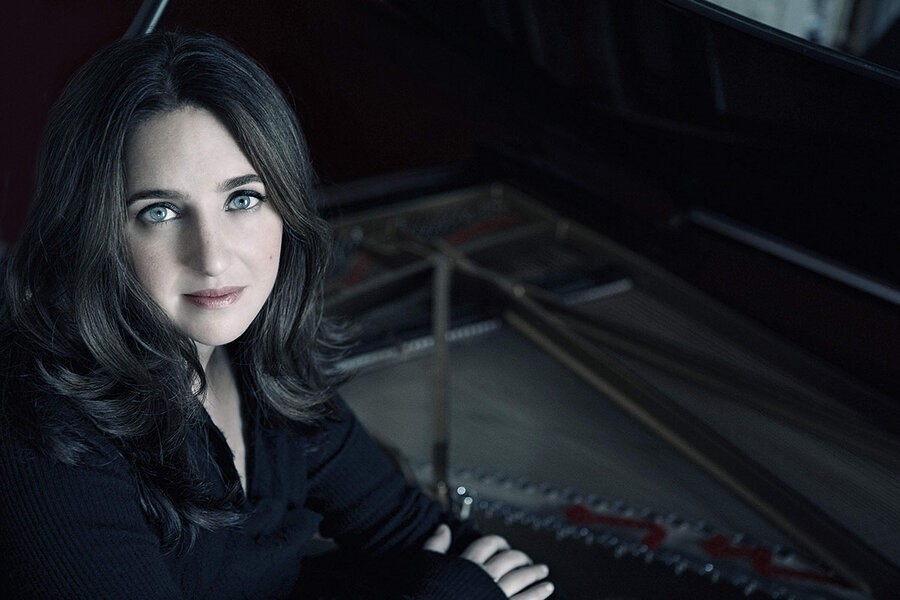 Classical pianist Simone Dinnerstein returns to the stage Sept. 23 at Emmanuel Music at Tufts University in Boston. Lisa-Marie Mazzucco/Jensen Artists
| BOSTON - How do you get to Carnegie Hall? Practice, practice, practice. In the case of classical pianist Simone Dinnerstein, you also spend thousands of dollars to rent a recital space at the famous landmark and invite classical music critics to your performance. That's how Ms. Dinnerstein got herself on the musical map with her 2005 recording of Johann Sebastian Bach's "Goldberg Variations." It paid off. The classical music world embraced the previously undiscovered talent. Her 2007 album topped Billboard's classical music album charts, as have 12 subsequent releases.
Ever searching for new creative projects, Ms. Dinnerstein has collaborated with visual artists, orchestras, and world-renowned musicians such as Renée Fleming and Philip Glass. The pianist also has her own ensemble, Baroklyn, which she directs from the keyboard.
Ms. Dinnerstein is returning to the stage following a yearlong sabbatical. On Sept. 23, she will perform in a concert presented by Emmanuel Music at Tufts University in Boston. The program will feature Bach's Keyboard Concerto in D minor, Mozart's Piano Concerto in C major, and Mr. Glass' "Tirol" Concerto for Piano and Orchestra. The performance will include visuals created by artist Laurie Olinder.
Ms. Dinnerstein recently spoke with the Monitor about her creative process. This interview has been edited and condensed for clarity.
Classical conservatories and orchestras are in a moment of redefining themselves to draw in new audiences. How has this impacted your own creative expression?
With classical music, there's this sense of an elitist feeling about it or a reputation that you have to be schooled in listening to it in order to enjoy it. What I've tried to do when I play in places where people may not normally be listening to classical music is I will talk to the audience before I play something about a couple of things that strike me about the music. ... Oftentimes, people find that really helpful because it gives them something to latch onto.
The recording that really made a huge impression on me was a recording of Jacques Loussier, the jazz pianist, with his trio playing the [Bach] "Goldberg Variations." ... [His] freedom of improvisation made me think that I needed to completely rethink how I was looking at the music. I had to be much more adventurous and think about how there are lots of different aspects to the music having to do with rhythm and with breathing, and how one would sing it. I stopped thinking about, "Oh, I shouldn't be playing ornaments this way because that's [not] what the scholars say." ... I have different associations with those kinds of rhythms than people would have had during [Bach's] time. ... The music lives right now.
How does collaborating with others enrich the understanding you bring to your own solo work?
The give and take between artists is not always done verbally. Sometimes there's something that happens that's just intuitive while you're playing, and then you realize that you just created something new together that neither one of you would have done separately.
Can you give me an example?
I worked with visual artist Laurie Olinder on a fabulous project together called "The Eye Is the First Circle." I used my [artist] father's [Simon Dinnerstein] "Fulbright Triptych" and Charles Ives, his "Concord" Sonata, to create a kind of narrative theater piece about my own origins as an artist. [Ms. Olinder] is a very visually oriented person. ... What I've found working with her is that I actually have a very strong visual sense, too, and I never realized how strong until I did that project.
I understand you're coming off a sabbatical year. What was the creative process like for you during that period?
At the very start of [my] sabbatical, I unexpectedly needed to have hand surgery, and so I wound up having three months when I couldn't play at all. My husband and I became members of the Metropolitan Museum, and we started going there once a week and really looking at art that we had never looked at before. And I started doing all sorts of interesting body work, like yoga and Pilates and breath work. I really explored other parts of myself that I hadn't done for a long time or ever. Once I started practicing again, I suddenly had very little time to learn all the repertoire that I had to learn for next season. It was almost like I went into a new phase of being a student again, except I was also the teacher of myself. I discovered all sorts of habits that I had that were so ridiculous, like a waste of time. I was like, why am I using those fingers [for that passage]? It doesn't make any sense. I just had never really taken the space to consider how I was doing everything.
How do you use creativity to deal with fear in performing or fear of making a mistake?
Sometimes something's happening in my life that is challenging – either personally, or there's something in the news that's been really upsetting, or a friend is having a hard time, or something that upsets me. What I have found is that I can often process that through music. Sometimes when I'm performing, these feelings I have apart from the piano, I take them to the performance. As long as I don't let them completely take over, I can really bring something different to a performance. Sometimes adversity outside of the concert hall can make the concert more intense. I'm always playing at different pianos, and sometimes I'll find an instrument [at a performance], and I am not feeling like we are friends. Sometimes those concerts are my best concerts. I have to figure out how to make that piano sing the way I want it to.
J.S. Bach is known for his sacred works, and yet today so few people seem drawn to church. What are the timeless elements of Bach that could be useful for this time?
All of Bach's music was sacred. Everything that he did was connected to his faith because that was the center of how he would have thought about the world. I am not a religious person, but I definitely feel that. ... I think there's more to [life] than just living each day one at a time and then we die. I think that there's some kind of unifying force or feeling or there is some beauty or awe of the world around us – the awe of nature and space and time and history and all these things that we can wonder at. I think that Bach's music accesses that.
What are you hoping audiences will take away from your upcoming concert?
I think that this concert is going to be very interesting because there are a few different new elements to it. It's unusual to have a concert that's only piano concertos. So having those three composers – Bach, Glass, and Mozart – three incredibly profound composers, there is no fluff in this program. Also, having Laurie Olinder's video will be fascinating. I have not collaborated with her on this. She's been given this project that she's doing entirely on her own, so it's going to be a complete surprise.
Related stories
Page created on 9/27/2023 11:11:17 AM
Last edited 11/1/2023 5:16:45 PM