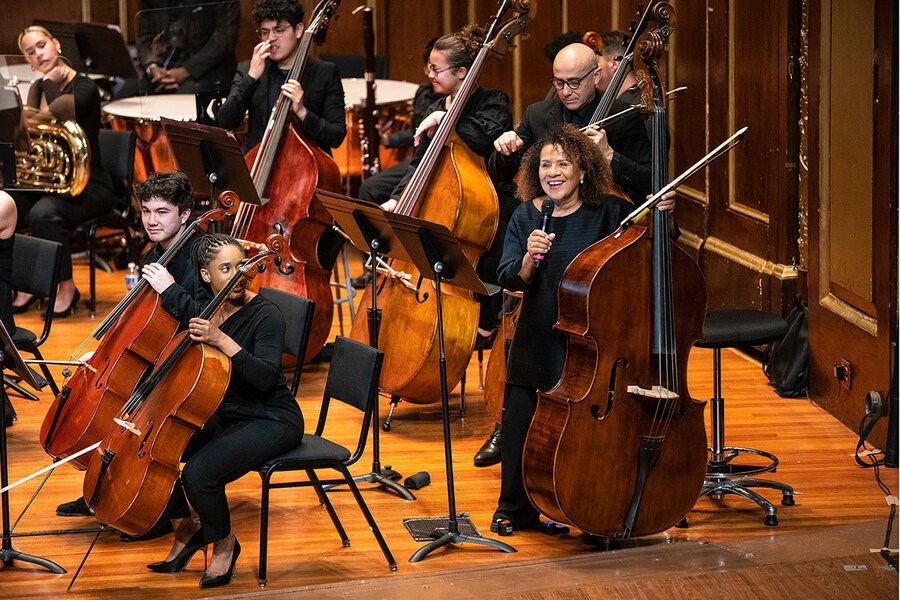 Chi-chi Nwanoku, principal double bass player and founder of Chineke!, talks about African American composer Florence Price at New England Conservatory's Jordan Hall in Boston, March 22, 2023. Robert Torres/Celebrity Series of Boston
July 13, 2023
Chi-chi Nwanoku pauses before she ascends the stairs to the performance hall of the New England Conservatory.
It is spring, and she wants to let the "spine-tingling" moment sink in. Eight years have led to this moment for the founder and artistic director of Chineke!, Europe's first majority-Black and ethnically diverse orchestra. She is bringing African American composer Florence Price home.
Price had been one of few Black students at the conservatory during the height of the Jim Crow era. It's only recently that her work – a stunning array of more than 300 classical pieces – has been rediscovered and featured by symphony orchestras, thanks in part to the efforts of Chineke!
"To think that this woman, regardless of how skilled or talented she was, she was never going to have a good life, a good career in the thing that she was so proficient and brilliant at," says Ms. Nwanoku in a practice room at Jordan Hall. She asked a colleague to photograph her on the same steps where Price stood for a photo in 1906, just hours before they would bring the composer's 1932 Symphony No. 1 to life. "She just kept producing more and more beautiful music in spite of all of that."
Ms. Nwanoku, an award-winning principal double bassist, has appeared in hundreds of concert halls over her three-decade career in classical music.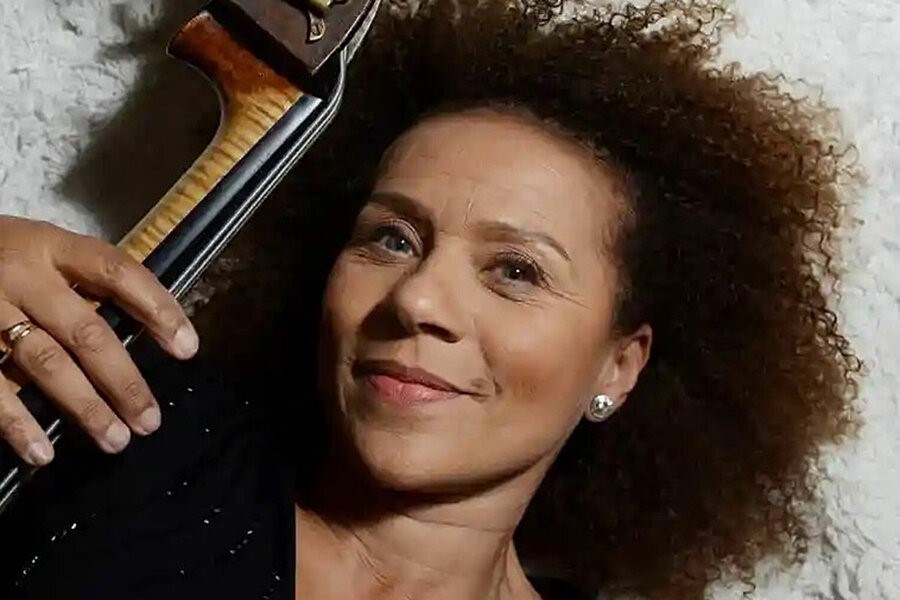 Christian SinibaldiChi-chi Nwanoku is the founder and artistic director of Chineke! On Sept. 1, the orchestra will perform in London's Royal Albert Hall as part of the BBC Proms summer music festival. Besides performing pieces by Beethoven and Haydn, Chineke! will also play a piece by Samuel Coleridge-Taylor, a 19th-century Black British composer.
Through the Chineke! Foundation, she has filled rosters with musicians who, like Ms. Nwanoku, can claim similar lived experiences of being "the only one" to create a space where they harmonize to become one of many. She founded a junior orchestra to support the development of young musicians. Since 2015, Chineke! has been redefining narratives around classical music – who plays it, which composers fill repertoires, and what audiences come to listen.
"It's easily within living memory that participation in professional orchestras by African American or otherwise African diasporic musicians was not a part of the core of the classical music industry," says Douglas Shadle, an associate professor of musicology at Vanderbilt University in Tennessee. "The Chineke! Orchestra, Florence Price, and Chi-chi are turning that on its head. They're saying, look at what classical music can be. And by playing Florence Price, they are saying, 'Hear what classical music can be.' ... They're offering a new vision and a new sonic representation of what classical music is."
Classical music as an industry has remained firmly anchored in its white Eurocentric roots not only in whose pieces are performed but also in who performs them. In England, only 3% to 6% of the orchestral workforce identify as being Black, Asian, or from other nonwhite ethnically diverse groups, according to a 2021 study published by Arts Council England.
On Sept. 1, Chineke! will perform in London's Royal Albert Hall as part of the prestigious BBC Proms, an annual, eight-week summer music festival. In addition to performing pieces by Beethoven and Haydn, Chineke! will present a lesser-known piece by Samuel Coleridge-Taylor, a 19th-century Black British composer.
Coleridge-Taylor, the son of an English mother and a Sierra Leonean father, was a noted celebrity in his time. But in the years following his death in 1912, his works faded from programs.
"Samuel Coleridge-Taylor wrote his Symphony No. 1 when he was a student at the Royal College of Music" in 1895, says Ms. Nwanoku. "It was more than 100 years old and it had never reached a few hundred yards ... to the Royal Albert Hall right next door. ... So we premiered it."
Before establishing Chineke! Orchestra, Ms. Nwanoku, whose mother was Irish and father Nigerian, felt a struggle to even articulate what it meant to be a Black classical musician in Britain. "Most of our orchestras are completely white, [and] there's nothing to talk about regarding equity," she says in a follow-up conversation on Zoom. "All of my Black colleagues that I now know – none of whom that I knew before I created Chineke! – were all the only one, odd one out, wherever they played."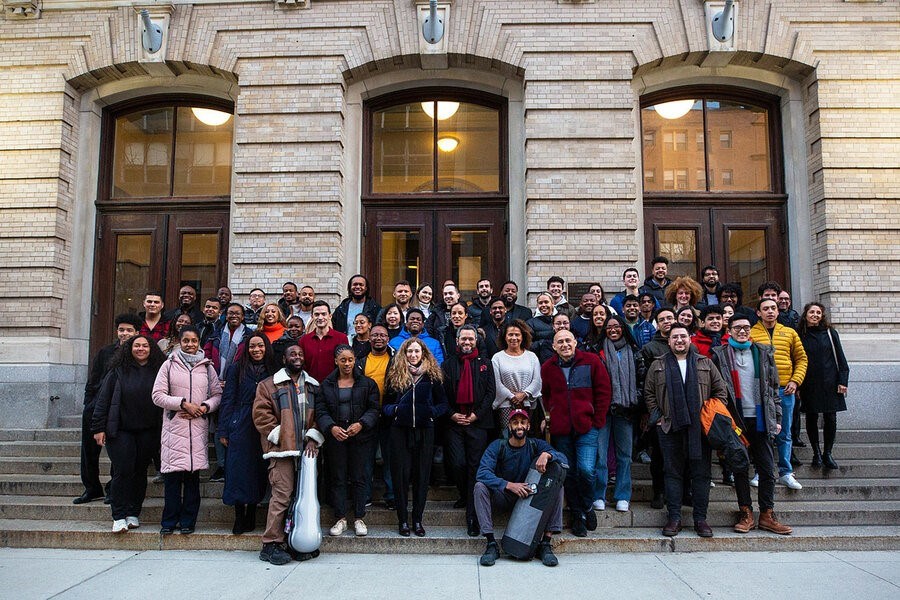 Robert Torres/Celebrity Series of BostonThe members of Chineke!, Britain's first majority-Black and ethnically diverse orchestra, stand for a group photo on the steps of New England Conservatory's Jordan Hall, March 22, 2023, in Boston. Chineke! performed in Boston as part of its first North American tour.
It was a chance encounter in 2014 that fueled Ms. Nwanoku's desire for change. She had bumped into Ed Vaizey, Britain's former minister of culture, on his way to a pre-concert reception for the Kinshasa Symphony from the Democratic Republic of Congo. Even though Ms. Nwanoku was well known and recognized as one of England's very few Black professional classical musicians – she had earned a Member of the Order of the British Empire for her work in 2001 – no one had thought to invite her. So she tagged along.
"It was their 20th-anniversary concert. I had no idea an orchestra existed in Africa. And so this was amazing to me," says Ms. Nwanoku. It was at that moment – when she realized she was the only guest who was a person of color at the reception – that Britain needed its own diverse orchestra. "It should not be a novelty that there's more than one Black person on the stage playing Beethoven," she says. The next morning she was on the phone to every music establishment in the country.
Everyone she spoke with agreed that something needed to be done – and that Ms. Nwanoku was the one to do it. The Southbank Centre, home to London's Philharmonic, gave her support and one year to find and launch her orchestra. Three hundred and sixty-four days later, the Chineke! Orchestra, with 62 musicians, walked onto the stage at London's Queen Elizabeth Hall on Sept. 13, 2015.
"As we walked in, it was a standing ovation from the audience, which is rather rare, especially in the U.K. or Europe," recalls Samson Diamond, a violinist from South Africa, who was a principal at that first concert. Mr. Samson had met Ms. Nwanoku 20 years prior when studying music at the Royal Northern College of Music in Manchester, England. "There was a sense of validation that this is more than just having people of color on stage, but an orchestra that was needed for that time, just at the right time, for people to feel welcomed in the concert hall," he says.
Chineke! slowly gained momentum, performing one concert in 2015 and one in 2016. It took time to synergize musicians with diverse backgrounds and training from Britain, Europe, Africa, and the United States.
"It was rather difficult at first," says Mr. Diamond.
But by 2017, the orchestra took flight. It booked 15 concerts, including its first appearance at the BBC Proms, drawing increasingly diverse audiences.
"It's incredible to hear this music being played all over the world now," says Ms. Nwanoku."Everybody is playing all the other Coleridge-Taylor pieces that we've unearthed."
Fortifying the next generation of musicians by providing opportunities to perform in Europe's most prestigious concert venues is one way that Chineke! aims to prepare ethnically diverse musicians for professional careers.
"It's been so important to me to have been able to grow up seeing people that look like me playing classical music together," says Betania Johnny, an original member of the Chineke! Junior Orchestra. She recently completed her second year at the Royal College of Music, where she is studying violin.
Ms. Johnny grew up in London surrounded by the Ethiopian music of her parents and gospel music at church. With Chineke!, she has discovered a new fluidity in what classical music can express. For example, in May, South African cellist Abel Selaocoe and Senegalese kora player Seckou Keita joined Chineke! at the Royal Festival Hall.
"They had the most radiant, positive energy, and a lot of their music involved improvisation, which I really just don't think as classical musicians were exposed to enough," she says. "It was just so inspiring to see them have so much love and joy for what they're doing on stage." Bottom of Form
That collaborative joy is emblematic of Ms. Nwanoku's tireless mission to bring musicians of color together and create a sense of belonging.
"The thing about her is just her sheer drive to have started something where she knows that she can't be alone. And she was correct," says Mr. Diamond. "She is proving to all of us that, actually, she was never alone."
Related stories