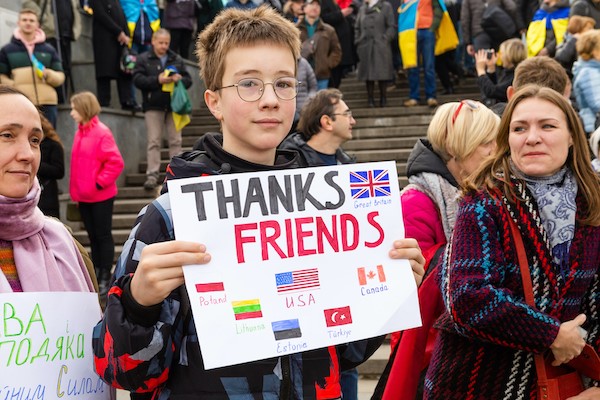 ODESSA, UKRAINE - 20 FEB 2022: Unity march in Odessa against Russian invasion. Boy with placard "Thanks to friends USA, Poland, Canada, Turkey, Great Britain".Nofret 549198470/depositphotos.com
Click HERE to read the Coverage from the Christian Science Monitor.
As the unprecedented war and humanitarian crisis in Ukraine continues, people worldwide have offered an outpouring of love and support for the Ukrainian people.
Ukraine's strength and resilience in their fight for freedom comes at a time when democracy is at risk throughout much of the world.
The humanitarian needs in Ukraine are dire.
More than two million Ukrainian refugees have fled for safety to neighboring countries, and the number is rapidly growing. Half of the refugees—over one million—are children.
MY HERO has put together a list of just some of the recommended organizations that provide needed services and help ease human suffering during the horrendous war in Ukraine.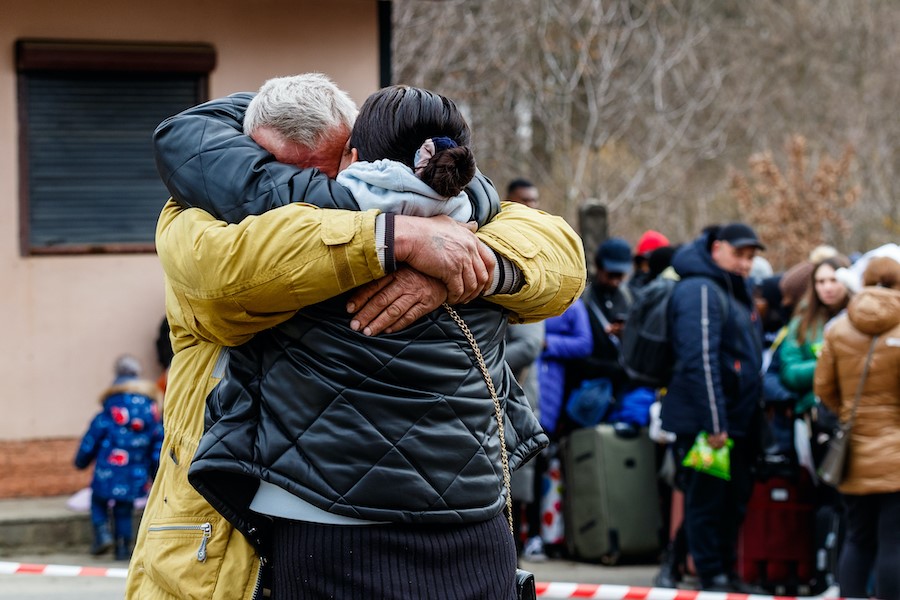 26th February, 2022, Ukraine, Uzhgorod-Vyshne Nemeckoe: Refugees from Ukraine on the border with Slovakia (checkpoint "Uzhgorod-Vyshne Nemeckoe") in the Zakarpatya regions.
Photo by Fotoreserg 55010943202/depositphotos.com
Emergency support within Ukraine
International Organization for Migration (IOM) is scaling up its humanitarian operations in Ukraine and neighboring countries, providing emergency services in health, shelter, winter supplies, and protection.
Médecins Sans Frontières/Doctors Without Borders has teams in Ukraine as well as surrounding countries as it works to send staff and medical supplies to the hardest-hit areas.
Save the Children has a Ukraine crisis relief fund to provide children and families with food, hygiene kits, funding and more.
Razom for Ukraine, a Ukrainian-focused charity founded in 2014, is furnishing medical supplies to the country and working to "amplify the voices of Ukrainians".
International Medical Corps is providing emergency relief, healthcare training and development programs to those in great need.
Direct Relief is working directly with Ukraine's Ministry of Health and other partners in the region to provide requested medical aid, from oxygen concentrators to critical care medicines – while preparing to offer longer-term medical aid to people displaced or affected by the conflict.
Care International is working to provide food, water, and hygiene kits to those suffering in Ukraine and seeks to support 4 million Ukrainians.
Fight for Right is coordinating shelter, evacuations, and emergency services–ensuring those living with disabilities aren't left out of humanitarian efforts.
Urgent Action Fund for Women's Human Rights is helping support women, transgender, and nonbinary activists on the ground in and around Ukraine, providing funding, access to communication, and medical support.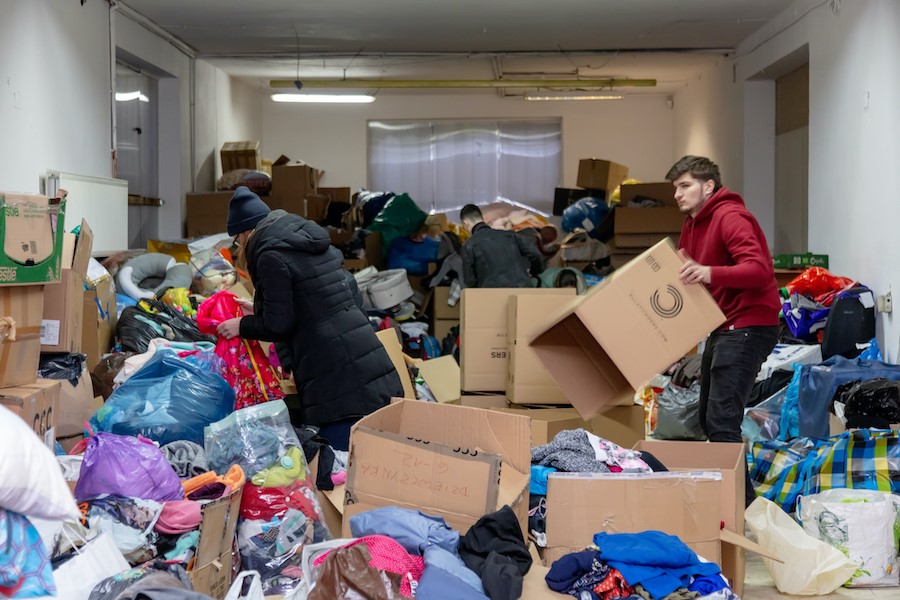 March 2021 - Wroclaw, Poland : Volunteer warehouse at the Ukrainian refugee center in Wroclaw, Poland /depositphotos.com
Photo by massonforstock 551221952/depositphotos.com
Feeding, housing, and assisting refugees
Polish Humanitarian Action; All donations to their Ukraine Crisis Relief Fund will support humanitarian assistance in impacted communities in Ukraine and surrounding regions where Ukrainian refugees have fled.
Polish Association for Legal Intervention for refugee rights provides free legal assistance and representation to migrants and refugees in Poland.
Polish Migration Forum is offering a free crisis hotline to assist people who are being affected by the Ukrainian crisis, including individuals who have fled the country, families worried about the well-being of their children, and those who have relatives in Ukraine and are feeling a sense of helplessness.
The International Rescue Committee has teams working in Poland aiding displaced families, providing food, medical treatment, and other emergency care.
Red Cross has deployed international crisis responders to Poland, Moldova, Hungary and Romania to provide humanitarian relief in support of the international Red Cross operation helping families who fled their homes in Ukraine. Red Cross are uniting separated families, providing food and other household items, and critical issues such as water delivery, support to health facilities and medical care for families wounded.
Yevropi: A group of friends in Europe have put together a website that connects refugees to those who can provide rooms for them. They are asking for donations of air-miles to help with the logistics of getting people together with host families. Please donate miles for travel for refugees.U. N Crisis Relief's Ukraine Humanitarian Fund of the U.N. Office for the Coordination of Humanitarian Affairs oversees U.N. work in the Ukrainian crisis, including support of lifesaving activities, filling funding gaps and expanding assistance to hard-to-reach areas.
The U. N. World Food Programme is working to provide food assistance to 3.1 million Ukrainians affected by the conflict.
Voices of Children, based in Ukraine, has been serving the psychological needs of children affected by the war in the country's east since 2015. The organization is providing assistance to children and families all over Ukraine and helping with evacuations.
Hungarian Helsinki Committee: Obama Leader András Léderer and his team at the Hungarian Helsinki Committee have been helping provide free-of-charge legal assistance and representation to refugees in Hungary for decades. Right now, they are focused on helping asylum seekers from Ukraine find professional and free legal assistance.
Sunflower of Peace is a small nonprofit helping Ukrainian orphans and internally displaced people, as well as providing backpacks containing bandages and anti-hemorrhagic medicines, among other critical items, that can serve to 10 people.
Razom Emergency Response is providing critical medical supplies and amplifying the voices of Ukrainians.
World Central Kitchen is serving thousands of fresh meals to Ukrainian families fleeing home as well as those who remain in the country.
United Help Ukraine provides help to wounded soldiers, families of whose wounded and killed, and refugees, and promotes Ukrainian culture.
Global Giving's Ukraine Crisis Relief Fund supports humanitarian assistance in impacted communities in Ukraine and surrounding regions where Ukrainian refugees have fled.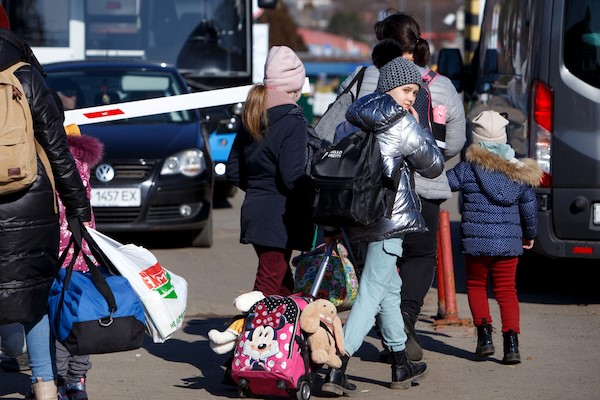 UZHHOROD, UKRAINE - FEBRUARY 27, 2022 - A woman and children are pictured at the Uzhhorod-Vysne Nemecke checkpoint on the Ukraine-Slovakia border, Zakarpattia Region, western Ukraine.
Photo by Ukrinform 550432906/depositphotos.com
Support free press in Ukraine
The Kyiv Independent was launched three months ago on the principles of independent journalism and free press. Their Go Fund Me campaign helps keep accurate news coming in Ukraine. And a separate campaign — "Keep Ukraine's media going" — for journalists around the country who have received less international attention.