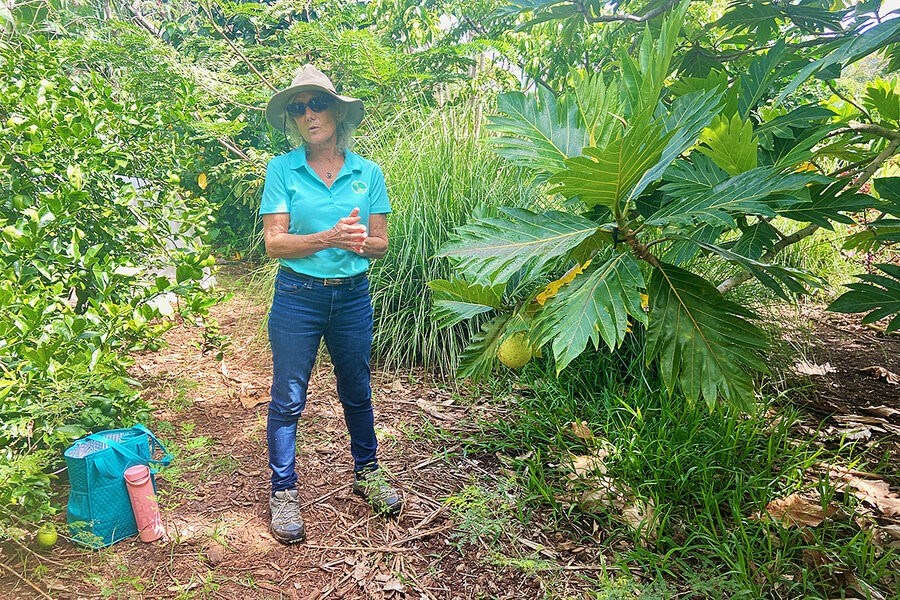 Diane Ragone, director emeritus of the Breadfruit Institute, stands in the National Tropical Botanical Garden in Kauai. Stephanie Hanes/The Christian Science Monitor
July 17, 2023
When Diane Ragone travels around the Hawaiian Islands these days, it's not hard for her to spot breadfruit.
It is there in the farmers markets, knobby green fruit the size of a softball. It's listed on menus as an ingredient in soufflés and nachos, flours and pastas. It is celebrated at festivals and studied by international scientists; it is served at food banks.
It is also growing on trees.
Some of these trees are in the National Tropical Botanical Garden, grown from specimens that Dr. Ragone has collected from across the Pacific, tended by the staff of the Breadfruit Institute, an organization she helped create 20 years ago. But there are other breadfruit trees she can spot across the islands, in hardscrabble neighborhoods and on millionaire's lawns, in middle-class backyards and on university campuses.
She can tell from their age and variety that many of these trees came from some of the 10,000 or so specimens that she and other groups have distributed across the state. But there is another, simple reason that she is seeing so much breadfruit: The plant, according to a number of researchers here, is becoming popular again, bringing with it a return to an old approach to island food security.
And that may be the most satisfying sign to Dr. Ragone that her decades of work have, literally, born fruit.
"It's been profound, the change," she says. "When I started working in the '80s, there was some breadfruit here in Hawaii. Of course, there were some people and communities who grew breadfruit and like breadfruit and ate breadfruit. But overall, it was a really undergrown and underutilized plant."
Breadfruit's promise worldwide
The slow resurgence of breadfruit, a species that once served as a key food source across the Pacific but declined in use as local diets became more institutionalized, has big global implications, scientists say.
Last year, Northwestern University climate scientist Daniel Horton published a study showing that breadfruit, unlike other starchy staple crops, may be relatively unaffected by climate change. This is particularly important for the tropics, he says, where communities are facing the interconnected challenges of climate change and food insecurity.
"We see the emergence of climate change in the tropics earlier," he says. "And because of this, we're worried that crops that traditionally grow in that part of the world may ... not be able to grow in the kind of conditions that we'll see in the future. And so that's one of the beauties of breadfruit."
Although the breadfruit is not a great fit for industrial agriculture, with its short shelf life and delicate harvest time, it does provide local food resilience. Dr. Horton's partner on the study, Northwestern University and Chicago Botanic Garden breadfruit expert Nyree Zerega, says that with one mature breadfruit tree, a family can harvest nutrient-dense food for generations.
"It's a perennial crop, a tree, so you plant it and it lives for years," she says. "It doesn't have as much of a carbon footprint [as other agricultural plants], and simultaneously it sequesters carbon. You can grow it mixed with other crops."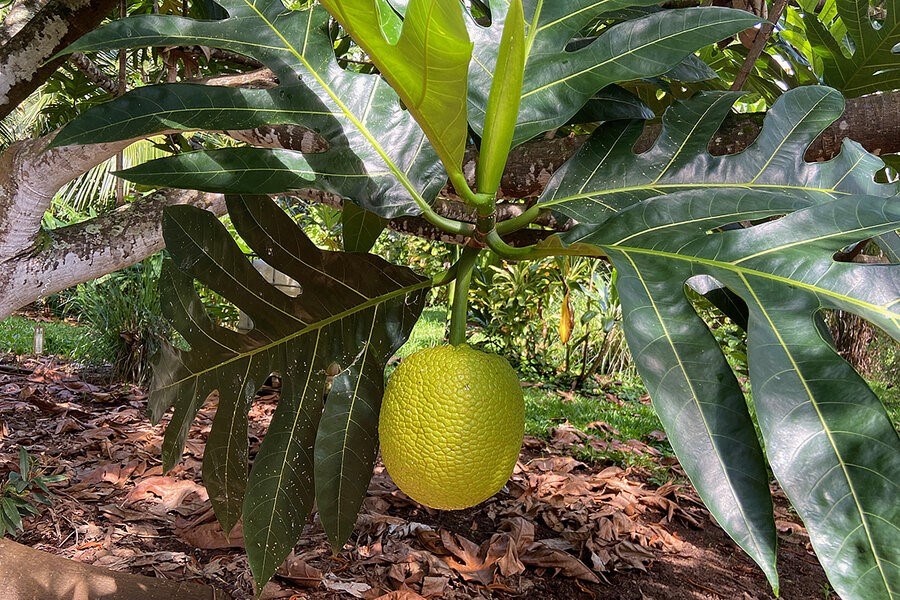 Stephanie Hanes/The Christian Science MonitorA breadfruit grows on a tree in the garden.
For people who live on islands, who tend to rely heavily on food imports, this is a big deal. Once a tree matures, it provides 200 to 300 pounds of food every year, says Kento Nemoto, marketing manager of the Hawai'i 'Ulu Cooperative, a farmers organization named for the Hawaiian term for breadfruit. "In terms of food security, it's an amazing tree," he says.
This is what Dr. Ragone realized decades ago.
"She's the pioneer of studying and researching breadfruit," says Mr. Nemoto. "She's basically the person who helped farmers and other organizations in the work of revitalizing breadfruit."
That research started in the library archives at the University of Hawaii in the early 1980s. Dr. Ragone, then a master's student in horticulture, was charged with writing a paper on a tropical plant and had decided to focus on breadfruit in Tahiti.
As she sifted through source material in the stacks, she kept coming across references to the plant in missionary accounts, agricultural reports, and more.
"I kept seeing this recurring theme," she recalls. "It was such an important plant in the region, and had been for centuries and millennia, and it was at risk. Traditional varieties and knowledge about breadfruit was at risk. I was fascinated by that – it just called to me."
Learning to grow
Inspired by the plant, she began a Ph.D. But there were stumbling blocks. Following the advice of professors (and much to the confusion of her local guides), she decided to collect stem cuttings of the breadfruit trees. But it turned out that stem cuttings are unlikely to survive; to propagate breadfruit, one needs cuttings from the tree's root system. It was the first of what would be many challenges of finding, collecting, and then growing breadfruit.
During fieldwork on some 50 islands, she also recorded the ethnobotany of multiple communities. And then, in 2003 she helped found the Breadfruit Institute with the National Tropical Botanical Garden, and continued coordinating with colleagues throughout the tropics.
"We talk about food security for our nation," she says, standing in the botanical garden's agroforest – a layered, multispecies food garden that is a model of how Pacific Islanders would have traditionally grown breadfruit. "This is not just a U.S. problem; this is a global problem."
Breadfruit, she believes, could be a solution – especially in response to the shift from nutrient-dense, local crops to a system based on long-distance transportation and fewer fresh foods. But distributing trees around the world isn't necessarily easy.
After challenges with other approaches to propagation, in 2009 Dr. Ragone, the Breadfruit Institute, and partners in Canada launched an initiative to grow trees from germ plasm, or plant genetic material. Today, that effort is largely being carried out by California-based Tissue-Grown Corp. Through a partnership with the nonprofit Trees That Feed and other organizations, it has over the past three years grown and then distributed thousands of trees genetically sourced from Dr. Ragone's breadfruits, mostly in Central America, the Caribbean, and Africa.Bottom of Form
"Oh my goodness, everyone is interested in it," says Karin Bolczyk, operations manager for Tissue-Grown. "And you feel like you are really making a difference. Every tree that gets into a backyard feeds a family for a century."
That's what Dr. Ragone sought from the start. "I wanted to distribute so many breadfruit trees, to so many communities, that anyone who wanted breadfruit could have it," she says. "If you had a church or community garden or anywhere that they could plant a breadfruit tree, we would give them a tree."
Related stories