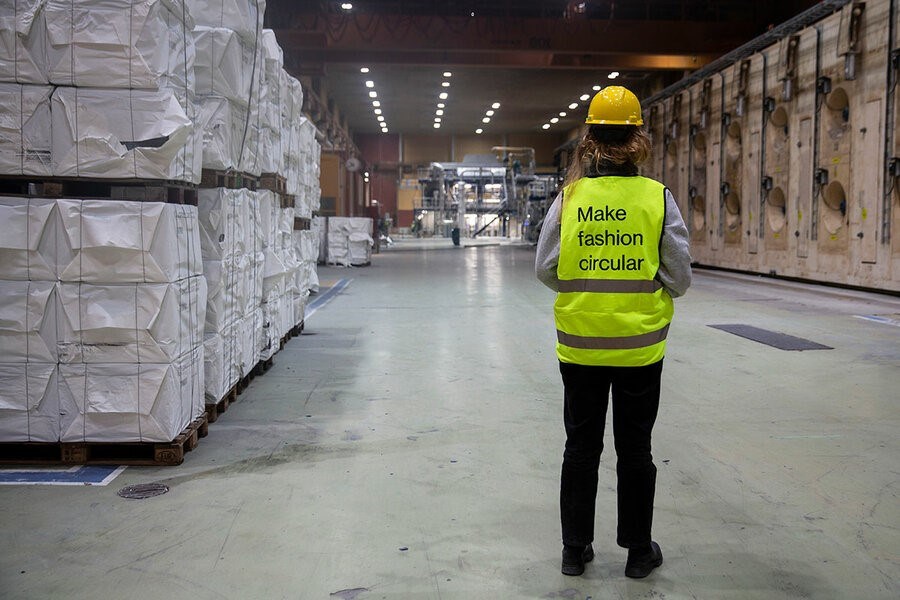 An employee stands in the industrial-scale plant of textile-to-textile recycling company Renewcell in Sundsvall, Sweden, Feb. 7, 2023. Dominique Soguel
May 23, 2023
Discarded, sorted clothes arrive by ship on the shores of Sundsvall, in the Gulf of Bothnia inlet of the Baltic Sea. But they aren't bound for a landfill.
Rather, they are destined for the city's Renewcell plant, where they will be dissolved and processed into a new substance: Circulose. This material looks like white cardboard, feels like watercolor paper, and – most importantly – can be spun into yarns for textile manufacturers.
Fashion is a trillion-dollar industry notorious for its negative toll on the planet. But Renewcell's patented technology, now available commercially, and successful launch of the world's first industrial-scale textile recycling plant in Sweden offer a beacon of hope to brands and consumers who care about environmental sustainability.
"From an environmental perspective, it means that every year, instead of huge swaths of forest being cut down, millions of old jeans and T-shirts are being used rather than them degrading into methane in landfill," says Nicole Rycroft, director of the environmental nonprofit Canopy.
Fashion's environmental cost
The fashion industry relies primarily on three fibers – polyester, cotton, and viscose rayon – each of which is problematic for the environment.
Polyester, made from plastic, takes hundreds of years to break down. Microfibers from clothes account for as much as 32% of the microplastics polluting the ocean, according to the European Environment Agency, and are also abundant in the air we breathe.
Soft-to-touch cotton is grown on vast, water-intensive monoculture farms using large quantities of fertilizers and pesticides. The Aral Sea, once the world's fourth-largest lake, dried up almost completely, drained by cotton fields in Uzbekistan and Kazakhstan. One cotton shirt requires 2,700 liters (713 gallons) of water to produce – as much as a person drinks in 2.5 years.
Viscose rayon is made from tree wood, which sometimes comes from ancient forests. Ms. Rycroft points to the 300 million trees cut down yearly to make viscose rayon, among other textiles. That consumption is slated to double within the next decade.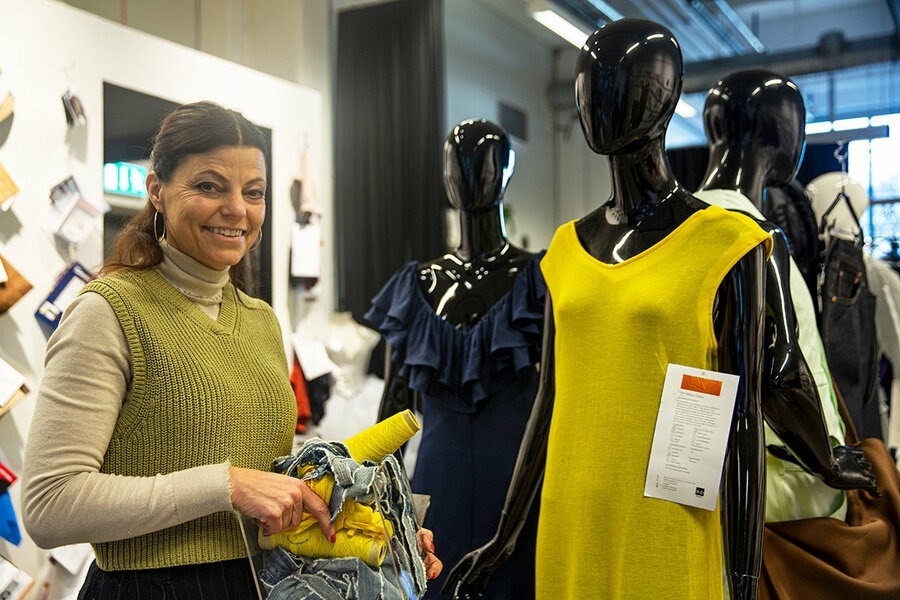 Dominique SoguelSusanne Nejderås, director of Smart Textiles at Science Park Borås, poses with a yellow dress made out Circulose derived from recycled bluejeans, Feb. 10, 2023.
On top of all this, much of what the fashion industry produces with these materials ends up as waste. Global production of textile fibers and all apparel creates 110 million metric tons of waste. On average, Europeans produce 33 pounds per year per capita, and Americans about 70 pounds per year.
Solutions for controlling fashion's consumption rate range from reducing overproduction and overconsumption to making longer-lasting clothes and embedding circularity into product design. But experts consider fiber-to-fiber recycling – converting textile waste into new fibers that can be used to make clothes or other textile goods – as one of the most sustainable and scalable levers available.
"Textile-for-textile recycling is at an inflection point," says Jonatan Janmark, a textile sustainability expert and co-author of a 2022 report for McKinsey, a consultancy, on textile recycling in Europe. "There have been 10 to 15 years of quite intense research and development on textile recycling or sustainability in textiles as the industry has come under more pressure," he says.
Renewcell's patented new material, Circulose, has been snapped up for use by major fashion brands including Levi Strauss & Co., PVH (which owns Tommy Hilfiger and Calvin Klein), Zara, and H&M (which is also an investor in Circulose). And many promising technologies are transitioning from the research and development stage to commercialization besides Renewcell's, Mr. Janmark notes.
In the field of cotton, which accounts for 25% of global fiber volume, other players include Infinited Fiber and Spinova in Finland or Circ in the United States. Another dozen companies or so are working on polyester-to-polyester solutions.
The Nordic approach to clothes
The Nordics stand out in Europe for their efforts to reduce the fashion industry's impact on the planet. Copenhagen Fashion Week imposes sustainability requirements on brands before they hit the runway. Multiple Nordic brands offer recycling options and sell used clothes on their shelves at reduced prices.
Sweden boasts an impressive secondhand clothes market scene; the world's first recycling mall, Retuna; and innovative companies like Nudie. Nudie offers customers free repairs on their jeans and a 20% discount on new ones if they trade in old ones. It's a much-loved service.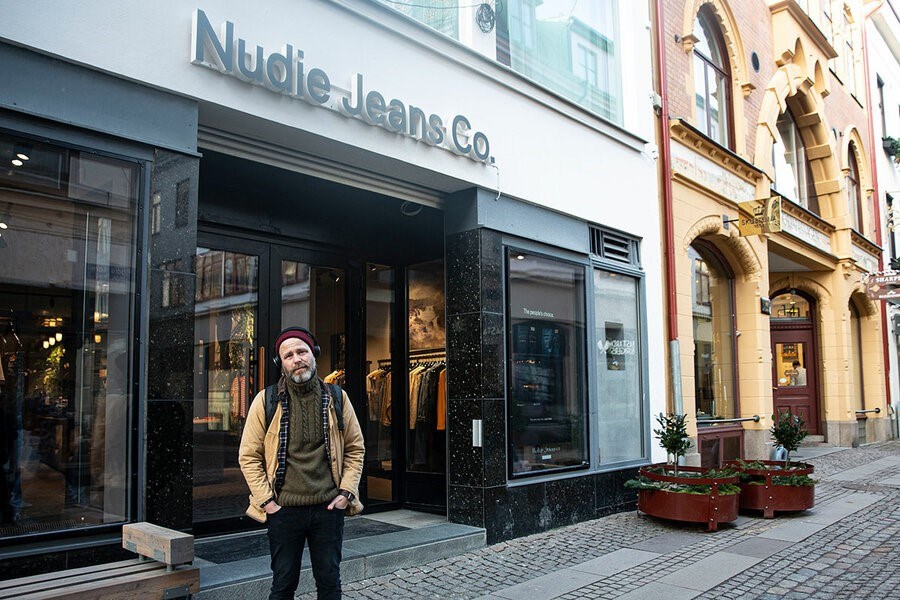 Dominique SoguelTomas Persson stands outside of the Nudie Jeans shop, which offers to repair its worn out jeans for free, in Gothenburg, Sweden, Feb. 10, 2023.
"I really like clothes, but I don't think it's necessary for me to buy something new to get the kind of clothes that I like to wear," says Tomas Persson after bringing his jeans in for repair to the Nudie shop in Gothenburg. Apart from underwear, he says has not bought a new item of clothing in years – not an uncommon claim in Sweden.
The development of sustainable textiles is also part of Sweden's national strategy. That keeps the Swedish School of Textiles and Science Park Borås, both part of the University of Borås, abuzz with the development of high-tech prototypes and design experiments focused on recycling, reuse, and upcycling.
"We have to find more efficient production processes ... and ways of consuming garments," says Susanne Nejderås, textile strategist at Science Park Borås. "The mean use of a clothing item is around two years. We need to add another eight years to that."
Demands for sustainability
Starting in 2025, the European Union will require all member states to separate textile waste for recycling purposes. "That's a big challenge," Ms. Nejderås says. "Maybe the local authorities will have to take care of it, but some parts will have to be paid by the producers."
Mr. Janmark of McKinsey says the EU legislation will have an international ripple effect. Since many fashion brands are global, they will have to abide by EU law, and that likely means more sustainable processes will spread to other parts of the world. The textile recycling value chain could bring Europe 1.5 billion to 2.2 billion euros in profits by 2030, he says.
Already struggling to keep up with demand, Renewcell projects rapid growth. By 2024, the company wants to double production from 60,000 tons of Circulose per year to 120,000 tons, the equivalent of 600 million T-shirts per year.Bottom of Form
Renewcell CEO Patrik Lundström sees consumer demand rather than regulation as the main driver of change.
"We want to eat sustainably, we want to travel sustainably, we want to live in sustainable houses, but we also want to clothe ourselves sustainably," he says. "Especially the younger generations, they pretty much demand sustainability from the companies that they buy garments from."
Related stories