by
Deborah Neff, MY HERO staff writer

from

United States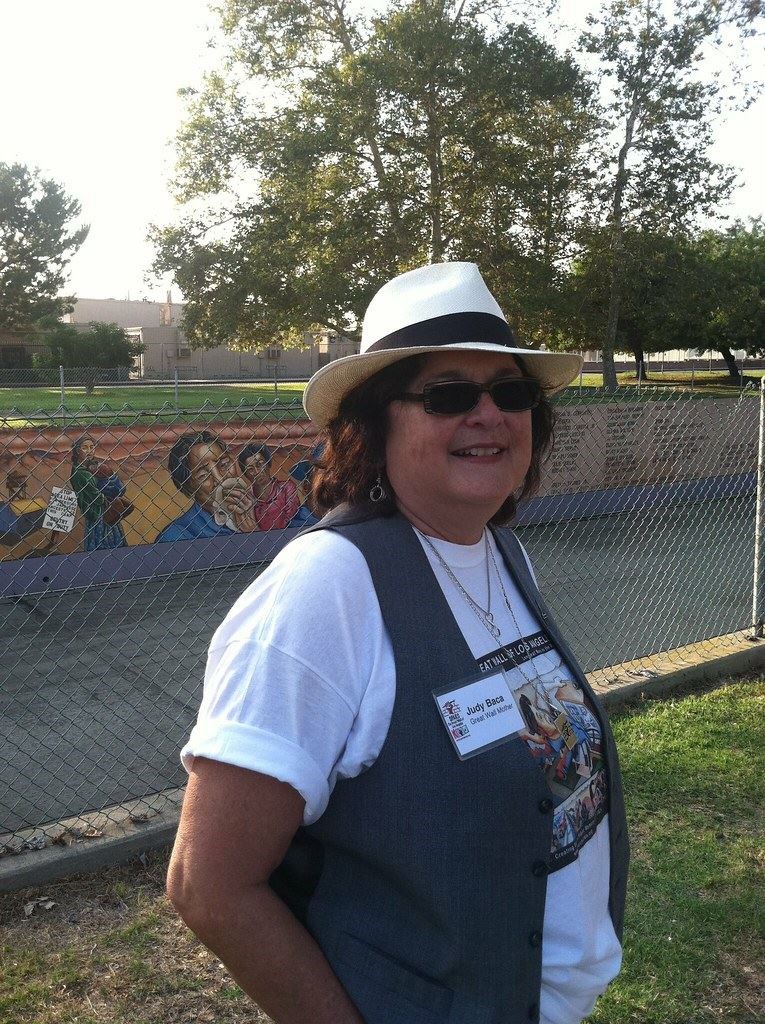 Judith Baca"Judith Baca" by Victoria Bernal is licensed under CC BY-NC-SA 2.0
Chicana muralist Judith F. Baca is best known for her large-scale painted mural, the Great Wall of Los Angeles, which she completed in 1983. The huge, brightly colored mural covers half a mile of the concrete wall of the Tujunga Wash, a Los Angeles River tributary in Valley Glen.
Over 400 people worked on the mural, which traces the early prehistory of the region through the 1950s, chronicling life in prehistoric times during and after Spanish colonialism, including the Great Depression, Japanese internment, immigration, and some of the momentous achievements of great activists who have worked for social justice, like Rosa Parks and Martin Luther King.
Baca's history is different from the histories we see in the history books: it is an alternate history written from the perspective of those we have not ordinarily heard from – Hispanic women, youth, people of color, and queer, many of whom were recruited from throughout the city to help work on the large installation.
This is an image of the Great Wall of Los Angeles in Valley Village, California. BillyBobJoe20 Creative Commons Attribution-Share Alike 4.0
What is astounding about Baca's murals are not just the scale and aesthetics—which are incredible, but the way Baca works with communities to develop the murals' imagery, consulting local sources, storytellers, and experts who understand or have experienced what is being illustrated. The Mellon foundation has recently funded Baca to implement the Great Wall's expansion to bring its history up to date.
According to Maximilíano Durón of ARTnews, Judith Baca was one of just a few Chicana members who participated in the Chicana/o art movement of the 60s and 70s, influencing both feminism and Chicana/o feminism. Her community-based, public art, taken as a whole, has made a large social justice impact.
In 1976, Baca co-founded The Social and Public Art Resource Center (SPARC) with Christina Schlesinger to fund art projects in marginalized areas of LA.
Baca's large scale portable mural, The World Wall: A vision of the future without fear, which she and her collaborators finished in 1990, has traveled the world. It imagines a world of peace for all people, and like her other murals, emphasizes collaboration, diversity, and social justice.
Page created on 9/18/2021 5:38:31 PM
Last edited 9/22/2021 1:26:28 PM
Related Links
SPARC
- SPARC's mission is to produce, preserve, and promote activist and socially relevant artwork; to devise and innovate excellent art pieces through participatory processes; and ultimately, to foster artistic collaborations that empower communities who face marginalization or discrimination.