by
Deborah Neff, MY HERO Staff writer

from

United States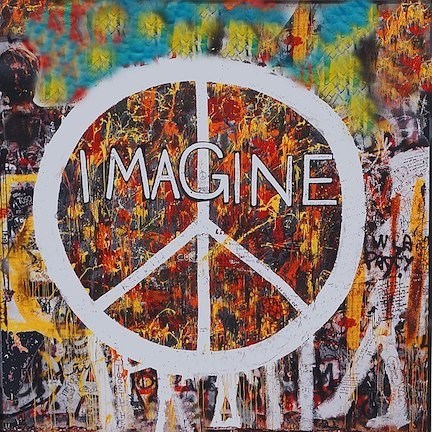 Friedenssymbol mit Schriftzug "Imagine" des John Lennon Songs auf der John Lennon Mauer in PragMarko Kafe, CC BY-SA 4.0 via Wikimedia Commons
At a time when the world is still reeling from the COVID pandemic and the latest atrocities of Putin's brutal invasion of Ukraine, John Lennon's song, "Imagine," sung by his son, Julian Lennon, is all over the Internet.
On April 8, 2022, Julian Lennon reversed his position of not performing his father's songs and performed "Imagine" with Nuno Bettencourt during Global Citizen's televised Stand Up for Ukraine benefit concert. Julian tweeted:
The War on Ukraine is an unimaginable tragedy... As a human, and as an artist, I felt compelled to respond in the most significant way I could. So today, for the first time ever, I publicly performed my Dad's song, IMAGINE. Why now, after all these years? - I had always said, that the only time I would ever consider singing 'IMAGINE' would be if it was the 'End of the World'… But also because his lyrics reflect our collective desire for peace worldwide. Because within this song, we're transported to a space, where love and togetherness become our reality, if but for a moment in time… The song reflects the light at the end of the tunnel, that we are all hoping for... As a result of the ongoing murderous violence, millions of innocent families, have been forced to leave the comfort of their homes, to seek asylum elsewhere. I'm calling on world leaders and everyone who believes in the sentiment of IMAGINE, to stand up for refugees everywhere! Please advocate and donate from the heart. #StandUpForUkraine
The concert raised over $10 billion for Ukrainian refugees.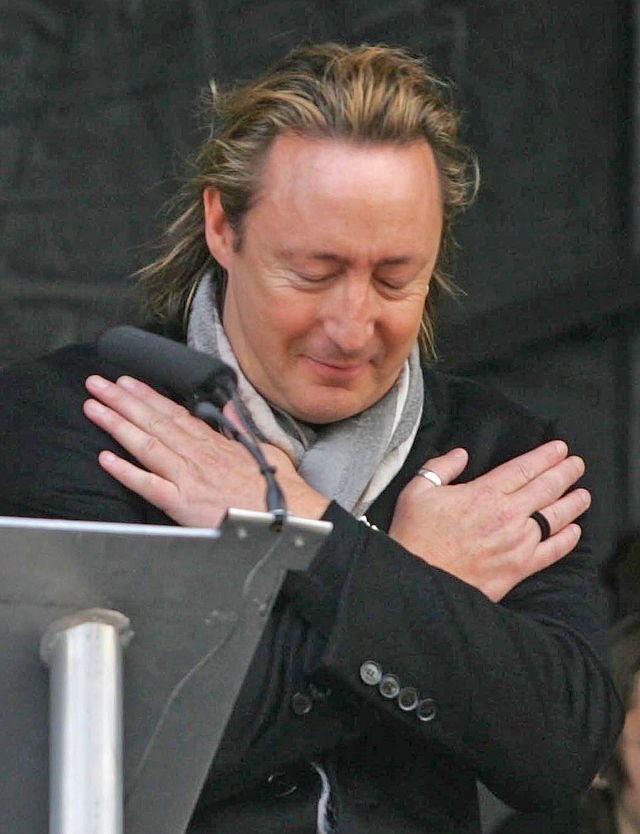 Julian Lennon. Cynthia and Julian Lennon at the unveiling ceremony of the John Lennon Peace Monument in Liverpool, celebrating John Lennon's 70th birthday on October 9, 2010.Cynthia_and_Julian_Lennon_at_the_unveiling_ceremony_of_the_John_Lennon_Peace_Monument_in_Liverpool_-_celebrating_John_Lennon's_70th_Birthday_-_October_9th_2010.jpg: Template:PD-Art-Lauren Voiers Creator:Creative Concern derivative work: Makakaaaa, Public domain, via Wikimedia Commons
Singer, songwriter, photographer, and philanthropist Julian Lennon was born to legendary Beatle John and his first wife, Cynthia Powell in 1963.
Julian was 17 when news of his father's senseless murder shocked the world into a state of mourning. Like many of us, Julian heard his father's anti-war anthem, "Imagine," play for weeks on the radio in honor of his passing and legacy. John Lennon, music legend, peace activist, and revolutionary, was—even after death, still bringing us together:
You may say I'm a dreamer
But I'm not the only one
I hope someday you'll join us
And the world will live as one.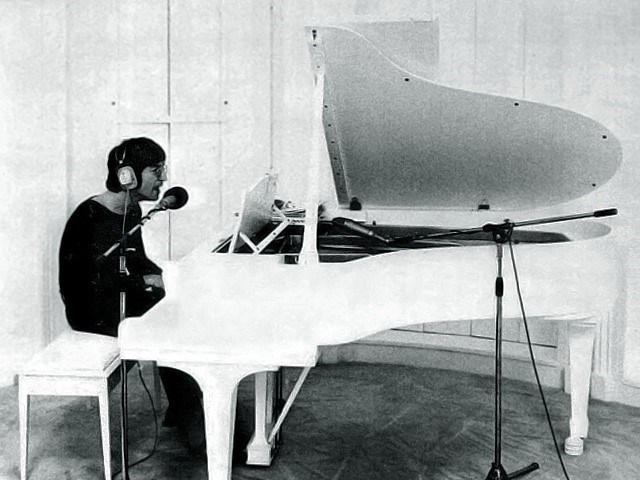 John Lennon, as pictured in an advertisement for Imagine from Billboard, 18 September 1971Peter Fordham, Public domain, via Wikimedia Commons
"Imagine" hit number one on the charts in the UK in January 1981, joining John Lennon's "Give Peace a Chance" as a global anti-war anthem. From John's 1971 album of the same name, "Imagine" was the best-selling single of John's solo music career.
Inspired by anti-Vietnam war protests, the song illustrates the power of music in raising consciousness about "the brotherhood of man" and the senselessness of war in peace campaigns everywhere.
An icon of peace, in celebration of John Lennon's 70th birthday in 2010, Julian and his mother, Cynthia Lennon, dedicated the John Lennon Peace Monument in Chavasse Park, Liverpool.
Julian Lennon recently announced his seventh album, JUDE, will be released later this year.
Page created on 4/12/2022 7:44:41 PM
Last edited 4/12/2022 8:15:23 PM