Kelly Perkins always enjoyed life, but never so much as after she was diagnosed with heart disease in 1990. At thirty years, an age in which most people are at their physical peak, she had already lost her health and with it, she feared, the ability to live a normal life.
"It's human nature," she says. "Once you lose something, it becomes the most important thing."
Perkins was now faced with two options: living as an invalid or continuing all the activities she had enjoyed before her illness. Although her physical state was greatly weakened, Perkins knew that she possessed the discipline to train herself back to health, much as she had done once before during a time in her adolescence when she had gained an unhealthy amount of weight. Since then Perkins had continued to take care of herself, to the extent that, she says, her friends teased her about it.
After the heart disease was diagnosed, Perkins received a defibrillator. The defibrillator is a device implanted in the chest that functions by "shocking" the heart back to its normal rhythm. This, along with numerous medications, kept her alive until she finally received a heart transplant in 1995.
Growing up in Tahoe, Perkins had a love of the outdoors. She and husband Craig decided to climb Mt. Whitney, a "challenge and source of inspiration." The physical aspect of the climb was difficult for Perkins. The neural connections to her original heart could not surgically be restored, so that her new heart does not, on exertion from the body, immediately receive the signal from the brain to beat faster, which would distribute extra oxygen (via the blood) throughout her body. Because of this, during the climb Perkins often felt a great deal of fatigue and nausea until the heart received enough adrenaline to increase the pulse rate. Perkins persevered, however, and the climb was a success.
The decision to scale Mt. Fuji was based on the Perkins' discovery that, due to cultural stigma, heart transplantation in Japan is virtually non-existent. The first organ transplants didn't occur in that country, in fact, until 1999. As a result, most people in Japan with terminal heart conditions never even have the chance to try surgery; only a lucky few with the resources to travel, can come to the United States in the hopes of finding a heart. Perkins' stated purpose of this second climb was to raise awareness worldwide of the benefits and successes of heart transplantation, and to "make people reflect on how lucky they are to live in a country where the opportunity exists."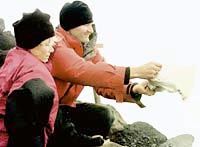 October 21, 2001 Kelly and Craig Perkins climbed Mt. Kilmanjaro in honor of Dr. Christian Bernaard, the South African surgeon who performed the first heart transplant in 1960. When they reached the summit of this famous peak, Craig Perkins surprised his wife by presenting her with the ashes of the woman who had donated Perkins' heart. In a brief but emotional ceremony, Perkins scattered the ashes of this brave donor.
One of Perkins' heroes is her friend, Michael Carrieaux, who also wore a defibrillator. Perkins says he showed her the possibilities for achieving a normal life. She also names her first doctor, Dr. Cannon who "never let me feel sorry for myself," and her husband, Craig Perkins who "was always out there shaking the pom-poms for everything I wanted to do." Always modest, Perkins attributes her extraordinary achievements to these powerful influences on her life.
Page created on 7/20/2002 4:47:34 PM
Last edited 1/4/2017 8:44:22 PM