Charles Augustus Lindbergh
by
Eric from Ventura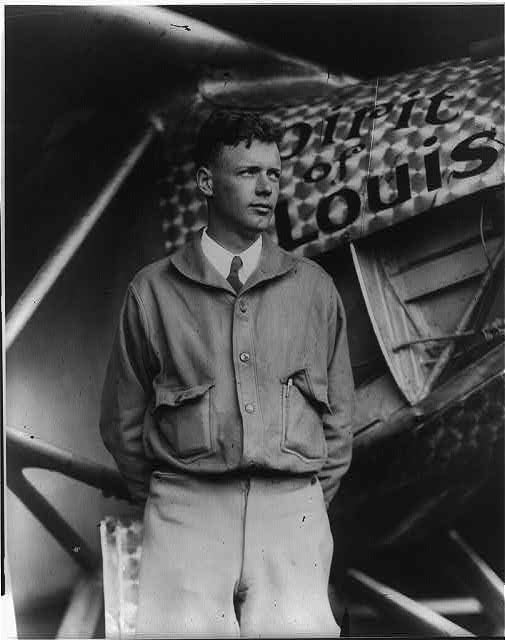 Charles Lindbergh[Public domain or Public domain], via Wikimedia Commons
Charles Augustus Lindbergh was an American aviator who became the first person to make a nonstop solo flight across the Atlantic. He spent much of his subsequent life as a consultant to the aircraft and airline industries. By 1940 Lindbergh spoke out in favor of staying out of World War II. The plane he flew was designed for one purpose only -- to be efficient, not for comfort or safety. He thought if something failed it would not matter what extras the plane had -- he would simply die, so safety was not a concern.
He did something in which others had failed: He left New York on May 20, 1927 and arrived 34 hours later in Paris.
One of his passions besides aviation was conservation and the environment. He helped to preserve the wildlife in East Africa and the polar bears in Alaska. He was associated with World Wildlife Fund; the International Union for the Conservation of Nature and its Survival Service Commission; the Nature Conservancy; and the Oceanic Foundation. "The Philippines are one of the last frontiers of conservation." said Lindbergh.
He also helped raise funds for Robert Goddard, the father of modern rocket propulsion, to develop new models. "Lindbergh's perfusion system was, in principle, a sterile glass container consisting of three chambers: organ, equalization, and pressure chambers. A flask filled with mineral oil under pulsatile pressure acted like the piston of a pump. Lindbergh's contribution was a perfusion system, which combined sterility with perfusion of a small organ at variable systolic and diastolic pressures and heart rate" (The Lone Eagle's Contribution to Cardiology).
What impressed me most about him was his determination, his lack of concern for safety and his ability to complete the challenge before him with no distractions on his mind.
Page created on 3/1/2015 2:15:37 PM
Last edited 2/9/2021 9:15:36 PM
The beliefs, viewpoints and opinions expressed in this hero submission on the website are those of the author and do not necessarily reflect the beliefs, viewpoints and opinions of The MY HERO Project and its staff.