Louis Armstrong
by
Michael Lee

from

Del Norte High School

"All music is folk music. I ain't never heard a horse sing a song."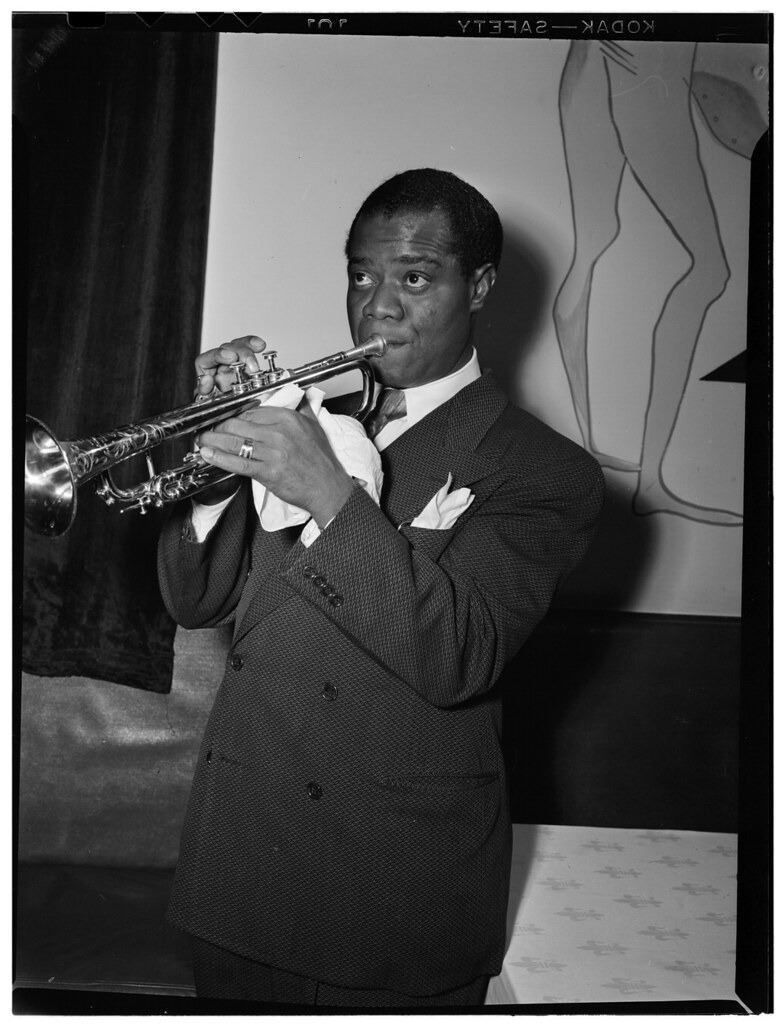 Louis ArmstrongWilliam P. Gottlieb [public domain] via Flickr
Legacy is not a matter of how long it lasts but how you create it. Legacy is shaping a future for those after you that you that yourself won't even get to see. Legacy is the footprint you leave after you depart this world. Sociologists predict that 70-80 years after one's death, a person and their whole lives will be forgotten completely. Louis Armstrong pioneered the jazz genre and made bold and audacious steps in order to form and progress the genre. What did Louis "Satchmo" Armstrong do to preserve his legacy, and what is the impact of it today? Louis Armstrong grew up in a neighborhood of New Orleans known as Battlefield. This location was a blessing and a curse because he grew up in dire poverty but also lived in the birthplace of jazz, which allowed him a unique experience that no amount of money can buy. Two things that differentiated Armstrong from his competitors was his hard work and his audacity to step out of his comfort zone. These core components and tenets made Louis one of the most influential and impactful artists of the century.
Louis Armstrong was always a devoted and hard worker. Whether in music or just in his daily life, his sole purpose was to put the satisfaction of others before his own. He was always working hard to make others happy, whether on the stage or at home with his family. An article titled "Louis Armstrong: A Cultural Legacy" describes him as "a hard-working kid who helped support his mother and sister by working every type of job there was, including going out on street corners at night to sing for coins" (N.E.H, Louis Armstrong: A Cultural Legacy). In Louis' time, these jobs yielded less than a dollar per day. Armstrong, knowing this, worked day in and day out to generate money that wouldn't even end up going into his pocket. All of this work to support his mom and sister shows a great deal of selflessness and depicts Armstrong as a humble and noble character. This state of maturity continued throughout his adulthood and even into his professional music career. "Armstrong remained a happy person who clearly loved what he was doing and managed to pass along a great deal of that enthusiasm to his audiences" ("Louis Armstrong." Contemporary Heroes and Heroines, vol. 2, Gale, 1992. Biography In Contex). As this quote depicts, Armstrong's purpose as a musician was to make others happy. Louis held a great amount of passion and energy in his music, and he transferred the energy and exuberance that he gained from playing music to his audience and generated a great amount of connections in his performances that was unprecedented at the time. Armstrong's selflessness contributed greatly to why he was such a loved and successful performer. His performances were like no other, and that made his music unique and one of a kind, which helped him stand out in such a competitive field.
Being a pioneer of jazz was not easy. The rules and principles that we use to identify what jazz is and isn't didn't exist back in his time. Knowing this, he decided to make the rules himself. Throughout his career, he tried new things that weren't exactly what the audience expected or wanted. Sometimes he risked absolute outrage from his fans in distaste of his experimentation, but it was well worth the product he produced. An article entitled "Jazz and I Get Born Together" states, "Captive to an inspiration that had few if any precedents, Armstrong and his startling melodic inventions redefined the musical status quo" (Olsen "Jazz and I Get Born Together"). Armstrong had shaken up the jazz style when he entered the scene. He re-invented the way that the overall flow of the song went. He had a unique way of using note anticipation and minor chords to build tension and have a resolve that was overwhelmingly powerful. He was very adaptive and always making changes so you would quite literally never hear the same Louis Armstrong song twice. This was courageous and he was very successful. Why would any person change the winning formula? When he shook up his style, he put his stable income and his fan base at risk. However, Louis wanted his music to stay fresh and enjoyable rather than consistent and redundant. Louis's career, although widely successful, had a rocky road in the beginning, one major problem being his manager. "Besides constantly overbooking him, Armstrong's managers were willing to pay only for the cheapest musicians, not necessarily the best. There is also some evidence that they both cheated their client out of money. They also refused to let him rest so that his lip, which was constantly being overworked, could heal" (Woog, 63). This was in the 1930s so no one saw anything inherently wrong with a white man mistreating a man of color, but when Louis found out what was happening, he was quick to jump to action. Firing his managers was the last thing that anyone thought Armstrong would do. His white managers were quite possibly the only reason he was respected as a musician. His managers were his safety and now that he didn't have them, no gigs were certain. Armstrong eventually hired a better manager and recovered from the incident, which was just a bump in his long journey. Louis overcame his hurdles in life with a smile on his face and kept pushing for what he wanted.
Louis put everything he knew on the line when it came to entertaining others. He risked his career, his income, his audience and even his reputation. He used his hardworking devotion and his audacity to drive himself from the slums of Battlefield, New Orleans, to center stage New York. His drive to always be improving is why Louis "Satchmo" Armstrong's legacy will be and still is impactful and unrelinquishing.
Page created on 5/25/2018 6:28:49 PM
Last edited 8/1/2022 9:19:59 AM
The beliefs, viewpoints and opinions expressed in this hero submission on the website are those of the author and do not necessarily reflect the beliefs, viewpoints and opinions of The MY HERO Project and its staff.
Extra Info
Works Cited
"Louis Armstrong: A Cultural Legacy." Le Tumulte Noir, NEH, www.npg.si.edu/exh/armstrong/.
"Louis Armstrong." Contemporary Heroes and Heroines, vol. 2, Gale, 1992. Biography In Context,https://link.galegroup.com/apps/doc/K1607000014/BIC?u=powa9245&sid=BIC&xid=52f060be. Accessed 9 May 2018.
OLSEN, ERIC P. "'Jazz and I Get Born Together' - Louis Armstrong at 100." World and I, Aug. 2001, p. 66. Academic OneFile, https://link.galegroup.com/apps/doc/A76520005/GPS?u=powa9245&sid=GPS&xid=5c5ae179. Accessed 9 May 2018.