Louis Zamperini
by
Annika from Eden Prairie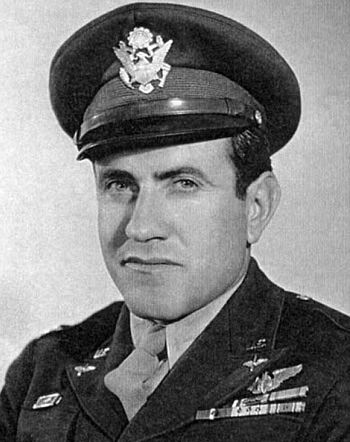 Louis ZamperiniU.S. Army [Public domain]Louis Silvie Zamperini was born to Louise and Anthony Zamperini on January 26, 1917. His parents were Italian immigrants. He had an older brother named Pete. He was a trouble-maker from the time he could walk. He would steal things and hide them in places that no one would ever find. He would regularly be in a holding cell.
When he was in high school, his brother Pete got him into track. He wasn't very good at first; his mile time was 8.32 and he felt sick from running so hard. Louie was embarrassed. He was determined to get better. Training wasn't easy but he didn't need easy. He eventually ran a 4.12 mile! In 1935 he qualified for the Berlin Olympics. For only being 21 it was very impressive.
In the 1936 Olympics there wasn't a mile available to compete in, so he ran the 500 meter race. He didn't win but he ran a 56sec lap! That was the fastest lap ever in the Olympics. Hitler congratulated him by shaking his hand.
After the Olympics, Louie decided to join the Air Force. He was officially a soldier in WWII. Bombardier was his position. All was well until his plane, the Superman, broke down. He was forced to use a junk plane that was used for spare parts, called the Green Hornet. It flew for about 6 miles on a search mission, and then crashed in the ocean. He and two of his friends Phillips and Mack were on a 6 foot by 3 foot raft. They spent 47 days on that raft with no food or water. They had to use resources. Mack sadly didn't make it and died on about the 28th day.
On the 47th day Louie and Phillips saw an island and they drifted to shore. They were taken prisoner by the Japanese soldiers. The two were put in an awful prison camp that had low rations and poor conditions. They were treated poorly and were beaten with sticks. Louie showed perseverance through all of that and kept his head up. Then things went downhill. Louie was sent to a new camp that was worse.
At this camp there was an evil man. His name was The Bird. Louie and other prisoners were so afraid of him that they would never look him in the eye. If you did, odds are you would get beaten. He spent a year in this camp, then, the war was over! He could go home. His family had received a death notice so they were ecstatic when he came home!
Now you may think "this guy isn't a hero; he is a just another prisoner of war". But what really makes him a hero is after the war. He decided to forgive The Bird and anyone else who tortured him. He called The Bird but then he didn't want to talk to Louie because he couldn't believe this man has forgiven his actions (and considering how awful they were that's impressive). Now Louie tours the country speaking at public events with John Nebor. I recently had the amazing privilege to meet him and he told me to "be hearty and always forgive."
Page created on 4/22/2015 7:49:04 PM
Last edited 1/7/2020 2:56:53 PM
The beliefs, viewpoints and opinions expressed in this hero submission on the website are those of the author and do not necessarily reflect the beliefs, viewpoints and opinions of The MY HERO Project and its staff.