My hero is Hermine Santrouschitz, more commonly known today as Miep Gies. She risked her life to save the lives of others. She hid Anne Frank and her family and many others from the Nazis, providing them with food and other necessities, as well as news from the outside world. Most of all, she provided them with courage, hope, and a friendship that will never be lost.
I think that being able to make a difference in someone's life and taking advantage of that opportunity is what makes a hero. We all have the potential to be heroes.
Miep Santrouschitz was born February 15, 1909 in Vienna, Austria. Unfortunately, she suffered from malnutrition during World War One and was sent away to Amsterdam, Holland. The Nieuwenhuises nursed her back to health. By the time she was healthy again, she had become accustomed to her new life and family. She had become Dutch at heart, and did not wish to return home to Vienna to her blood relatives, so she lived on with her adoptive family. She remained an Austrian citizen.
She became very independent and wished to find work for herself. Finally, she found work at a company called Travies & Company, which specialized in products for the homemaker. There she learned that her new boss, Mr. Otto Frank, had moved to Holland from Germany because he was a Jew and wanted to escape Adolph Hitler and the Nazis. His family was to be arriving shortly.
Miep lived in fear that the others would die in the camps and never return. Miep gathered up Anne's diary, hid it in the bottom drawer of her desk at work and never looked at it.
One day, while Miep was cooking dinner, Henk came home and told her, "It's over!" That night the meal tasted better than usual. The only one to return out of all the people hiding in the Annex was Mr. Otto Frank. Miep gave Anne's diary to him and since then, The Diary of Anne Frank has been published many times. It took Miep a long time to gain the courage to read the book and when she finally did, she was happy she had. Almost a year later, Miep had a baby boy named Peter.
Not a day has gone by that Miep has not thought of the Frank family and the people in hiding. Every year on the date that the residents of the Secret Annex were taken away to concentration camps, Miep and Henk stay home from work and don't do anything that day.
Gies is an amazing person and deserves a lot of respect. If I could speak to her today, I would shake her hand and say, "Thank you!" with a bright smile. Then, I would tell her how her story touched my heart and how amazing what she did really is. Next, I would tell her how I hope to be as tolerant and wonderful as she is to others.
Miep Gies has helped me to look beyond a person's skin, religion, or beliefs to find out, instead, who they really are and not to judge people. Even when the rest of the world was blaming people for turning in the Frank family, Miep did not blame anyone, even if she disliked them. I believe that Miep has influenced the world with her tragic story and kind heart.
Anne Frank's descriptions of her and Miep's own book, Anne Frank Remembered, have touched many hearts. Her actions have made people realize how they can become better people by being more tolerant of others. Perhaps they will even be able to save someone from the harsh cruelty of racism and lead him or her into freedom.
Miss Santrouschitz and Mr. Frank quickly became friends and Miep was excited to meet Anne and Margot, Mr. Frank's daughters, and his wife, Edith Frank. The whole Frank family arrived and immediately liked Miep. At the same time Miep was falling in love with a Dutchman named Henk Gies. They had both found that they had much more in common than they originally thought. They enjoyed going to the movies, and when Mr. Frank invited Miep over to dinner he would always send out an extra invitation to Henk. Eventually Henk proposed. They were looking forward to a wonderful life together.
Unfortunately, one day Miep received a letter from the Nazis asking her to report to the German Consulate. Word had traveled to the Nazis that she had refused to join a Nazi Girls' Club. They invalidated her passport and told her that she must return to Vienna within 3 months. In order to avoid going back to Vienna she would have to marry a Dutchman. However, she could not do this without her birth certificate, which was located in Vienna.
She quickly wrote a letter to her uncle asking him to send her certificate as soon as possible. Another problem arose when her uncle wrote to her that he needed her passport in order to receive the certificate. Miep could not tell her uncle that she had refused to join a Nazi Girls' Club and was to be sent back to Vienna because it would put him and the rest of her relatives in danger.
Finally, Mr. Frank came up with the idea to photocopy just the front page of her passport because it did not show that it had been invalidated. Everyone prayed that this would work because time was of the essence. In the mail one day, to everyone's great joy, came Miep's birth certificate. On July 16, 1941, Miep and Henk were finally married. Miep was so excited she carried the marriage license around with her all day. She was finally Dutch. Henk and Miep looked for a place to live and finally came across a small room next to a sweet lady by the name of Mrs. Samson.
Eventually, the time came when the Nazis invaded Holland. This did not affect Miep at first. She had no idea what was about to happen. One day at work, Mr. Frank told her that his whole family was going into hiding. He asked Miep to be their confidante. Miep Gies said she would gladly help the Frank family. In the beginning she didn't know how hard her job would really be. She was to find food for the family living in the Secret Annex (as Anne called it.) Miep and Henk also hid two other Holocaust victims. This meant they had to find food for more people, and food was scarce. Eventually, another family moved into the attic above the office alongside the Franks. Mr. and Mrs. Van Pels came to live in the attic with their son Peter. Later, another soul was brought into hiding, a dentist by the name of Mr. Kraler.
Now Gies had to find food for everyone she was hiding. Henk went into an undercover assistance agency for families and people in hiding. Gies worried every day what would happen to him and was in constant fear. Somehow she always found food for everyone, even if it meant riding her bike five hours out into the country or lying to old friends.
Two years after the Franks had gone into hiding, they were discovered and taken away to a concentration camp. The people who hid the Frank family also went into a concentration camp. Gies however, did not go. The officer who arrested the others did not arrest Gies because she was so polite. The fact that she was born in Vienna was a plus.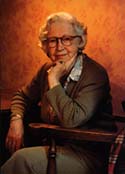 Personally, I would like to be a hero who protects the lives of others, just like Miep. I would like to be able to say that I was kind to others even when I disliked them. I would like to be able to stand up against laws that I feel are unjust and wrong and protect the rights of others, perhaps even saving them from a horrible fate. One day I hope to be a hero in someone's heart and I hope that I have the chance to make a difference in someone's life and maybe even the world. I am not a hero. I stand at the end of the long, long line of good Dutch people who suffered during those dark and terrible times years ago. Never a day goes by that I do not think of what happened then.