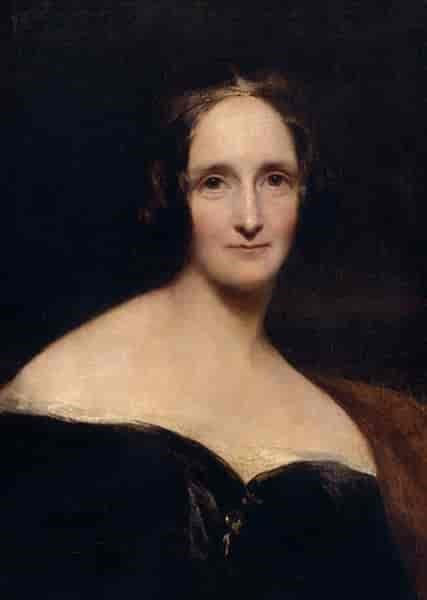 Mary Wollstonecraft ShelleyRichard Rothwell / Public Domain
Mary Wollstonecraft Shelley was a well-known English novelist during the 19th century. One of her notable novels, Frankenstein, also known as The Modern Prometheus, inspired many films that featured Frankenstein's monster. Many of her other works have become increasingly famous and have impressed the public.
Shelley was born on August 30, 1797 in London, England. She was the daughter of a political philosopher, William Godwin, and the philosopher and feminist Mary Wollstonecraft. Shortly after her birth, her mother passed away, leaving her to be raised by her single father.
In 1814, Shelley had a romantic relationship with one of her father's political followers, also a poet, Percy Bysshe Shelley. Even though Percy Bysshe Shelley was married during the relationship, both admired each other's writing, and later they married in 1816 after the death of Percy's first wife. Mary Shelley was pregnant with Percy's child after she returned to England from France with her step-sister and Percy. Sadly, over the next couple of years, the Shelleys had several children, but only one survived.
Shelley's writing career started in the summer of 1816, which she spent with Lord Byron, John William Polidori, and Claire Clarimont near Geneva, Switzerland. The group suggested they entertain themselves with ghost stories. That was when Shelley developed the idea for her famous horror novel, Frankenstein.
In 1819, Shelley gave birth to her son, Percy Florence, the only child who lived to adulthood. However, Shelley faced another grieving from her husband's death in Italy in 1822. When she returned to Britain in 1823, she spent most of her time with her son and focused on her career as a novelist, biographer, and travel writer. She then was defeated by a brain tumor that killed her at the age of 53.
By the 1950s, Shelley's novel Mathilde was finally released, but she was widely known for her efforts to publish her husband's works and her novel Frankenstein. Her works remain widely read and have inspired many theatrical and film adaptations. Shelley's achievements impressed many scholars, specifically her historical novels, Valperga, Perkin Warbeck, The Last Man, and so forth. Some of the studies of her other works, like the travel book Rambles in Germany and Italy and her biographical articles for Dionysius Lardner's Cabinet Cyclopaedia, supported the view that Shelley remained a political radical throughout her life despite the different views of her husband and father.

Shelley's works often point out that the ways to reform civil society are through cooperation and sympathy, as seen in women in a family. Shelley's ideology and standpoint have given society a different view, and her most famous novel, Frankenstein, has long lived through today as a classic horror novel and inspired many film directors.
Page created on 9/2/2020 8:20:41 PM
Last edited 4/27/2021 11:19:24 PM