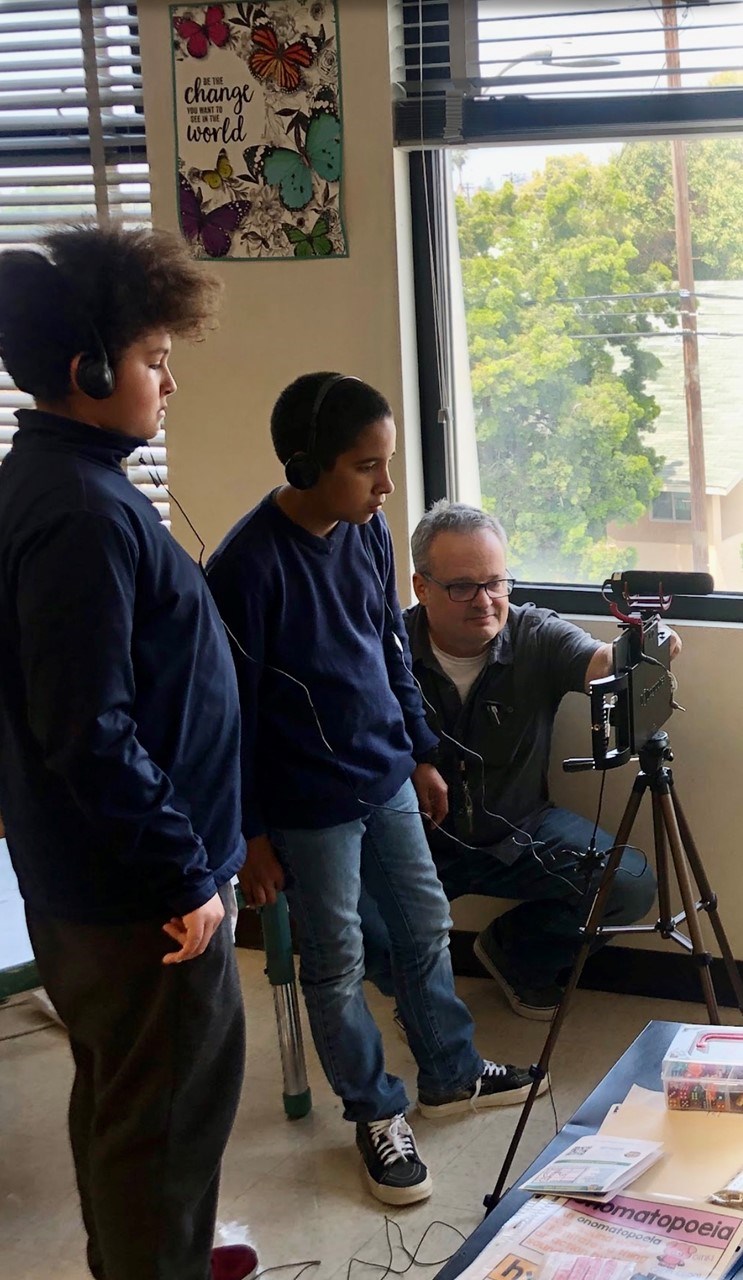 Frank Guttler assists students in setting up a camera before they conduct an interview.MY HERO Staff
The MY HERO Project has completed an eight-week pilot on-site outreach Media Arts Mentor program, working closely with approximately ninety students from Ascot Avenue Elementary school in South Central Los Angeles. The program was funded by the Max Factor Family Foundation, helping teachers to implement MY HERO Media Arts Education, media literacy and creative storytelling into the curriculum.
Throughout the program, media arts expert Frank Guttler and MY HERO Intern and USC School of Cinema graduate Justine Beed, have worked closely with both mainstream and SEN students, spending an hour a week with each class. Students from the third and fourth grade were challenged to create mini documentaries on a heroic woman of their choice, coinciding with Women's History Month. Fifth-grade students were tasked with creating a Public Service Announcement, urging action on a global or local topic of concern for them.
The staff at Ascot Avenue Elementary were offered access to free Media Arts Education resources, including the MY HERO stories archive available at /stories. The teachers, as well as the students, were also introduced to various concepts of pre-production, production and post-production, all using technology that was already on-site, in the hopes that projects like this could continue long after the program came to an end.
On the success of the outreach model so far, Frank Guttler praised Ascot Elementary for their, "rare combination of teachers & students motivated to learn storytelling with technology and a supportive administration to allocate both time, resources and foster an inviting, supportive environment for us as visiting educators and for the teachers and students' growth as media literate and conversant future leaders." He also noted that the school's Principal, Dr. Gustavo Ortiz, was most supportive and facilitated an environment in which the students could develop skills in digital media and creative storytelling.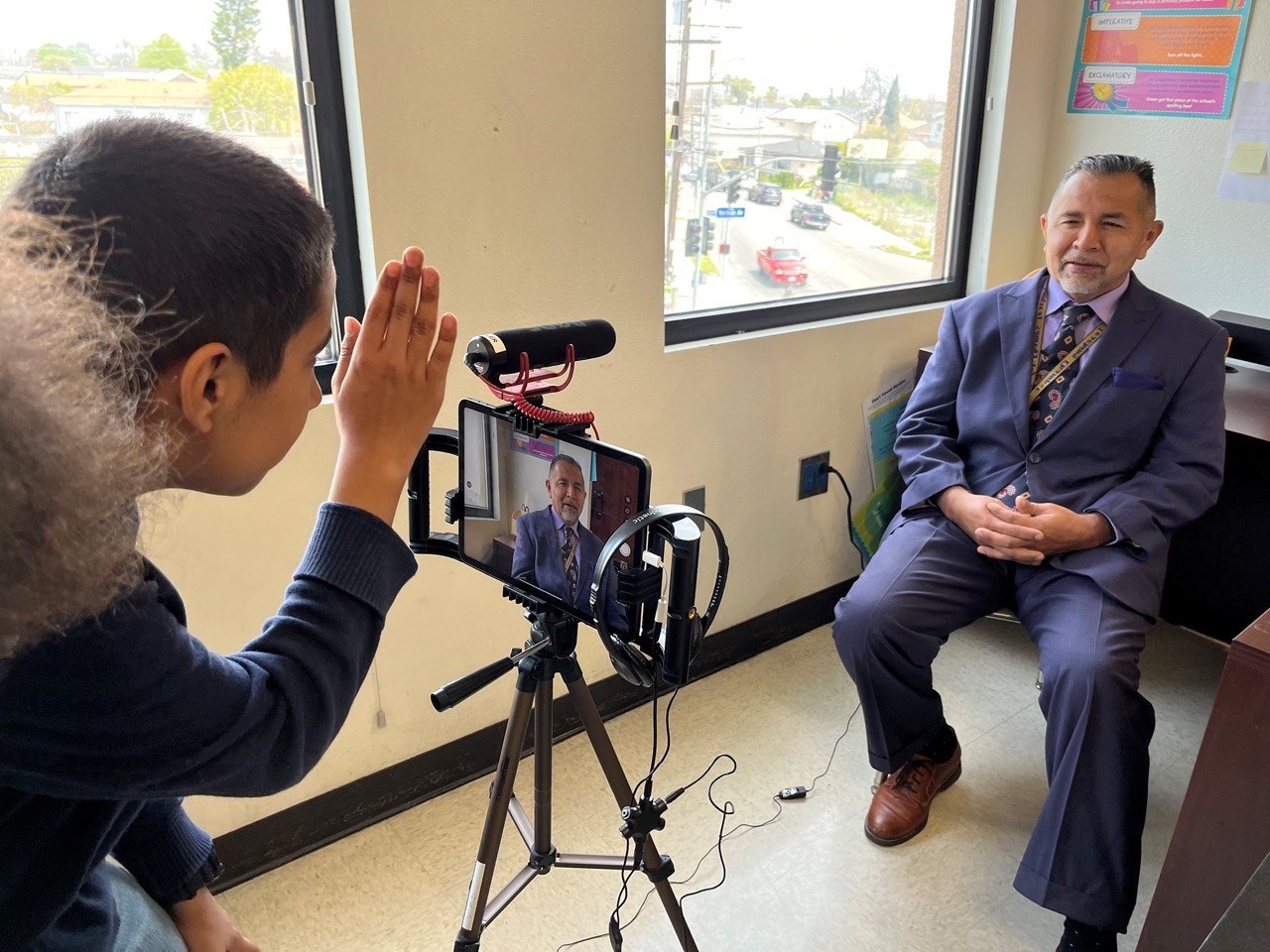 Ascot Avenue Elementary's Principal, Dr. Ortiz, helps students learn how to conduct an on-camera interview.MY HERO Staff
Dr. Ortiz, on working with MY HERO, said,
"The MY HERO project that has been generously granted to Ascot Elementary students in South Central Los Angeles has brought "windows and mirrors" to the entire school community. Students have been able to create videos that through windows see their future and with mirrors see themselves as part of the pathways that their heroes and sheroes have laid out.

To enrich the lives of students with knowledge that allows them to write storyboards and use their artistry using student voice and video editing tools at Ascot Elementary has brought the future of education to our present and we could not have begun the work without the MY HERO project, Frank Guttler and Justine Beed.

MY HERO has provided our students with tools that will carry them in life. Ascot, the oldest standing elementary school structure in LAUSD has been renewed with the use of technology and video editing that Frank and Justine have been able to teach with.

When we talk about urban education and making an impact on poverty, social ills and homelessness, MY HERO opens the windows to a brighter future as it highlights resilience, relevance and relationships that tie all of us together."
The MY HERO Project hopes that this program and its success will support a larger goal of fostering a culture of storytelling and media literacy in many more MY HERO partner schools, giving more students access to skills and opportunities that they may not otherwise have had.
Learn more about the program and the impact of MY HERO Media Arts here.
Page created on 5/5/2023 9:09:15 PM
Last edited 7/3/2023 5:49:53 PM