by
Jesse Zaragoza

from

North Hollywood, California in United States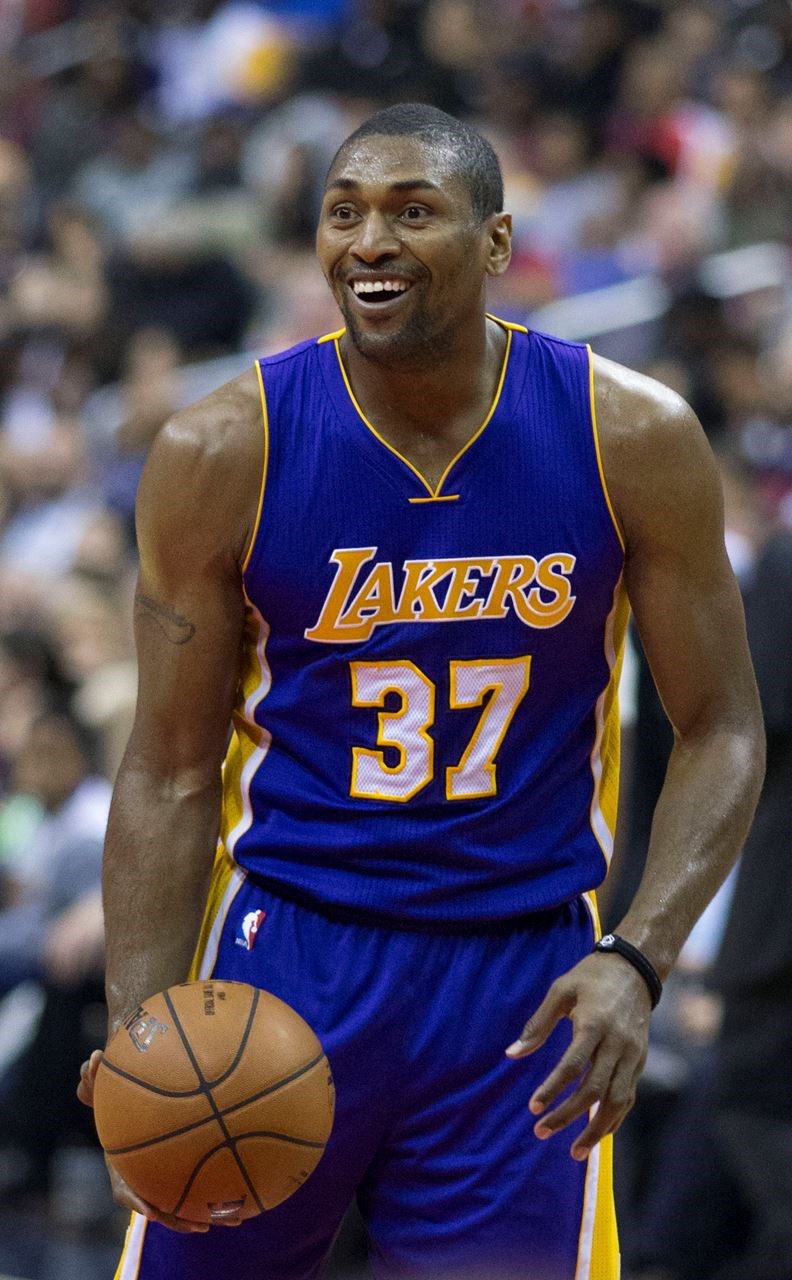 Metta World Peace during a game with the Los Angeles Lakerswikimedia commons
Ron Artest, known as Metta World Peace and now formally known as Metta Sandiford-Artest, is a true inspiration both on and off the basketball court. On the court Metta has had many accomplishments, such as a championship, all-star appearance, and being named the NBA's top defender. But none of these hold the same amount of value to him as his accomplishment of finding help for his mental health.
Before becoming a champion with the Los Angeles Lakers in 2010, Peace would find himself in trouble multiple times throughout his 17-year career. During his career, Artest can be labeled as a fiery energetic player. In essence, this isn't a bad thing to be labeled, as long as the player can control the energy and not let it control them.
In the early stages of his career, Artest's passion crossed the line a variety of times and result in disruptive and aggressive behavior. Things really began to pick up during Peace's fourth season in 2002-03. Artest faced 12 suspensions that year. One of the suspensions resulted from throwing a television monitor. In another game that season, he got into a shouting match with Miami Heat head coach Pat Riley for shoving Heat player Caron Butler into the stands.
None of these infractions came close to what occurred in Detroit on November 19, 2004. The Malice At the Palace. A historic brawl that sports fans will forever remember, and if they don't, here is the video. The incident began after Artest fouled Pistons center Ben Wallace rather hard in a game that was already decided. Wallace took exception to the foul and shoved Peace ferociously. Artest then laid on the scorers table, when all of a sudden a fan threw a beer at him. Without hesitation, all hell broke loose and Artest ran into the stands to hunt down the fan. With the help of teammate Stephen Jackson, they punched at anyone in their way. The result of all of this ended with Artest being suspended for the remainder of the season, losing $5 million from his salary.
Metta would become a journeyman in the NBA for the next couple of seasons, making stops in Sacramento and Houston. But all of this negativity stayed behind him as he signed a contract with the reigning champion Los Angeles Lakers. This would be the first time that Artest was a part of a contender since that 2004 season. He made sure to make the best of this situation and played it through with a clear mind, focusing strictly on basketball and assisting Kobe Bryant and the Lakers winning the championship again in 2010. Metta had his moment in Game 7 of the NBA Finals. With a struggling Kobe Bryant, Artest scored 20 points, played hard nose defense, and sank one of the clutchest three point shots in NBA Finals history.
Peace had finally hit the mountain top. He had turned his entire career around, especially the label of being a locker room problem. In his post-game interview after Game 7, Artest thanked his therapist for helping him with the pressure, his anxiety, and making sure he never gets to that dark place again, saying people can label him whatever they want to, but remember to put the word champion in there.
Artest was one of the first NBA players to come out and tell the public that he sought help for his mental health, even going as far as being a person that players can go to to receive advice. Since then multiple players have spoken out and given their stories. Stars such as San Antonio's DeMar DeRozen and Cleveland Cavaliers Kevin Love gave interviews about their experiences and telling the public that it is ok to go out and get help. Artest began his career as a distraction to both the teams he played for and to his teammates, but now he is seen as a mentor. That is what I call a true hero: somebody who can recognize his faults and turn it all around to make a positive impact on others.
Page created on 9/17/2020 8:58:24 PM
Last edited 6/11/2021 9:36:55 PM
Related Links
The New York Times
- "A Reinvented Metta World Peace Says He's Finally at Peace With the World."
YouTube
- "Metta World Peace Talks 'Quiet Storm: The Ron Artest Story' Documentary"