Mother Teresa
by
Katie Chung

from

Saddle River, New Jersey in United States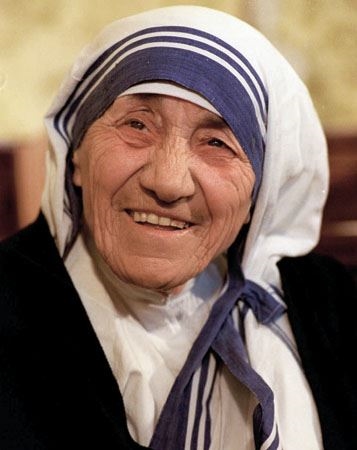 Mother TeresaEncyclopedia Britannica "Not all of us can do great things. But we can do small things with great love" -Mother Teresa. "Mother Teresa" was born in Skopje, Macedonia on August 26th, 1910; she was originally given the name, Agnes Bojaxhiu. Agnes was born to an Albanian grocer and a construction business worker. Since Agnes' parents were wealthy enough to own two houses, she lived a comfortable childhood. Her parents were generous to the poor and encouraged their children to care about those in need. They also motivated Agnes' belief in God, inspiring her devotion to Him. Agnes enjoyed reading about missionary life and church ceremonies, which later persuaded her to become a missionary nun. Her religious and uplifting childhood induced her to become the loving, caring woman she was. I chose Mother Teresa as my hero because she was selfless, dedicated, and helped others. She was a faithful woman who aspired to help the needy.
Mother Teresa was a dedicated nun who devoted her life to others. In 1928, she decided to work as a nun. She built an organization called "The Missionaries of Charity," and founded the organization in 1950- but even before, she was working and working, proving her dedication. Health issues didn't stop Mother Teresa, either! She even continued to work after a heart attack in 1989. Mother Teresa spent a time period of 69 years working as a nun while caring for others, and accomplished much for "The Missionaries of Charity". The organization had over 100 centers in more than 90 countries with 4,000 nuns and hundreds of workers. The nun's determination showed the extraordinary devotion to her work.
Mother Teresa was a hero because she helped others. As a nun, she did many things for the purpose of others. For example, she established Nirmal Hriday (Place for the Pure Heart) in 1952. Nirmal Hriday was a hospice for the sick, destitute, and dying people. In 1955, Mother Teresa founded an orphanage called "Nirmala Shishu Bhavan", or "Children's Home for the Immaculate Heart". The orphanage was for abandoned street babies and children, and therefore helped others. Later, in the mid-1960's, she built a leper colony called "Shanti Nagar" (Town of Peace) near Asansol, India. Teresa always looked for an opportunity to help others, and didn't look down on the "poorest of the poor".
As a hero, Mother Teresa was selfless. She didn't hesitate to sacrifice or give things to others who needed them more than her; she was extremely generous. As an example, Mother Teresa moved into the slums in 1946. She moved there to help others directly- in lieu of helping from a distance, she wanted to experience what the poor were going through. In 1962, Mother Teresa gave money for the good of others. Pope Paul VI had gifted her with a limousine, but she sold her new possession without any uncertainty. Then she used the new money to support building her new leper colony, Shanti Nagar. After some 20 years, Mother Teresa helped evacuate 37 handicapped and mentally challenged children during the Lebanese war from a mental hospital. The trait of selflessness makes Mother Teresa a true hero.
In a nutshell, Mother Teresa's actions and the characteristics she possessed were all heroic. One such trait was the yearning to help others in need, such as the poor who were usually ignored by the rich. The caring nun didn't look down on them, but showed that she respected them by helping them. In addition, the elderly woman was extremely dedicated to her tasks: she didn't let predicaments stop her. Lastly, Mother Teresa was a selfless hero. She never worried about her needs or whether to do things for her own benefits- in fact, she sacrificed so much as a hero for others. Even though she died in September 5, 1997, she will be remembered for her great impact on the world. Mother Teresa started out as a mere woman who moved to the slums so she could assist others… now she is revered for the deeds and traits that prove her a hero.
Page created on 5/29/2018 12:48:07 PM
Last edited 5/29/2018 6:24:55 PM
The beliefs, viewpoints and opinions expressed in this hero submission on the website are those of the author and do not necessarily reflect the beliefs, viewpoints and opinions of The MY HERO Project and its staff.