FOR IMMEDIATE RELEASE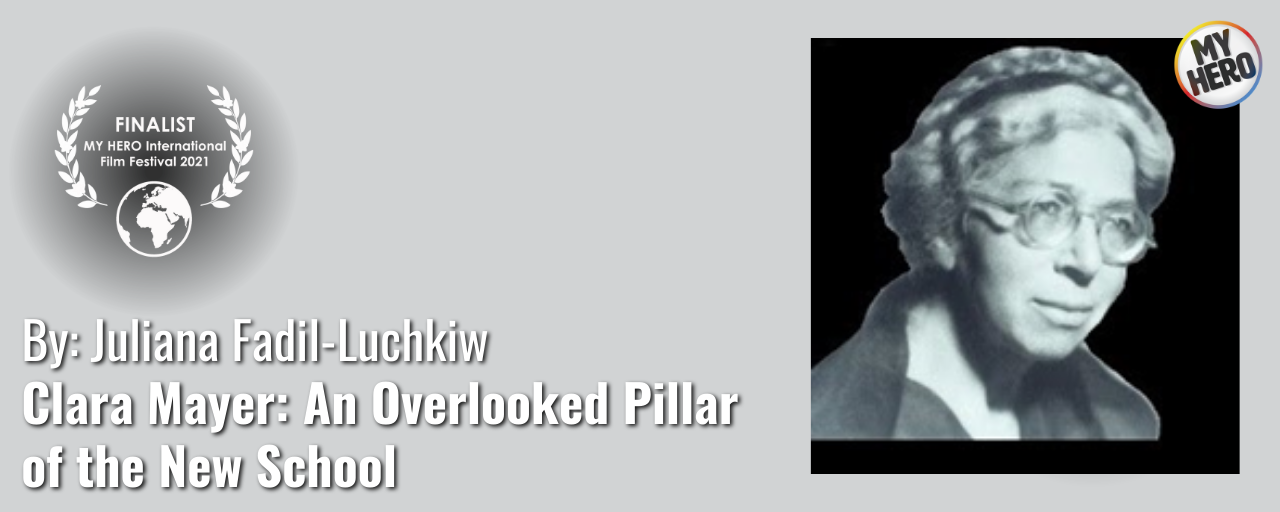 Clara Mayer MY HERO
'Clara Mayer: An Overlooked Pillar of the New School' Receives Special Hero Award at MY HERO Film Festival
The MY HERO Project is proud to announce that the film Clara Mayer: An Overlooked Pillar of the New School from The New School, New York is the recipient of a Special Hero Award at The 2021 MY HERO International Film Festival.
The New School describes itself as a 'new kind of university in New York City, one where scholars, artists, and designers come together to challenge convention and create positive change.'
Taking full advantage of its location, with leading-edge faculty and world-renowned alumni, the school is committed to developing students who will have an impact on the world and address the most pressing social issues of our time.
The film, Clara Mayer: An Overlooked Pillar of the New School, directed by Juliana Fadil-Luchkiw, addresses such values. It is the second episode in a series entitled 'Women's Legacy', which is a historical feminist project. The film explores the life of Clara Mayer and how she played such a crucial role in the founding of The New School even though, despite working there for 40 years, her contributions have barely been recognized.
According to the film, Clara 'Woolie' Mayer was 'the most prominent person of the school', who never took, only ever gave money to the institution, but her career ended abruptly in 1961 when the new president Henry David forced her resignation in a bid to make the school appear more 'professional.' Shortly thereafter, the board of trustees fired David and invited Mayer to return, but she declined.
At the end of Clara Mayer: An Overlooked Pillar of the New School, despite Mayer's dedication and service to the New School, which spanned four decades, we are told that today, there is no memorial, no award in her name or building dedicated to her. The short film by The Women's Legacy Project is an attempt to address this omission.
The Women's Legacy Project is an initiative from the New School which tells the stories of numerous little-known but leading women, each of whom helped craft The New School's rich history since its founding in 1919. To find out more go to:
www.newschool.edu/about/history/womens-legacy-project
About MY HERO International Film Festival
The MY HERO International Film Festival brings together professional and youth filmmakers who honor local and global heroes working for positive change in the world. Thanks to generous sponsors, prizes are awarded to elementary, middle school, high school, college and professionals in a variety of categories including documentary, narrative, music video, animation, experimental, and more.
To view the 2021 award-winning films, go to https://myhero.com/Winners

For more details about MY HERO's International Film Festival, please visit myhero.com/FilmFestival
Page created on 12/3/2021 11:03:30 AM
Last edited 12/7/2021 11:46:08 AM