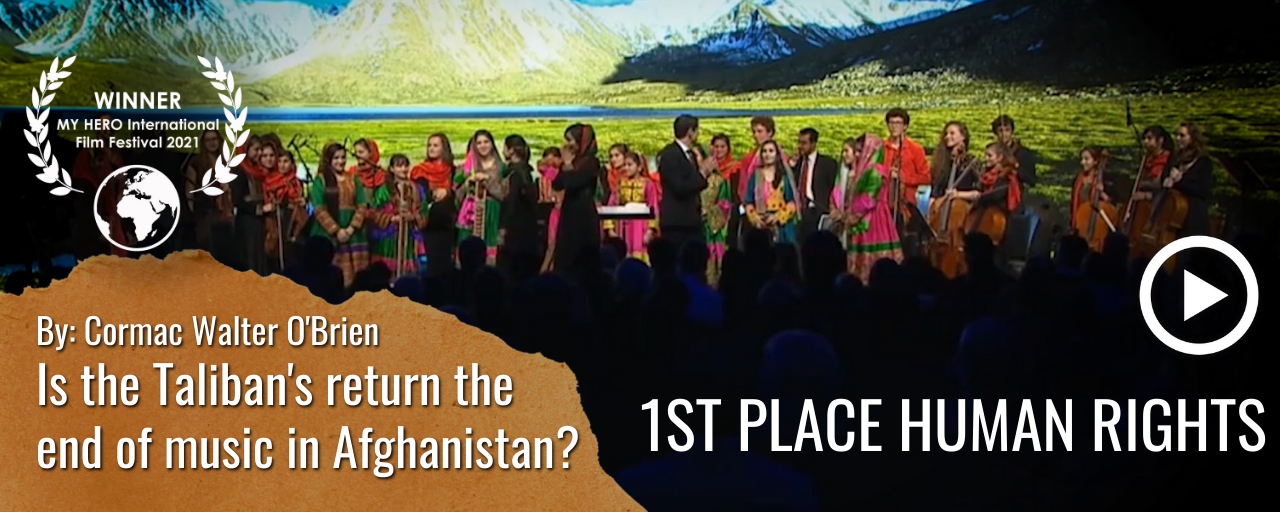 Human RightsMY HERO
Cormac Walter O'Brien's film, Is the Taliban's return the end of music in Afghanistan? receives first place at the MY HERO International Film Festival 2021.
MY HERO is proud to announce that First Place in the Human Rights Category goes to Cormac Walter O'Brien for his impactful and heartbreaking film featuring members of 'Zohra', Afghanistan's first all-female orchestra. In this short film, members of the choir and their founder discuss their feelings as the Taliban take control, about America withdrawing its troops, what they anticipate is next for women and, ultimately, what might happen to music.
Said O'Brien:
I first met 'Zohra' the Afghan women's orchestra in 2019 in Oxford while they were traveling in the United Kingdom. Part of the Afghan National Institute of Music or ANIM, they'd braved death threats, intimidation, and a Taliban suicide bomb attack to bring their music to the world.
They told me, "They can break our instruments, but they cannot take the music out of our hearts," and I felt I'd always remember their bravery and passion. And so, when Afghanistan fell to the Taliban in 2021, they were one of my first thoughts. Just a day later I began reaching out to members of the orchestra. The first person I spoke to was the ANIM's founder, Dr. Ahmad Sarmast. I wanted to know if they were okay and what they were going to do and would Afghanistan be deprived of their music and their voice again?
This piece, Is the Taliban's return the end of music in Afghanistan? was filmed via Zoom just days after the Taliban takeover of Kabul."
In the film, Zarifa, a member of the orchestra who is not currently living in Afghanistan, states, "Music is a very beautiful thing. It's the identity of a country. It is the identity of a nation."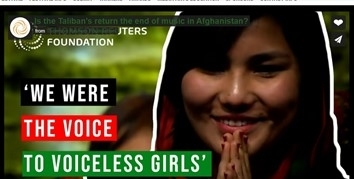 Is the Taliban's return the end of music in Afghanistan? Cormac O'Brien
The previous Taliban government between 1996 and 2001 imposed a very strict regime including the ban of music. So far, the new government has not yet issued such a decree, but there have been some frightening social media and press reports to the contrary.
O'Brien tells us that, "Today, after 5 airlifts, the exit of the school's faculty and students from Kabul is complete and all 272 members of the Institute of Music are currently in Qatar. Next year their plan is to re-establish the school in Portugal where they will continue to work to secure the future of Afghanistan's rich but beleaguered musical heritage."
O'Brien is a digital producer at the Thomson Reuters Foundation, a registered charity and a global news and information services company who works to 'advance media freedom, foster more inclusive economies and promote human rights.'
The foundation's mission is to: "Use the combined power of journalism and the law to build global awareness of critical issues faced by humanity, inspire collective leadership and help shape a prosperous world where no one is left behind...through news, media development, free legal assistance and convening initiatives, we combine our unique services to drive systemic change."
On winning the MY HERO International Festival 2021 Human Rights Award said O'Brien, "I'm delighted to share this prize with the Afghan National Institute of Music."
To connect with Cormac Walter O'Brien, find him on Twitter @cormacwobrien or email: [email protected].
About MY HERO International Film Festival
The MY HERO International Film Festival brings together professional and youth filmmakers who honor local and global heroes working for positive change in the world. Thanks to generous sponsors, prizes are awarded to elementary, middle school, high school, college and professionals in a variety of categories including documentary, narrative, music video, animation, experimental, and more.
To view the 2021 award-winning films, go to /Winners

For more details about MY HERO's International Film Festival, please visit myhero.com/FilmFestival
Page created on 12/1/2021 3:10:58 PM
Last edited 12/7/2021 1:23:17 PM