"Define who you are and what you are, and be clear on that. Meditate on that and then, live and die by that... You can't break the rules, the fundamental rules. Be a man of your word, do what you say you're gonna do, respect people the way you would like to be respected."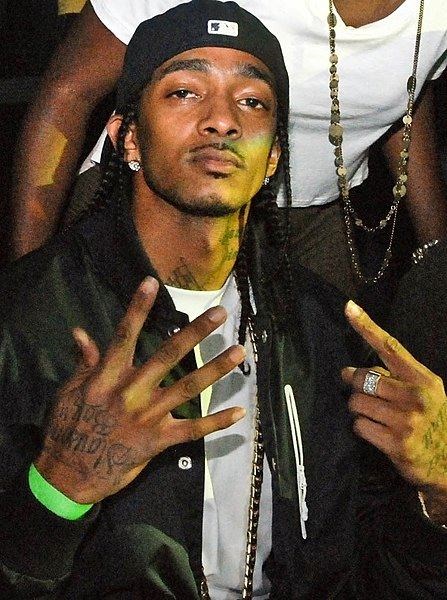 NipseySoundtrack Beat Battle [CC BY 2.5 (https://creativecommons.org/licenses/by/2.5)]"The game will test you, but never fold. Stay ten toes down. It's not on you, it's in you and what's in you, they can never take away" (Nipsey Hussle). Nipsey Hussle was a famous American rapper who gave back to his Crenshaw community. "He was born and raised in the Crenshaw neighborhood of South Los Angeles. His father is a refugee from Eritrea to the U.S. who escaped the ongoing war in his homeland, and his mother is American. Hussle was an Eritrean American" ("Nipsey Hussle."). A hero needs to make people feel safe and impact the world in a positive way. Nipsey Hussle is a hero because he was both giving and humble towards the people in his community.
Nipsey Hussle dedicated himself to making it out of "the struggle" and being successful so he could give back to his community. Nipsey wanted the young people of his hometown to have a better childhood than he did, by investing and creating businesses that would help young people better themselves. "Tapping the anticipation surrounding 'Victory Lap' last year, Nipsey opened a workspace and science, technology, engineering and mathematics, or STEM, center that he described as a bridge between Silicon Valley and the inner city. He told the Los Angeles Times he hoped the center, named Vector 90, would give young people more options and opportunities than he had as a kid" (McLaughlin). Nipsey wanted the kids to have better education than he did, that is why he opened up workplaces including for science, engineering and mathematics. This shows that Nipsey was generous to those who have less than him, which makes him a hero. He was also very giving when he would give clothing to those in need, or food. Nipsey had so much love for his hometown, he provided so much to the town it was like he was the caretaker of his own hometown. "Upon his death, the paper further reported that Hussle loved his stomping ground in both word and deed, buying shoes for students, fixing playgrounds and basketball courts, helping to renovate an old roller rink, providing jobs and shelter for homeless residents, paying for funerals of those who couldn't afford them and investing in Destination Crenshaw, an art-and-culture project that celebrates Los Angeles' black history. Even his clothing store was part of a strip mall renovation that would include apartments for low-income families" (McLaughlin). Nipsey Hussle was so giving that he gave back to own his community. He could have kept his riches and gotten anything he wanted, but instead he cared for those less fortunate than him to give back to those people. Nipsey Hussle did not care if people were younger or older than him, he would always give to those who are in need. He brought students new shoes when theirs was ripped, and fixed playgrounds and basketball courts for the young people of society to play in. He even fixed an old roller rink that he use to go to when he was growing up. He wanted people to still go there and have memories of their own. He helped provide jobs and shelter for the homeless and paid for funerals for those who could not afford them. When Nipsey was giving back to his community, it helped the people live a better life, feel more safe, and enjoy the little things in life.
Nipsey is one of the humblest artists that was out there. He would always give more than he received. He was never afraid about where he came from, if anything he embraced it. He never denied where he came from, instead used it to fuel peace and community. "A still-unknown assailant murdered Ermias Asghedom on a Sunday afternoon in front of the Marathon Clothing store that he owned. We may never receive the full answers for why such a senseless tragedy occurred, but from the moment the news broke, there was only one question: How could this happen? If '90s gangsta rappers waged internecine war between sets draped in Piru Red and Marine Blue, Nipsey was a link between generations. Beloved by all, he was one of the first rappers to cross once-inviolable boundaries between long-time enemies. He proudly represented the Rollin 60's Crips, but boasted an initial co-sign from the red-rag-waving the Game" (Complex). Although Nipsey was in a rival gang, he managed to always want to spread peace with his rivals, and he did that all throughout the streets of LA. His clothing store "The Marathon Clothing" was one of the most valuable ways he spread that positivity. His store was not just a regular store, it represented respect, kindness, and being humble. After Nipsey's death, rival gangs came together and flooded the streets of America in order to pay their respects. Nipsey's music was connected deeply to his history with the Rollin' 60s, a group that is known as the Crips, mostly based out of his hometown Crenshaw. He was always open about talking about how he use to be a member of the Crips when he was a teen, but he spoke proudly about "making it out" alive. "'In my section of the Crenshaw District in the Rollin' 60s, none of my peers survived. None of my peers avoided prison,' he said. 'None of 'em. Everybody got bullet wounds and felonies and strikes. So to make it out mentally stable and not in prison and not on drugs, that's a win" (Vox). Hussle was open about his past with the Rollin 60's and was proud that he made it out alive. He saw a lot of his friends not survive. Also, none of them avoided prison; they had felonies and strikes against them. Most of his friends were shot and had bullet wounds. To make it out alive, mentally stable, and not on drugs or in prison was a win for him.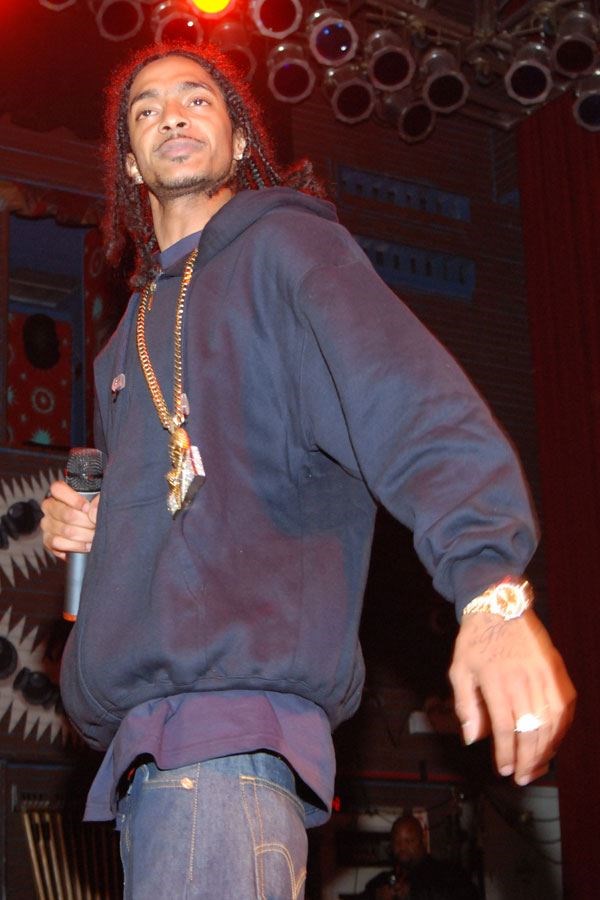 HussleAdam Bielawski [CC BY-SA 3.0 (https://creativecommons.org/licenses/by-sa/3.0)]Nipsey is one of the most inspiring artists. He touched a lot of hearts, was a great husband, great rapper and music writer, and, in many ways, a great man. Nipsey was a great man and role model. He inspired a lot of people to be better as an artist and a person. His patience and dedication is incredible. He pictured his success before he was even successful, and he wanted people to see him as more than just a gang member. "Neighborhood Nip was a brilliant entrepreneur, a bridge builder, a philanthropist, a community activist and a spiritual compass, a fearless truth teller, a devoted husband, a loving father, and a powerful symbol of the possibilities in life—while remaining an acerbic critic of the systemic inequities that deferred the dreams of so many from the community that he tirelessly represented." Nipsey was a great person because of his passion, dedication, devotion, and his patience that led him to all the things that he accomplished. Nipsey's inspiration was impactful in that it attract thousands of of people to his funeral. From Crips to Bloods and even Esas and a lot of other people around America. "His April 11 memorial service, live-streamed online, boasted an impressive array of speakers. Artists like Jhene Aiko performed in Hussle's memory; Snoop Dogg and Stevie Wonder gave eulogies. Former President Barack Obama even sent a letter offering condolences to Hussle's family, commending a life well-lived. A procession following the funeral reportedly attracted more than 21,000 fans, walking alongside Hussle's casket" (Vox). He was such an inspiration that he got a letter from the former president. Not a lot of people get that recognition, unless they were a true inspiration.
Nipsey Hussle inspires people by being giving and towards his community and humble about his success. Nipsey Hussle inspires me by being the best I can be to want to help those in need and wanting to give and have more patience in life, knowing that everything will come to you with hard work and dedication. You just have to have patience because nothing comes overnight. He also inspired other people 'cause he always gave back to the people less fortunate and always had respect for other people. He was well-respected in the streets and in the rap game. "Be more fearless. All my radical moonshots have defined me. That don't be my downfall, my downfall will be not going crazy, not having a higher expectation. Anytime I done set my sight on something that seemed way outlandish, it always come back exactly how I seen it. So, I think I would tell myself to just put way bigger goals on the wall. Just have a bigger vision, have a higher expectation" ( Nipsey Hussle).
Works Consulted
https://www.complex.com/music/2019/04/nipsey-hussle-obituary
www.cnn.com/2019/04/01/entertainment/nipsey-hussle-biography/index.html.
https://gossipgist.com/nipsey-hussle
https://www.imdb.com/name/nm2596169/bio#mini_bio
McLaughlin, Eliott C. "Nipsey Hussle Was More of a Movement than a Musician." CNN, Cable News Network, 1 Apr. 2019,
https://www.vox.com/culture/2019/4/2/18290487/nipsey-hussle-death-rapper
Page created on 5/29/2019 7:35:46 PM
Last edited 10/8/2019 8:20:44 PM