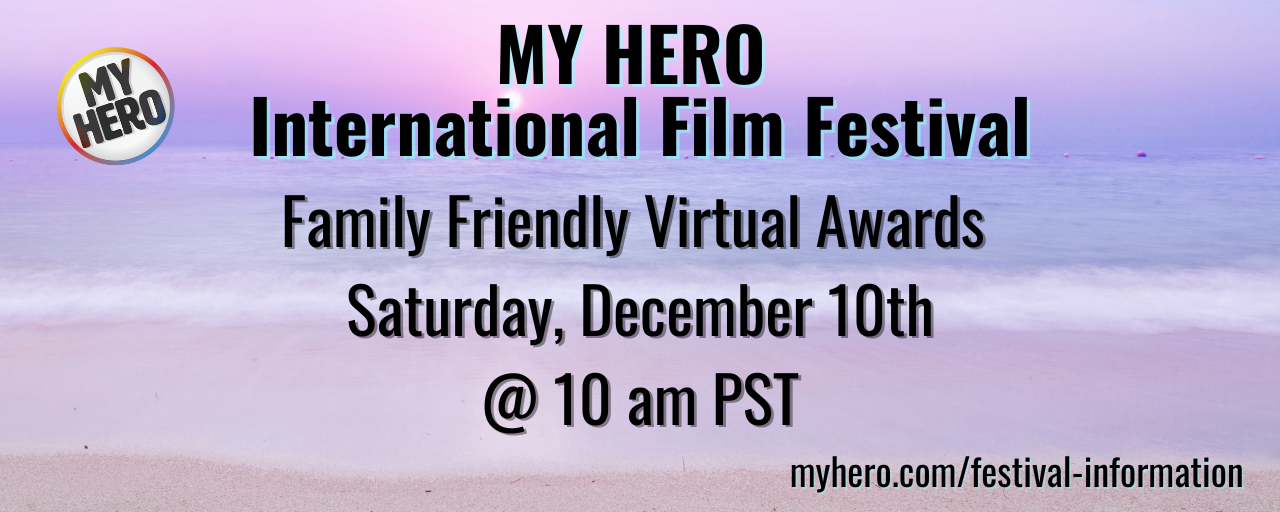 MY HERO International Film FestivalMY HERO
CONTACT: FOR IMMEDIATE RELEASE
Wendy Milette
Director
The MY HERO International Film Festival
[email protected]


THE MY HERO INTERNATIONAL FILM FESTIVAL - FAMILY-FRIENDLY AWARDS CELEBRATION


NOVEMBER 29, 2022 - LAGUNA BEACH, CA - The 18th Annual MY HERO International Film Festival's family-friendly celebration will take place virtually on December 10, 2022, at 10 am (PST). Join us for an uplifting program bringing together festival winners and their heroes from around the world.
Short clips from select films will be screened. Categories include narrative, documentary, immersive, music videos, animation, experimental, trailers and PSAs. Awards are given to winning student and professional filmmakers.
The MY HERO International Film Festival shines a light on activists, peacemakers, environmentalists, humanitarians, artists & others who make a positive impact in the world. Join us online to celebrate the winning filmmakers and their heroes from around the globe.
Jeni Stepanek, Ph.D, founder of the Mattie J.T. Stepanek Foundation, will present the inaugural The Mattie Stepanek Poetic Film Prize, in honor of her late son Mattie Stepanek, a young best-selling poet and peace activist, who touched the hearts of millions during his brief time on earth. His mother will present the award to the student or professional creator of a short poetic video.
All winning short films are available online and are used to enrich learning in classrooms and in homes, providing hope and inspiration to millions of students around the globe.
Please share this invitation with friends and family. Donations from individuals, foundations, and corporations fund our film festival and award-winning educational programs. We appreciate your support for our nonprofit educational project. https://www.myhero.com/donate.
Page created on 11/29/2022 12:00:00 PM
Last edited 11/29/2022 7:34:43 PM