Paul Laurence Dunbar
[Public Domain] Wikimedia Commons

Dubbed "the first American Negro poet of real literary distinction" by James Weldon Johnson, Paul Laurence Dunbar was born on June 27, 1872. His father, Joshua Dunbar, was a former slave who had escaped to Canada. Paul Dunbar grew up and attended high school in Dayton, Ohio, in the same class as the famous aviation heroes Wilbur and Orville Wright.
Dunbar's father left him and his mother, Matilda, and she went to work as a washerwoman for the Wright family. Not only did Matilda teach her four children to read, she instilled in them a love of poetry and language through song and storytelling. Encouraged by this, Paul Dunbar began writing poems around the time he was six years old.
When they were students, Dunbar used to have the Wright brothers print some of his poems on their printing press. Later, when Dunbar had trouble finding a job because of his race, despite being a gifted writer (his first book, Oak and Ivy, was all but ignored) the Wright brothers offered financial help and, Dunbar was able to publish Dayton's first African-American newsletter, the Dayton Tattler. The wonderful relationship Wrights and Dunbar has been memorialized with the naming of a community after them (Wright-Dunbar). Efforts were made to revitalize Wright-Dunbarto coincide with the centennial of the first flight.

Dunbar also worked for a time as an elevator operator before his big break came. In 1893 he recited poetry at the World's Fair where he met Frederick Douglass, who called him one of America's most promising young writers. His poetry collection, Majors and Minors, was published in 1895, and was reviewed by the renowned author and critic, William Dean Howells, in Harper's Weekly. After this, he established himself as a major literary figure alongside Indiana poet James Whitcomb Riley.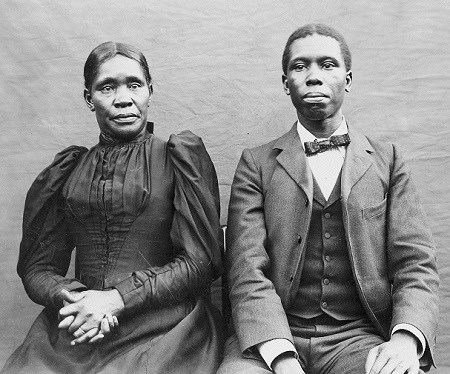 Matilda Burton Murphy Dunbar and Paul Laurence Dunbar c. 1900
Photo courtesy of National Park Service [Public Domain]
In 1898, Dunbar married writer Alice Ruth Moore, with whom he had been corresponding for many years. He continued to write short stories, poems, articles and dramatic sketches up until his death at age 33, in 1906.



We sing, but oh the clay is vile
Beneath our feet, and long the mile;
But let the world dream otherwise,
We wear the mask!
--Paul Laurence Dunbar
from the poem We Wear the Mask




Paul Laurence Dunbar is one of the foremost poets in America, and hero for his superb work in African-American letters.
Page created on 4/7/2013 1:39:18 PM
Last edited 6/15/2020 7:00:11 PM
Related Links
Poetry.org
Poetryfoundation.org
- is an independent literary organization committed to a vigorous presence for poetry in American culture. It exists to discover and celebrate the best poetry and to place it before the largest possible audience.
Extra Info
In November, 1999, the DeCapo Foundation created the Wright-Dunbar Award for youth who work for peace and tolerance around the world. Several children from around the world were honored at a ceremony held at the United Nations. You can read about some of the children who received the Wright-Dunbar Award on MY HERO.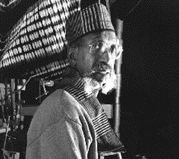 Bing Davis, an artist/educator who makes his home in Dayton pretty close to the Dunbar neighborhood, spoke of Dunbar:
"Ever since I was a young child I had heard about Dunbar and his work and, as a teenager, I would visit his house often and read his work and recite his poems, and he became an inspiration to me."