On July 15, 1976, Ron Kovic pulled his wheelchair into the gleaming lights of New York City's Madison Square Garden. The eyes of the entire country were focused on this intent young man, just turned 30 but wise beyond his years. Kovic was to address the Democratic National Convention, which had convened in New York to nominate Jimmy Carter for the presidency of the United States.
Kovic had a unique voice to share with the audience that evening. A veteran of the Vietnam War, Kovic had considered it his duty to serve his country. For his patriotism he was rewarded with a bullet in his spine, paralyzed from the chest down. Kovic had returned home not to a hero's welcome, but rather to neglect and indifference in America's veterans' hospitals as he began the long process of healing.
Ron was raised on the films of John Wayne and Audie Murphy, movies like The Sands of Iwo Jima and To Hell and Back. These films glamorized war. Kovic had learned that war wasn't all about heroism. It was scary and confusing, and sometimes you shot the wrong person, maybe even one of your own men. Ron learned that just because you gave your body to your country, that country would not necessarily recognize your sacrifice.
Who better to address a convention at which the wounds of the war in Vietnam were still open? Who better to speak for the men who out of conscience chose not to serve in the war? His credentials were unassailable. After all, how many men could say that they were born on the Fourth of July? Kovic could. He had already said it eloquently in a memoir by the same name published earlier in the year.
As Ron Kovic edged his wheelchair into the spotlight a hush fell over the crowd. He began with a poem he had written:
<align=center>

I am the living death
the memorial day on wheels
I am your Yankee Doodle Dandy
your John Wayne come home
your fourth of July firecracker
exploding in the grave
Kovic continued, and his words struck a chord. Time magazine described the scene as one of the few poignant moments at the convention and many in the audience were brought to tears. With just a few simple words, this quiet man with an eloquent voice presented a different kind of war hero: a hero of conscience, a hero of peace, in the great tradition of Gandhi and Martin Luther King.
In the years to come, Ron became a passionate advocate for peace. He spoke out repeatedly against the poor conditions in America's veteran's hospitals. He protested the United States' support for the undemocratic government of El Salvador in the 1980s. Finally, in 1989, director Oliver Stone brought Ron's story to the attention of the world with his film, Born on the Fourth of July, starring Tom Cruise.
***************************
"A Man of Ideals"

...At heart, Kovic remains idealistic, a remarkable state of mind for a man who was paralyzed in a war he later came to abhor, a man who has been beaten, spat upon and jailed several times while invoking his right as an American citizen to demonstrate in protest. Ironically, at times he sounds like a wet-behind-the-ears candidate, someone who has yet to experience the hard realities of politics, or life: "I believe in democracy--an authentic democracy where all the people are represented--and I want to be a part of that, I want to be a part of the continuation of that great democratic experiment. I want to expand our democracy, I want to make it more and more authentic, I want people to be encouraged to speak their minds and not to be afraid or be intimidated..."
Click here to read the entire article by Tim Gilmer for New Mobility Magazine
**************************************
Mr. Kovic contributed this letter for the American people to the MY HERO website on Sept. 14, 2001.
Dear Friends,
My heart and soul weeps with everyone in America right now. I was deeply saddened by the terrible tragedy that occurred on Sept. 11, 2001. I didn't sleep much again last night, as it's been for me, and I'm sure so many others since Tuesday. I wonder if we will ever sleep "normally" again? I have thought about it a lot and I am deeply disheartened by the blind patriotism, hatred and desire for revenge that I see growing more and more in this country each day. Resorting to violence and warfare is a great mistake. The painful anguish resulting from this senseless act of violence stirs in all of us a desire for swift retribution. I strongly believe that to move in this direction will lead us into a terrible and disastrous war which we, as a people and a nation, may never recover from. It is a dark and dangerous time in America, and I, in good conscience, will never support such an act of madness! We seem to have learned nothing from Vietnam, and those of us who have come to understand through great suffering the awful waste and deep immorality of war, are not being listened to. Those of us who have found that love and forgiveness are more powerful than hatred are not being heard. We remain invisible, isolated and alone, voices in the wilderness in a country that has truly gone mad. I encourage all of you to raise your voices on behalf of peace and non-violence everywhere. I love this country so much that I don't want to see it go through the senselessness and agony of war ever again.
With love and a sincere hope for peace!
Ron Kovic
---
Share your thoughts about RON KOVIC in our guestbook.

View the MY HERO Ron Kovic Guestbook.
Brian Sussman from New Rochelle wrote
My hero is Ron Kovic. I met Ron Kovic in Philosophy 101, at Hofstra University in January 1970, during my freshman year. Back then, Hofstra was one of the few colleges that was accessible to wheelchair- (and wheelbed-) bound students, and being on Long Island, Hofstra was convenient to Ron. He had been out of the vet's hospital about a year, at that time. I spent a number of hours talking with Ron over the next year or so, until he drove out West. He told me how he had volunteered for Vietnam twice, and how he was injured shortly before he was to leave Nam. We often talked about the war and politics. Ron also frequently talked about wheelchair basketball, which he often played.

As many times as he asked me to come to a game, I'm embarrassed to admit, I declined, as I thought it would be painful for me to watch, although I'm not quite sure why. I had last seen Ron about a week before he left New York. My own father is a W.W.II disabled vet, very injured, but not paraplegic. I had grown up rather politically conservative, a supporter of Nixon, Goldwater and of the Vietnam War. I had felt the only way to support the vets was to support the war.

Because of Ron's intelligent influence, I discovered that I didn't need to support the war, and could best support the veterans by protesting the war. By the time the colleges in the United States closed down early, in May 1970, in protest of the announced invasion of Cambodia, I found my politics had changed quite a bit. In that month, I recall standing next to Ron as we watched William Kunstler speak at Hofstra in protest of the war. By that time, only five months after meeting Ron, he had convinced me of my misguided politics and of the maliciousness of Vietnam, Cambodian and Laotian Wars. Ultimately this caused my politics to become more progressive in general.

Now, when our society has unfortunately become as conservative as I had once been, I have Ron Kovic to thank for improving my own outlook and greatly expanding the depth of my awareness as to what good government, citizenship and patriotism is really about. Thank you Ron, you're still my hero.
Marc Harris, a visitor to the MY HERO Guestbook, wrote that his heroes were all the men and women who fought in the Vietnam War
I think this because, in my opinion, the war was a waste of time and valuable lives. People were out fighting in a country far away just so we could be "big shots" and try to control the fate of the world. The men and women who were sent to fight in this war were forced to put there lives on the line, not to directly "defend" their country and not even for a cause in which the public supported. They were forced to kill elders and children for fear that they might be the "enemy". Those who did return after the war were not even commended for fighting in the war. I think these people are truly heroes because they were forced to take the "dirty" job no one else would. They gave their lives for a wrong cause and they didn't even have the choice.
Julia Cochrane of Port Townsend, Washington
I have many heroes in my life, but knowing Ron at Kent State created important memories and turning points in my life. Ron causes changes in those he meets because he is not disabled by his injury. He does not let the chair confine him. He is one of the most courageous people I have ever met. Ron, I marked the 30th anniversary of Kent watching Born on the 4th of July with the young people in my life. Hope you read this and are doing well. You are in my thoughts and my heart.
Page created on 8/15/2014 10:28:07 AM
Last edited 7/14/2017 12:23:30 AM
Extra Info
Ron Kovic is an artist and a poet.

This example of a his art work. The Flying Rocket is made from medical products. Ron uses his life experience to create works of art with humor and passion. He has inspired people from all over the world with his devotion to peace.

---
Visit the MY HERO VIRTUAL GALLERY
TO SEE MORE OF
RON KOVIC'S ART WORK.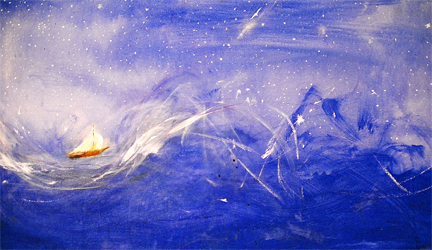 CLICK HERE to listen to a BBC interview of Ron Kovic from July 4, 2011.