by
Claire

from

Memphis, Tennessee in United States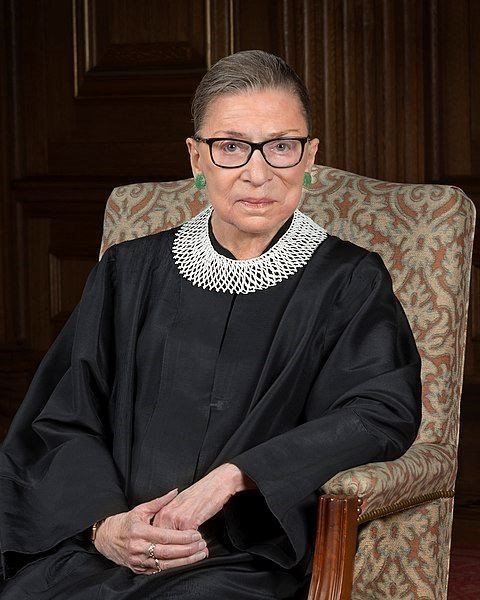 Ruth Bader GinsburgSupreme Court of the United States [Public domain]My hero is Justice Ruth Bader Ginsburg, who has spent her life fighting against constricting gender roles for a more equal representation of women in law. Born in 1933 in Brooklyn, New York as Ruth Joan Bader, she has worked relentlessly for the betterment of herself and society. Growing up in a family of modest means, her parents (and particularly her mother) encouraged a love of education, as demonstrated by the fact that she graduated at the top of her high school class. Unfortunately, her beloved mother died of cancer the day before her graduation from James Madison High School. Ginsburg has stated that her mother has been her inspiration to push for more gender equality. She went on to college at Cornell University, where she was again top of her class. This was also where she met her husband, Martin Ginsburg.
Although Ginsburg took a hiatus from furthering her education while her husband was in the military and she had her first child, she returned to the academic world at Harvard Law. Her time there is a primary example of her struggle against gender inequality; she and the other eight women in a class of at least 500 were criticized by the dean for enrolling in spots that could have been given to men. She was also regularly barred access to Harvard's humanities library on the basis of gender. To add to the adversity she had to overcome, her husband was diagnosed with cancer. Despite all this, she managed to simultaneously help Martin stay in school, take care of her child, and maintain her own academic standing. As a result of her hard work, she was the first woman on the Harvard Law Review. Having transferred schools to be near her husband's new job, Ginsburg graduated first in her class (once again) from Columbia Law in 1959.
Even with such tremendous achievements to her name, Ginsburg was unable to get a job with a federal judge, even struggling to secure her eventual position with a district court judge. Reportedly, one judge turned her down so that he would not have to regulate his swearing, reflecting not only the view at the time that it was unacceptable to curse around women, but also the idea that women were unfit for law in general. Later careers brought different challenges; as a professor at Rutgers, she felt compelled to hide her second pregnancy to avoid being fired. She also discovered that the men were paid more than women as a matter of course, something she set out to remedy.
Ginsburg is perhaps best known for her work directing the Women's Rights Project of the American Civil Liberties Union in the 1970s. Through this, she successfully fought gender discrimination affecting both men and women, as demonstrated by the six cases she won before the Supreme Court. One of these argued against women, as widows were granted more benefits than widowers. Her strategy was to pick small cases with which she could make a dent in sexist policies in the law.
She was appointed to the Supreme Court of the United States in 1993 by President Bill Clinton, only the second woman to hold the honor, where she has served ever since. She is known for her scathing dissent on the Ledbetter v. Goodyear Tire & Rubber Co. case (concerning wage discrimination), as well as her support of the Obergefell v. Hodges case, which legalized same-sex marriage across the United States.
Justice Ruth Bader Ginsburg's resilience is particularly inspiring to me; she has demonstrated time and again that she will not be stopped by constricting gender roles. Indeed, she pushes the gender roles aside for the benefit of not just herself, but others without a voice, in her powerfully worded court cases and her perseverance in the face of discrimination. She continues to voice her opinion confidently, always working towards a more equal construction of gender roles.
Bibliography:
Anon, Lucy. "Why Ruth Bader Ginsburg Is the Beyoncé of the Law (and the Ultimate Role Model)." Mogul, 2016, onmogul.com/stories/why-ruth-bader-ginsburg-is-the-beyonce-of-the-law-and-the-ultimate-role-model.
"Justice Ruth Bader Ginsburg." The Supreme Court Historical Society - Timeline of the Court - Justice Ruth Bader Ginsburg, https://www.supremecourthistory.org/history-of-the-court/the-current-court/justice-ruth-bader-ginsburg/
Macaluso, Beth Anne. "15 Things You Should Know About Ruth Bader Ginsburg." Mental Floss, 15 Mar. 2018, mentalfloss.com/article/76804/15-things-you-should-know-about-ruth-bader-ginsburg.
"Ruth Bader Ginsberg." Oyez, 2018, www.oyez.org/justices/ruth_bader_ginsburg
"Ruth Bader Ginsburg." Biography.com, A&E Networks Television, 19 Apr. 2018, www.biography.com/people/ruth-bader-ginsburg-9312041
Page created on 4/23/2018 7:05:29 PM
Last edited 7/15/2019 11:18:55 PM
Related Links
Sandra Day O'Connor
- Sandra Day O'Connor was the first female Supreme Court Justice in the United States.