With the Earth's population approaching six billion, the fate of our planet's water supply is in trouble. On many continents, river beds are running dry. The Colorado of the American Southwest, once a mighty river, now arrives a mere trickle at its delta in the Gulf of California. Furthermore, the statistics are terrifying: water use rose twice as fast as the increase in the world's population in the 20th century, according to a UN report. In many developing countries, the Earth's ground water supply is being depleted faster than nature can replenish it.
Most people never think about water scarcity and what a severe drought would mean for the human population. But for water environmentalist, Sandra Postel, the fate of the Earth's water supply is an obsession--the cause she fights for daily. Whether it is advocating the smarter use of irrigated water or talking about the fate of the world's oceans, Postel has been a key player.
"I've been interested in environmental issues all my life," says Postel. She says there was no signature event that spurred her into the field of water conservation. But growing up on Long Island, flanked by the waters of Long Island Sound and the Atlantic Ocean, and adjacent to New York City--a major water user--could not have left her unaffected. Indeed, Postel's Franklin Square home was an ideal place from which to begin thinking about the importance of water conservation for human survival.
"Water is finite and we have not done a great job of managing it in the past," says Postel, who currently works as a water conservation advocate and director of the Global Water Policy Project in Amherst, Massachusetts.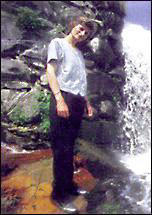 Postel has worked to bring water issues to the political and environmental forefront--from restoring salmon in the lower Snake River to curbing demand for water. She has authored such seminal works on water use as Pillar of Sand: Can the Irrigation Miracle Last? and Last Oasis: Facing Water Scarcity. She has published over 100 articles on water issues and has appeared on television and radio. Postel is also the author of numerous op-ed pieces that have appeared on the pages of many of the country's newspapers including the New York Times and the Washington Post. Besides her work as a author, Postel also has served as co-project director of the Worldwatch Institute's annual State of the World report, as well as serving as the organization's vice president between 1988 and 1994. Postel has lectured at Stanford, Duke, Harvard and Yale, and the documentary version of Last Oasis aired on PBS in 1997.
In Pillar of Sand, she states that "water scarcity is now the single biggest threat to global food production." An increase in population expected to approach 8 billion by 2030 coupled with the fact that the supply of the earth's freshwater is out of step with the distribution of the world's population is creating a situation that demands new ideas, Postel says. In particular, Postel has advocated better allocation of the freshwater supply by calling for methods that can double water productivity. Postel believes that making irrigation more efficient in the development of the world's crop supplies is crucial.
Although Postel feels that much damage has been done to rivers, lakes, and oceans, she feels that there is ample opportunity to set a different precedent. Postel believes that today's youth are more aware of issues relating to the earth's dwindling resources than at any other time in the recent past.
"There is a much stronger base of knowledge about the environment now than when I was a teenager," says Postel. "They didn't have environmental studies majors when I was in college."
Postel believes that once today's youth develop their awareness of environmental issues, they will bring a heightened appreciation of the environment into their adulthood and its subsequent responsibilities. Acquiring that appreciation is not necessarily easy.
"There's more pressure on young people to be consumers--to have the latest and greatest thing." She adds that such accelerated consumption is a big environmental problem.
"What we choose to eat or buy in our local water area or district has a big impact on the local water supply," says Postel. "From a water perspective every product we buy generates pollution."
Page created on 3/24/2006 1:50:25 AM
Last edited 1/7/2020 9:05:50 PM
Extra Info
Sandra Postel's report, Liquid Assets: The Critical Need to Safeguard Freshwater Ecosystems, released in 2005, focuses on the importance of protecting watersheds and freshwater ecosystems with which, "naturally, cities and rural areas can purify drinking water, alleviate hunger, mitigate flood damages, and meet other societal goals at a fraction of the cost of conventional technological alternatives," discussing the impacts of human activities on the natural systems that safeguard our water supply.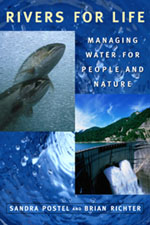 Postel's latest book which she co-authored with Brian Richter, is called
Rivers for Life: Managing Water for People and Nature
and is aimed at invigorating the river restoration movement from local to national scales. . Mike Dombeck, Chief Emeritus of the U.S. Forest Service offered his boundless praise for it: "...a clarion call to society for the need to balance human demands with the needs of our world's rivers, the arterial system of life on this planet."