Madre Teresa (español)
by
Jeff Trussell
Antes de hablar, es preciso que escuches, Dios habla en el silencio del corazón -Madre Teresa
El siglo 20, en muchas maneras, sera recordado como el siglo de las imágenes. Hoy en dia es de suma importancia la imagen que uno proyecta al mundo. Los políticos ocultan sus motivos egoístas atrás de sonrisas deslumbrantes y cortes de pelo costosos. Las modelos mas famosas ocultan cuerpos anorexicos detrás de capas de maquillaje. Hollywood convierte en héroes narcisistas decididamente no-heroicos. Una persona, sin embargo, vivió una vida que era idéntica a la imagen que el mundo tenía de ella. Esta persona fue la Madre Teresa de Calcutta, una mujer que fue celebrada mundialmente como santa y que vivió una vida que justificó enteramente este renombre.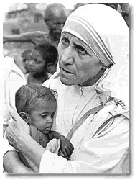 La madre Teresa nació en 1910 en Albania, un paiz destrozado por la guerra, a padres que eran refugiados Católicos. A los 19 años, ella fue a la India para unirse con las Hermanas de Loreto, una orden misionera de monjas. Ella sirvió con las hermanas como maetsra por 20 años. A los 38 años, mientras que viajaba en tren en la India, ella tuvo una realización profunda que la misión de su vida era ministrar a los más pobre de los pobres. Con la bendición del papa, la Madre Teresa descendio a los tugurios de Calcutta, indudablemente una de las ciudades más pobres en el planeta, y comenzaro la orden Des las Hermanas de la Caridad.
Bajo su dirección, Las Hermanas de la Caridad atendieron al los enfermos y hambrientos de Calcutta. Indiscriminadamente regando amor y alimento a todos los que venian al umbral de la misión, la Madre Teresa pronto se convirtio en una celebridad local.
En 1969, un documental detallando su trabajo en Calcutta fue lanzado. De la noche a la mañana, la madre Teresa adquirio prominencia internacional como una santa del dia moderno.
Con una combinación rara de bondad, y de inteligencia sobre los medios de comunicación, la Madre Teresa se aprovechó de su recién adquirido reconocimiento. Ella comenzó a dar discursos mundialmente, ayudando a traer le atención a la grave situación de los pobres de todo el mundo. En 1979, le concedieron el Premio de la Paz Nobel, consagrandó su posición como el campeón mundial de los oprimidos.
Hacia el final de su vida, la Madre Teresa era amiga de reyes y de presidentes por todo el mundo. Pero era con los pobres que ella eligió pasar la mayoría de su tiempo, viajando a las áreas rasgadas por la guerra como Beirut y las naciones aquejadas de sequía como Etiopía en su búsqueda en curso de encontrar a nuevas personas necesitando el amor y la ayuda.
Hoy, el trabajo de la Madre Teresa se continua por parte de los 3.000 + miembros de Las Hermanas de la Caridad. Con misiones mundiales, Las Hermanas de la Caridad ministran a los pobres en seis continentes, continuando la herencia desinteresada que la Madre Teresa duro su larga visa estableciendo.
Page created on 7/26/2014 3:20:22 PM
Last edited 7/26/2014 3:20:22 PM
The beliefs, viewpoints and opinions expressed in this hero submission on the website are those of the author and do not necessarily reflect the beliefs, viewpoints and opinions of The MY HERO Project and its staff.
Extra Info
Muchos visitantes de Mi Héroe han compartido sus pensamientos sobre la Madre Teresa.
K. McGrath de Roanoke, Virginia escribió:
La Madre Teresa es mi héroe porque ella representó todo lo que es bueno y santo en un mundo lleno de dolor y sufrimiento. Ella substituyó la violencia e la indiferencia por la vida humana con paciencia y amabilidad. Ella era más que apenas una mujer de gran virtud y visión. Ella era verdaderamente una santa del día moderno santo que tocó un mundo entero.
Rose de Cranberry escribio que AGNES GONXHA BOJAXHIU (la Madre Teresa) es su héroe.
Mi héroe es la Madre Teresa porque ella ayudó siempre a la gente y ella nunca se dio por vencida. Ella nunca juzgó a la gente ni le importo si una persona tenía hambre, era sin hogar, o tenía una enfermedad. Ella siempre encontraba tiempo para ayudarles. Ella paraba en la calle para ayudar a una persona hambrienta o sin hogar porque ella siempre deseó lo mejor para todos. Lo que contaba era lo que estaba dentro de una persona, y ella siempre vio de la calidad allí.
Agnes Gonxha Bojaxhiu nacio el 26 de agosto en 1910 en Skopje, Macedonia, pero ella dijo que el día de su bautismo era su cumpleaños verdadero. Ella era la más joven de tres niños y su padre era un constructor Albanés. Cuando ella cumplio los 18 años, ella se cambió el nombre a la Hermana Teresa, en memoria de Santa Teresa de Lisieux.
La madre Teresa era una persona honesta y generosa. Ella siempre daba el tiempo y amor a quien lo necesitaba más. Ella consolaba a las persona durante sus épocas más difíciles.
Quiero intentar a ser como la Madre Teresa. Deseo ayudar a la gente y quisiera que la gente me respete y me admire. Deseo ser el tipo de persona que ella era, un ángel, una Santa.
Comparta sus pensamientos sobre la Madre Teresa. Firme el Mi Héroe Guestbook.