"Eva Haller experienced the worst that mankind had to offer, yet she devoted her life to alleviating the pain and improving the wellbeing of people around the world." - Ernan Roman, Eva Haller's son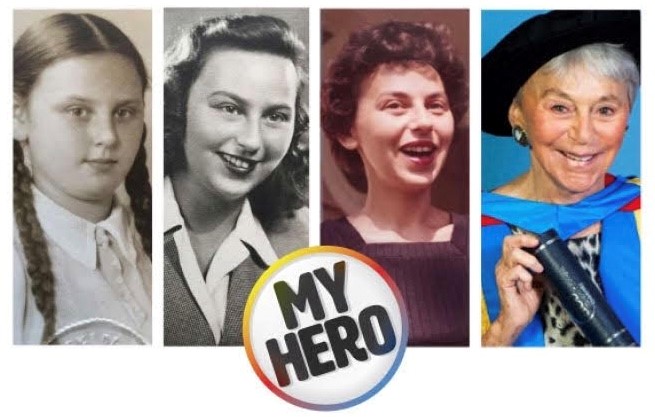 MY HERO StaffEva Haller over the years.May 17th 2023
The MY HERO Project hosted a special screening of their new feature documentary, Eva Haller: A Work in Progress, for family and friends of Eva Haller in celebration of her 93rd birthday. The event took place in the New School for Social Research in New York on May 9th 2023.
The film, which outlines Haller's life and work as an activist and philanthropist, was directed by co-founder and Director of The MY HERO Project Jeanne Meyers, edited, narrated and scored by Assistant Director of the MY HERO Film Festival, Kitty Richardson, and produced by The MY HERO Project.
Following the screening, Haller thanked Jeanne Meyers for her work on the film, adding, "I rather liked that person I saw for the last hour or so, you enhanced me quite a bit. Thank you!" Guests were then invited to celebrate Eva together in the New School.
Eva's son, Ernan Roman, said in a touching speech about his mother,
"Mother is a survivor. Mother is a pragmatist. Mother is a generous human being. She experienced the worst that mankind had to offer, yet she devoted her life to alleviating the pain and improving the wellbeing of people around the world. Mother is tough as nails, has a heart of gold...."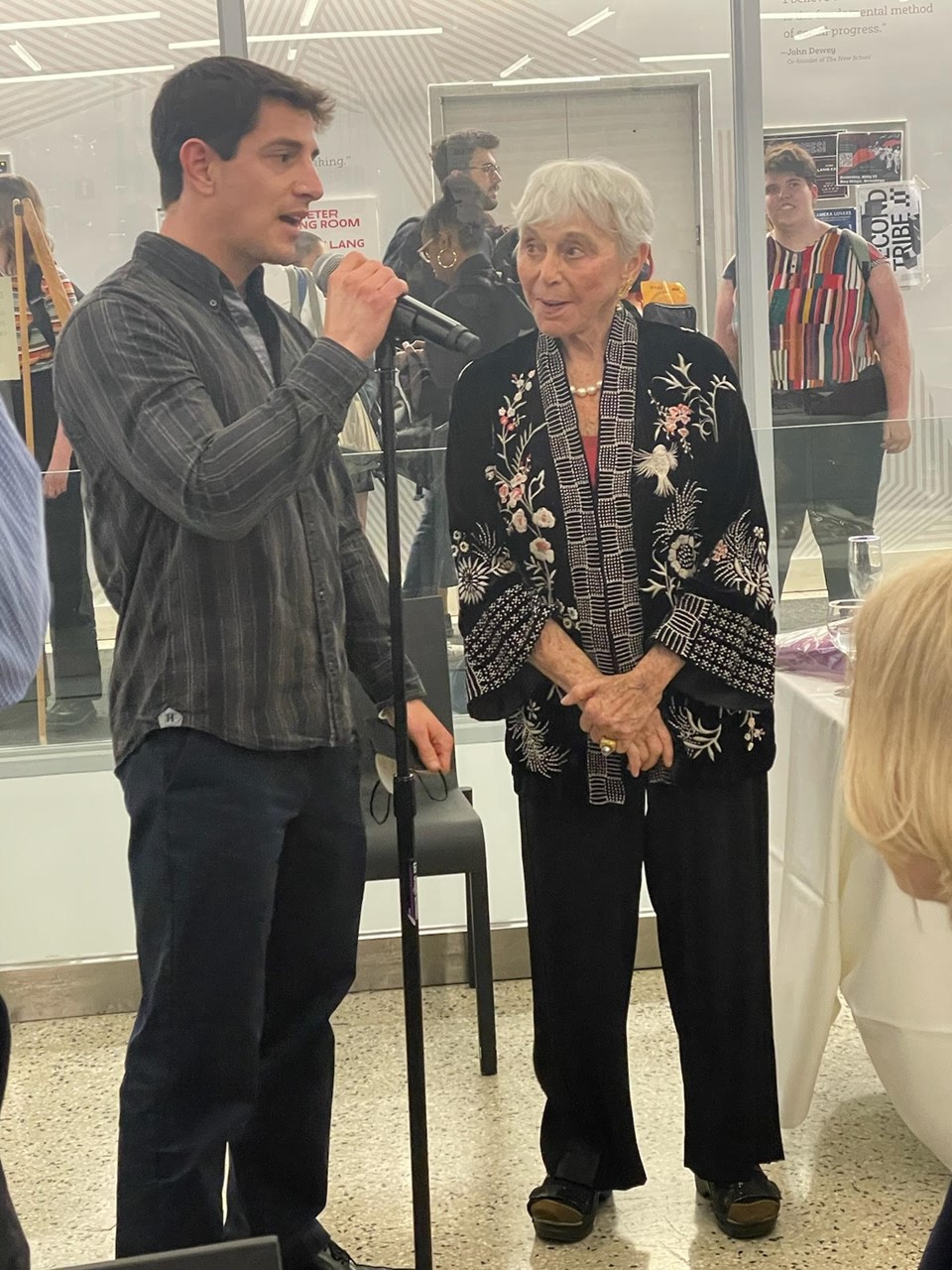 Elias Roman with his grandmother, Eva Haller.MY HERO StaffElias Roman, one of Eva's grandchildren also spoke, noting to his grandmother that, "It feels like you've had ninety-three years of impact. And then another ninety-three, and then another. We heard so many little stories in the film and saw so many ways you've touched people and organizations around the world. We love you to the moon and back." Eva's granddaughter, Helaina Roman, outlined how fortunate she feels to have grown up with a strong female role model in her grandmother, adding that, "From my grandmother, I have learned tenacity, grit, perseverance and purpose. How to find purpose in what I do, and how to bring purpose to helping people and giving back to people around me."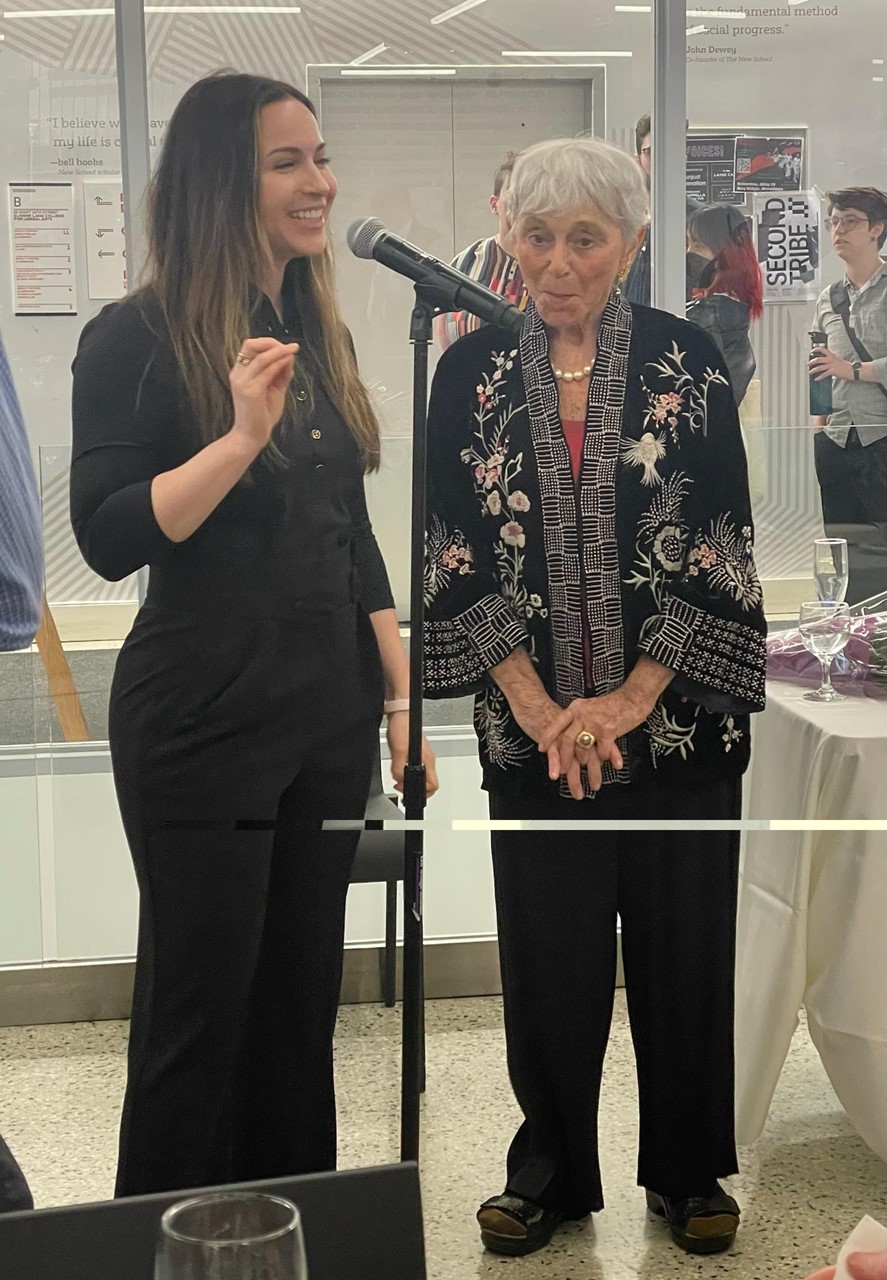 MY HERO StaffHelaina Roman with her grandmother, Eva Haller.Eva's family and friends at the event loved the film and congratulated director, Jeanne Meyers, for her work in documenting Eva's incredible life and work. The film is a work in progress, and will be completed by the summer of 2023 to be submitted to various film festivals.
Eva Haller is an inspirational human being, and the event highlighted just how many people she has touched throughout her life and how much it meant to her friends and family to celebrate her impact.
Eva Haller: A Work in Progress will be available for viewing on a date to be confirmed, following its run in the film festival circuit.
About Eva Haller:
Eva Haller was born on May 9th, 1930, in Budapest, Hungary. During the Second World War, Nazis invaded her city and though Eva managed to escape, her older brother John, who was part of the resistance, was killed. Following this loss, Eva vowed to honor her brother through helping people.
Eva is now a philanthropist, activist, executive, Board Member and friend of MY HERO, and has been a mentor to generations of activists, women in particular. She has been honored with the inaugural Forbes Women Excellence in Mentoring Award and the Ban Ki Moon AI Mentorship Award by 8th UN Secretary General Ban Ki Moon. Eva continues to advise and mentor many humanitarian organizations, such as Asian Initiatives, Women for Women International, Free the Children and the Jane Goodall Institute. You can find more about Eva Haller here.
The Eva Haller Salon Series:
Eva's Salons bring together artists, scientists and media makers from around the globe.
The Eva Haller Salon's take place virtually every Saturday at 2:00 PM PST. To request an invitation to attend the Salon Series please email [email protected]
Explore the Eva Haller Salon Series here.
Call for entries:
Submit your film to the Eva Haller Women Transforming Media Award at the MY HERO International Film Festival. Find out more here.
Page created on 5/17/2023 7:41:37 PM
Last edited 5/21/2023 8:48:45 AM