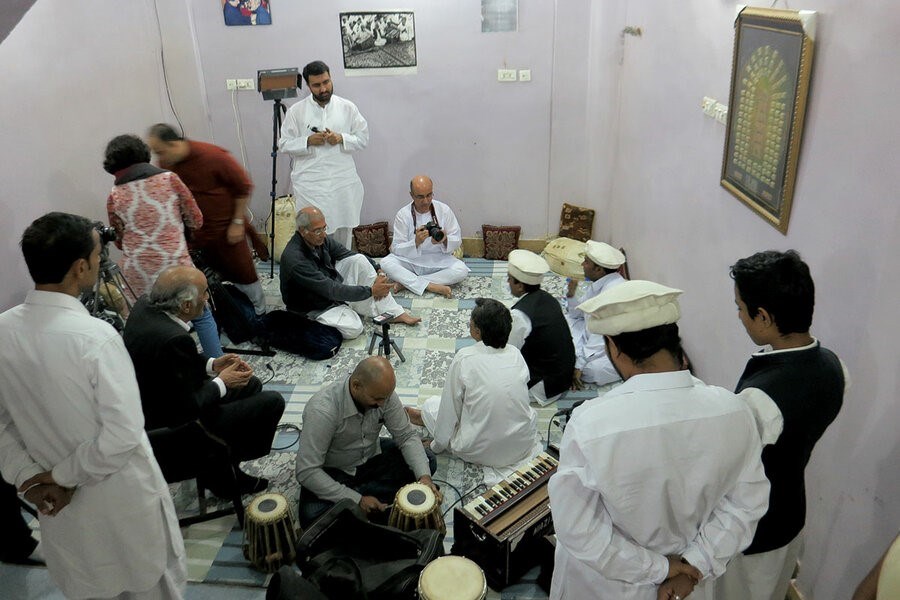 The Dream Journey team visits classical musicians in their homes and posts recordings of their music onto YouTube. Their next listening tour is planned for late 2023.Courtesy of The Dream Journey
May 2, 2023
In the short interlude between musical pieces, Tuqeer Ali Khan looks suspiciously at his harmonium.
"Has someone tried to tune this?" he asks, his eyes squinting in disapproval.
"No one has touched it but you," replies his brother and musical partner, Khurram.
"Are you sure?" says Mr. Khan, raising an eyebrow. "It sounds a little off to me."
If it is, no one in the small audience seems to have noticed. Though he is only 10 minutes into the mehfil-e-samaa – a concert given in an intimate setting – he has created a mood of rapture. He resumes the performance with one of the numbers that made him famous. "Spring has come but my beloved has not," he sings. "My heart cries in anguish."
Though he comes from a family of musicians and is now considered one of Pakistan's most promising classical vocalists, up until a couple of years ago Mr. Khan was virtually unknown outside of Dipalpur. Then he and his brother were featured on The Dream Journey.
Now in its ninth year, the audio-visual project is helmed by a small group of friends who record Pakistani musicians and publish their material on a dedicated YouTube page. The Dream Journey aims to promote traditional, Sufi-style music, the popularity of which has declined in recent decades due to geopolitical pressures. Their channel has amassed over 36 million views and 169,000 followers, and has launched several careers. But above all else, it serves as a source of joy not just for international audiences, but also for the project's music-loving founders and featured musicians.
"My brother and I used to go around begging music producers to give us a chance," Mr. Khan says. "It was only when we were featured on The Dream Journey's YouTube channel that our careers began to flourish."
"I pray for them every day," adds Khurram, who is himself an accomplished singer and tabla player. "All of our success is due to them."
A joyous surprise
The Dream Journey project was started by eight music enthusiasts.
"We basically got to know each other online," says Musab bin Noor, a medical doctor. "It was always a desire to someday get together and listen to music as a group and that finally happened in 2014 when everybody's schedules aligned."
They decided to visit musicians in their homes – the place where they practiced and felt most comfortable. "There's nothing made up about it," explains Arif Ali Khan, a founding member who lives in Canada but regularly travels to Pakistan to work on The Dream Journey Project. "The focus is only on the music."
After the group's first trip to Karachi, team member Mahera Omar, a documentary filmmaker by profession, published her concert recordings online.
"YouTube was becoming quite big in Pakistan at that time," she remembers. "The response we would get and people's comments would just blow us all away."
Asif Hasnain, another founding member, describes the success of the YouTube channel as "miraculous."
"When you put up a video and it gets 10,000 hits, you say 'Oh my God, it's huge!' Then suddenly it gets 50,000 hits, and you say, 'It's huger!' And then suddenly you find that something has hit 3 million," he says. "I think the beauty of it is the surprise."
And for listeners, discovering the sounds of traditional Pakistani music – including new twists on familiar qawwalis, or Sufi devotional songs – brought its own kind of joy.
"So heartening to see a young qawwal party deliver a performance that would make the old maestros proud," writes one YouTube commenter by the name of Talha Khan. "Thank you for sharing and giving these artists the recognition they deserve!"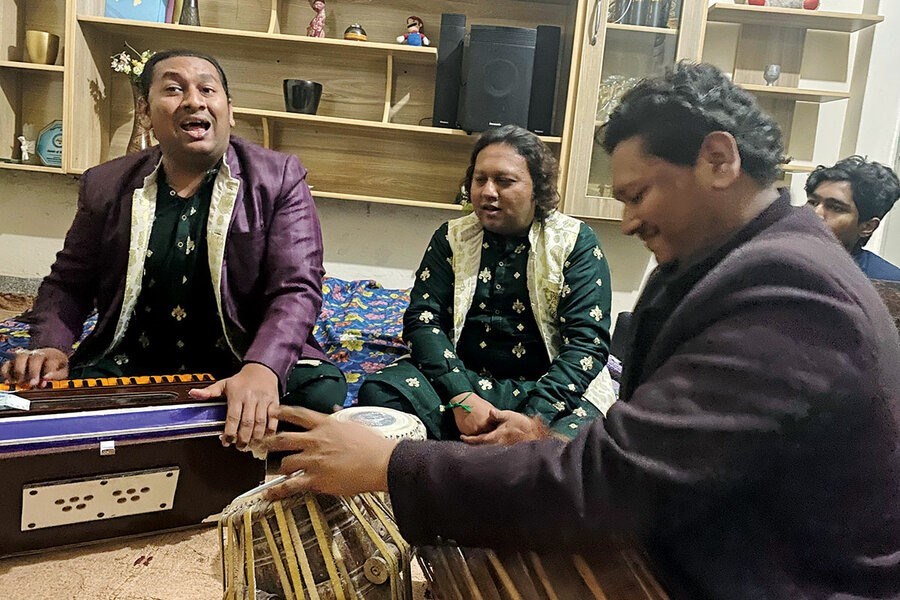 Hasan AliBrothers Tuqeer Ali Khan and Khurram Ali Khan perform a qawwali, a style of Sufi Muslim devotional music, in February 2023. The duo rose to prominence after being featured on The Dream Journey's YouTube channel.
Decline of Pakistani music
The launch of The Dream Journey channel came at a time when Pakistan's classical music scene was stagnant, leaving many performers struggling to make a living.
"The job of the artist is not to go around begging people to listen to them. We are supposed to practice and perform," says Akbar Ali, a classical vocalist based in Lahore. "Musicians who were millions of times more talented than I am have left this world in a state of destitution."
According to Dream Journey member Vaqar Ahmed, the decline of classical music was a direct consequence of the Islamization policies instituted by military dictator Zia-ul-Haq, who took over in a 1977 coup d'état.
"What he started no one has been able to reverse," he says. "He vocally and practically suppressed art, music, and writing. Those were the dark ages of Pakistan's culture."
Yet veteran performer Babar Niazi credits The Dream Journey with helping to revive the genre, saying "they're basically filling the gap left by state institutions who have stopped doing their jobs."
For Vienna-based team member Asif Hasnain, those political events were manifestations of a much deeper issue. "The problem is that in Pakistan, since independence, there's been an eternal debate on your cultural identity," he says.
Specifically, is it more of a subcontinental nation, drawing from the cultures and musical traditions of India, or a Middle Eastern nation?
"From the beginning of Pakistan, this tension was there, and its implications are very profound," he adds. "If you start talking about a Middle Eastern identity you're talking about a certain aridity. If you're talking about the subcontinent, you're talking about a certain explosion of cultural influences which all crystallized into qawwali and Sufi music and art."
Global audience
It is no surprise then that a large proportion of The Dream Journey's audience comes from neighboring India. In the view of Dream Journey member Mian Shaukat Hussain, this is clear evidence that the joy of music can bring the people of these two historically antagonistic countries together. "I definitely believe that music goes to the soul, not to the body, and that the soul has nothing to do with politics and has to do with some higher values," he says.
Even the devotional Islamic music published on The Dream Journey's YouTube channel has a large audience across the border, receiving praise not just from Indian Muslims but also from Hindus, Sikhs, and Christians.
"Our ancestors came from there and we still sing the way they did," says Tuqeer Ali Khan, the harmonium player and qawwali singer. "So, when people in India listen to our music, they feel a connection with what we're doing."
Chicago-based team member Saad Alvi credits the channel's success to the team's high standards. "A good thing is always a good thing; it's timeless," he says. "We are very careful in what we choose."
As part of this process, the Dream Journey team encourages musicians to perform their more obscure works.
"We don't want to listen to the famous few pieces that everyone is performing," says architect and music lover Mushtaq Ahmed, who is credited with discovering many of the Dream Journey's lesser-known performers. "We ask them to perform the music that is unique to their household." Bottom of Form
He says artists often tell them that these become some of their most requested pieces.
Though the COVID-19 pandemic has meant the team hasn't been able to travel since 2020, their next listening tour is planned for the end of this year, and at some point, the group plans to release a feature documentary on Pakistan's classical music scene. Till then, there is the small business of sifting through hundreds of hours of material to select the music to publish on their YouTube page, which continues to gain subscribers year after year.
Related stories