Wang Yani
by
Elena

from

Center Valley

"I do not paint to get praise from others, but to play a game of endless joy."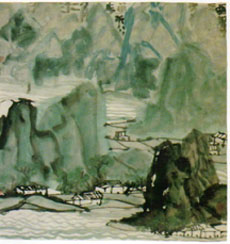 A Dream of the Lijiang River
by Wang Yani, age 13
"When you pick up a brush don't even ask anyone for help. Because the most wonderful thing about painting is being left alone with your own imagination. I do not paint to get praise from others, but to play a game of endless joy," said Chinese artist Wang Yani.

Wang Yani, Age 4
Wang Shiquiang knew that his daughter would be a fantastic artist since the time she was a little girl and got into her father's oil paints and then painted over her father's own beautiful painting. When her father asked her why she had done this, she told him, "Papa, I was helping you paint. I want to paint and paint!"
Wang Yani was born in 1975 in Gongcheng, a small town in Southern China. She always loved to paint and started at quite a young age. Having her father as an art teacher and a painter, she was supplied with everything she needed. At the age of three, she began painting monkeys, and by age four was traveling through the country giving painting demonstrations. At thirteen, her art was being hung in galleries around the world.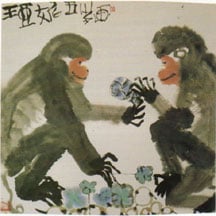 A Game With a Wild Plant
by Wang Yani, age 5
Wang uses a traditional Chinese brush technique, which is hundreds of years old. This technique employs brushes of animal hair, black liquid ink and handmade rice or vegetable fiber paper called xuan.

There are two styles of Chinese painting: Gonghi hua, which is very precise and detailed, and xieyi hua, a freer style. Wang uses the xieyi hua, the freer style for her paintings.

Many Chinese paintings contain inscriptions, which are like titles or comments, but painted right on the image as part of the art. Also, instead of a western-style, handwritten signature, some Chinese artists impress their paintings with a special seal that identifies them as the creator of that particular work.
Wang Yani is an artist hero because she has worked hard to learn traditional techniques in order to express what she sees in her heart.
Page created on 6/11/2015 8:20:58 PM
Last edited 1/4/2017 10:10:30 PM
The beliefs, viewpoints and opinions expressed in this hero submission on the website are those of the author and do not necessarily reflect the beliefs, viewpoints and opinions of The MY HERO Project and its staff.
Extra Info
For more information about this hero, look for this book in your local public library:
A Young Painter: The Life and Paintings of Wang Yani--China's Extraordinary Young Artist
by Zheng Zhensun and Alice Low.