Wang Yani (español)
by Elena
de Center Valley
"Yo no pinto para obtener el elogio de otros, pero para jugar un juego de la alegría sin fin."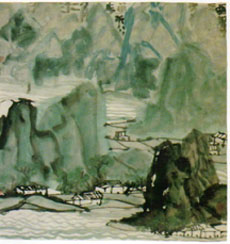 Un Sueño del Río de Lijiang
por Wang Yani, 13 años de edad
"Cuando usted toma un cepillo, incluso no pida ningún ayuda. Porque la cosa más maravillosa acerca de la pintura es que lo déjen a uno solo con su propia imaginación. Yo no pinto para obtener el elogio de otros, pero para jugar un juego de la alegría sin fin," dijo la artista China, Wang Yani.

Wang Yani a la edad de 4 años
Wang Shiquiang supo que su hija sería una artista fantástica desde el tiempo que, cuándo chica, conseguio las pinturas de aceite de el, y pinto sobre la pintura hermosa que su propio padre había pintado. Cuándo su padre le preguntó por qué ella había hecho esto, ella le dijo, "Papá, yo estuve ayudandote a pintar. ¡Quiero pintar y pintar!"
Wang Yani nació en 1975 en Gongcheng, un pueblo pequeño en el sur de China. Ella siempre le encanto pintar y comenzó a una edad muy joven. Teniendo a su padre como un maestro de arte y un pintor, le proveieron todo lo que ella necesitaba. Cuándo ella tenía tres años, ella empezó a pintar monos, y cuándo tenía cuatro años ya viajaba a través del país dando demostraciones de su pintura. A la edad de 13 años, su arte ya colgaba en galerías alrededor del mundo.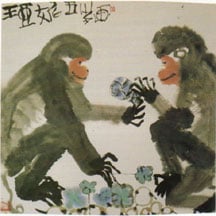 Un Juego Con una Planta Silvestre
por Wang Yani, edad 5
Wong usa una técnica China tradicional, cual tiene centenares de anos. Esta técnica emplea cepillos de cabello de animal, tinta líquida negra, y papel de arroz o de fibra de vegetal, hecho a mano, llamado xuan.

Hay dos estilos de la pintura China: gonghi hua, que es muy exacto y detallado, y xieyi hua, un estilo más libre. Wang utiliza el xieyi hua, o el estilo más libre, para sus pinturas.

Muchas pinturas contienen inscripciones, cuales son como titulos o comentarios pero son pintados en la propia imagen, como parte del mismo arte. También, en vez del estilo occidental de escribir la firma a mano, algunos artistas chinos impresionan sus pinturas con un sello especial, que los identifica como el creador de ese trabajo.
Wang Yani es un artista héroe porque ella ha trabajado duro para aprender los estilos tradicionales para expresar lo que ella vea en su corazón.
Page created on 7/28/2014 6:39:28 PM
Last edited 7/28/2014 6:39:28 PM
The beliefs, viewpoints and opinions expressed in this hero submission on the website are those of the author and do not necessarily reflect the beliefs, viewpoints and opinions of The MY HERO Project and its staff.
Extra Info
Para mas información sobre este héroe, busque en su biblioteca local el libro llamado: Un Pintor Joven: La Vida y Las Pinturas de Wang Yani – La Artista Joven Extraordinaria de China
por Zheng Zhensun y Alice Low.
Related Books