I want to be remembered as the person who helped us restore faith in ourselves.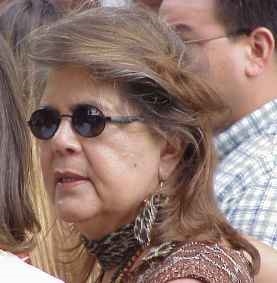 Chief Wilma MankillerPhilkon Phil Konstantin [CC BY-SA 3.0 (https://creativecommons.org/licenses/by-sa/3.0)]Wilma Mankiller came from a large family that spent many years on the family farm in Oklahoma. They were, of course, poor, but not desperately so. "As far back as I can remember there were always books around our house," she recalls in her autobiography, Mankiller: A Chief and Her People. "This love of reading came from the traditional Cherokee passion for telling and listening to stories. But it also came from my parents, particularly my father....A love for books and reading was one of the best gifts he ever gave his children."
"One of the things my parents taught me, and I'll always be grateful for the gift, is to not ever let anybody else define me."
Unfortunately, a poor local economy made the Mankiller family an easy target for the Bureau of Indian Affairs relocation program of the 1950s. Government agents were entrusted with the job of moving rural Cherokees to cities, effectively dispersing them and allowing others to buy their traditional, oil-rich lands. In 1959 the family moved to San Francisco, where Wilma's father could get a job and where Wilma began her junior high school years. This was not a happy time for her. She missed the farm and she hated the school where white kids teased her about being Native American and about her name.
Mankiller decided to leave her parents and go to live with her maternal grandmother, Pearl Sitton, on a family ranch inland from San Francisco. The year she spent there restored her confidence and after returning to the Bay Area, she got increasingly involved with the world of the San Francisco Indian Center. "There was something at the Center for everyone. It was a safe place to go, even if we only wanted to hang out." The Center provided entertainment, social and cultural activities for youth, and a place for adults to hold powwows and discuss matters of importance with other BIA relocatees. Here, Mankiller became politicized, at the same time reinforcing her identity as a Cherokee and her attachments to the Cherokee people, their history and traditions.
"Women in leadership roles can help restore balance and wholeness to our communities."
When a group of Native Americans occupied Alcatraz Island in November 1969, in protest of U.S. Government policies, which had, for hundreds of years, deprived them of their lands, Mankiller participated in her first major political action. "It changed me forever," she wrote. "It was on Alcatraz...where at long last some Native Americans, including me, truly began to regain our balance." In the years that followed the "occupation," Mankiller became more active in developing the cultural resources of the Native American community. She helped build a school and an Indian Adult Education Center. She directed the Native American Youth Center in East Oakland, coordinating field trips to tribal functions, hosting music concerts, and giving kids a place to do their homework or just connect with each other. The youth center also gave her the opportunity to pull together Native American adults from around Oakland as volunteers, thus strengthening their ties. Mankiller says she learned on the job, joking, "My enthusiasm seemed to make up for my lack of skills." But she was, in truth, a natural leader. She returned to Oklahoma in the 1970s, where she worked at the Urban Indian Resource Center and volunteered in the community. In 1981 she founded and then became director of the Cherokee Community Development Department, where she orchestrated a community-based renovation of the water system and was instrumental in lifting an entire town, Bell, Oklahoma, out of squalor and despair.
In 1983, she ran for Deputy Chief of the Cherokee Nation. The campaign was not an easy one. There had never been a woman leader of a Native American tribe. She had many ideas to present and debate, but encountered discouraging opposition from men who refused to talk about anything but the fact that she was a woman. Her campaign days were troubled by death threats, and her tires were slashed. She sought the advice of friends for ways to approach the constant insults, finally settling on a philosophy summed up by the epithet, "Don't ever argue with a fool, because someone walking by and observing you can't tell which one is the fool." In the end, Mankiller had her day: She was elected as first woman Deputy Chief, and over time her wise, strong leadership vindicated her supporters and proved her detractors wrong. In 1985, when Chief Ross Swimmer left for Washington, D.C., Mankiller was obligated to step into his position, becoming the first woman to serve as Principal Chief of the Cherokee Nation.
Although poor health forced her to retire from that position in 1995, Wilma Mankiller continued to be a political, cultural, and spiritual leader in her community and throughout the United States. In 1990 Oklahoma State University honored her with the Henry G. Bennett Distinguished Service Award, and in 1998, President Clinton awarded her the Presidential Medal of Freedom, the nation's highest civilian honor.
Trailer for PBS documentary "Mankiller."
Page created on 8/1/2013 2:27:13 PM
Last edited 10/23/2020 5:44:29 AM
Extra Info
Wilma Mankiller, former Principal Chief of the Cherokee Nation, passed April 6th, 2010.
Statement by President Obama on the Passing of Wilma Mankiller
I am deeply saddened to hear of the passing of Wilma Mankiller today. As the Cherokee Nation's first female chief, she transformed the Nation-to-Nation relationship between the Cherokee Nation and the Federal Government, and served as an inspiration to women in Indian Country and across America. A recipient of the Presidential Medal of Freedom, she was recognized for her vision and commitment to a brighter future for all Americans. Her legacy will continue to encourage and motivate all who carry on her work. Michelle and I offer our condolences to Wilma's family, especially her husband Charlie and two daughters, Gina and Felicia, as well as the Cherokee Nation and all those who knew her and were touched by her good works.