by
Amanda Molinaro from Irvine
"Does a bullet know Christian from Muslim?" –Pray the Devil Back to Hell.
For more than 15 years, civil war ravaged Liberia. Government factions and rebel forces were warring and creating unrest, which in turn evicted thousands of Liberian citizens from their homes and nearly eliminated their access to food, clean water, and health care. By 2002, the women of Liberia decided that they had had enough. Pray the Devil Back to Hell documents the daring and heroic story of the women who fought to bring peace to Liberia.
In July of 1990, two factions of the National Patriotic Front of Liberia, one led by Charles Taylor and the other led by Prince Johnson, invaded the capital city of Monrovia. Two months later Samuel Doe's regime was toppled. A bloody civil war ensued as Taylor-led forces and Johnson-led forces battled for control of Liberia. After five years of civil unrest, a peace treaty was signed in 1995 and Taylor became president of Liberia. For many years, rebel forces were warring with government forces throughout Liberia. Conflict diamonds were used to fund Taylor's forces, while murder, rape, and the use of child soldiers made living conditions dangerous and unbearable for Liberian citizens.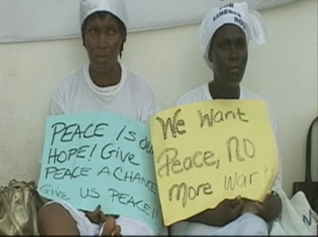 In July of 2002, Leymah Gbowee and Comfort Freeman, presidents of two different Lutheran churches, called a meeting of women from other churches and together they decided it was time to speak out. They organized the Women in Peacebuilding Network (WIPNET), a group that challenged patriarchal power and encouraged people to understand and acknowledge women's roles in peacebuilding. As the major victims of sexual violence, abandonment, and financial hardship, these women felt they had a right to partake in the resolution of conflicts. Determined to end the violence, they distributed a statement of intent: "In the past we were silent, but after being killed, raped, dehumanized, and infected with diseases, and watching our children and families destroyed, war has taught us that the future lies in saying NO to violence and YES to peace! We will not relent until peace prevails."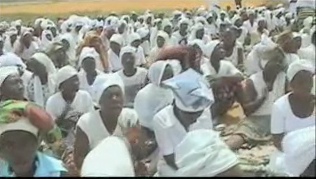 WIPNET extended their network to include Muslim women, and began holding peace vigils in churches and mosques, mass meetings in Monrovia's City Hall, and they marched in the street with shirts that proclaimed, "We want peace. No more war." It was the first time in the whole history of Liberia that Christians and Muslims were coming together. Under hot sun and pouring rain, thousands of Christian women and Muslim women sat side by side, holding daily sit-ins on the Monrovia Airfield. They wore sackcloth and ashes to represent their dedication to peace and held signs that proclaimed messages for peace. President Charles Taylor was determined that nobody would be allowed in the streets "to embarrass [his] administration" and sent armed men with rattans to beat the women. They refused to give up, and continued demonstrating and pressing for a meeting with the president. When they were finally granted a meeting with President Taylor to plea for a cease-fire and negotiations for peace, they spurned the president's offer of $5000, declaring, "Money cannot buy peace!"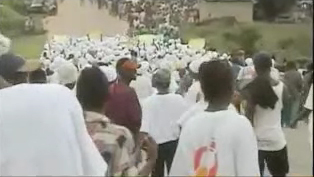 As more and more women joined the cause, people began stopping by the airfield during their sit-ins to thank them and give them food, water, and money to support their cause. In 2003, peace negotiations had started but the parties could not come to a peaceful resolution, and violence was escalating. When a missile landed in the American and Muslim compound, where many displaced Liberians were staying, the women walked off the field and into the peace hall. Linking arms, they sat outside the peace hall as an announcement sounded over the loudspeaker: "Oh my God…the peace hall has been seized by General Leymah and her troops." The women locked down the peace hall, determined that no one would come out until the peace agreement was signed, even if it meant staying there for days. A tentative peace treaty was signed and in late 2003, after Liberia's plight had come to the attention of the rest of the world, the UN charged Charles Taylor with crimes against humanity. He was forced to resign and was exiled to Nigeria. Since his exile, the conditions in Liberia have slowly improved, especially with the help of President Ellen Johnson-Sirleaf, but this war-ravaged country is far from healed.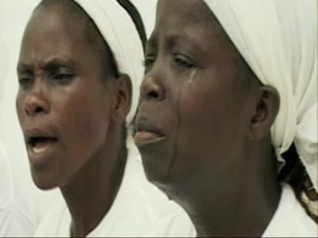 Pray the Devil Back to Hell reveals the horrors of disease, famine, and war. Families were torn apart, brutally murdered, and children were forced to become soldiers. This documentary is the inspirational story of a group of women who recognized the traumatic effects of the war and overcame their religious conflicts to fight for a common goal. "The people of Liberia have hope," Gbowee said when she reflected on their efforts to end violence. "Our vision is for the unity of families and the elimination of hunger and disease. We believe God's hands are under us in this effort now. God has turned ears toward us."
Page created on 3/1/2015 4:20:41 PM
Last edited 1/7/2020 10:50:38 PM
Bibliography
Disney, Abigail. "Pray the Devil Back to Hell." [Online] Available http://www.praythedevilbacktohell.com/.
ECLA, Foundation. "Lutheran Liberian Women Unite For Peace." [Online] Available http://archive.elca.org/liberia/news/liberianwomenpeace.html.