CONTACT: JEANNE MEYERS FOR IMMEDIATE RELEASE
Co-founder/Director
The MY HERO Project
[email protected]
949-376-5964
HEROES TAKE THE SPOTLIGHT AT MY HERO PROJECT BENEFIT
JUNE 14, 2019 – SANTA MONICA, CA – Heroes from around the world took center stage June 8 - 9, as The MY HERO Project (myhero.com) presented A Weekend of Heroes. Events included a benefit for MY HERO's Media Arts Education program, inspiring talks by MY HERO mentors, and a free community screening of uplifting short films. The two-day celebration, which took place in the Moss Theater at Santa Monica's New Roads School, elevated awareness, raised funds to support The MY HERO Project and honored heroes from all walks of life — from conservation heroes working to protect the world's oceans to heroes striving for peace and social justice.
The weekend began with an hour-long peek behind the curtain at the mentors of The MY HERO Project. MY HERO mentors work with teachers, students and activists around the world to develop digital storytelling skills that allow them to share their own hero stories. Mentors talked about the free educational resources available on The MY HERO website and how MY HERO tools and lesson plans are used in 197 countries.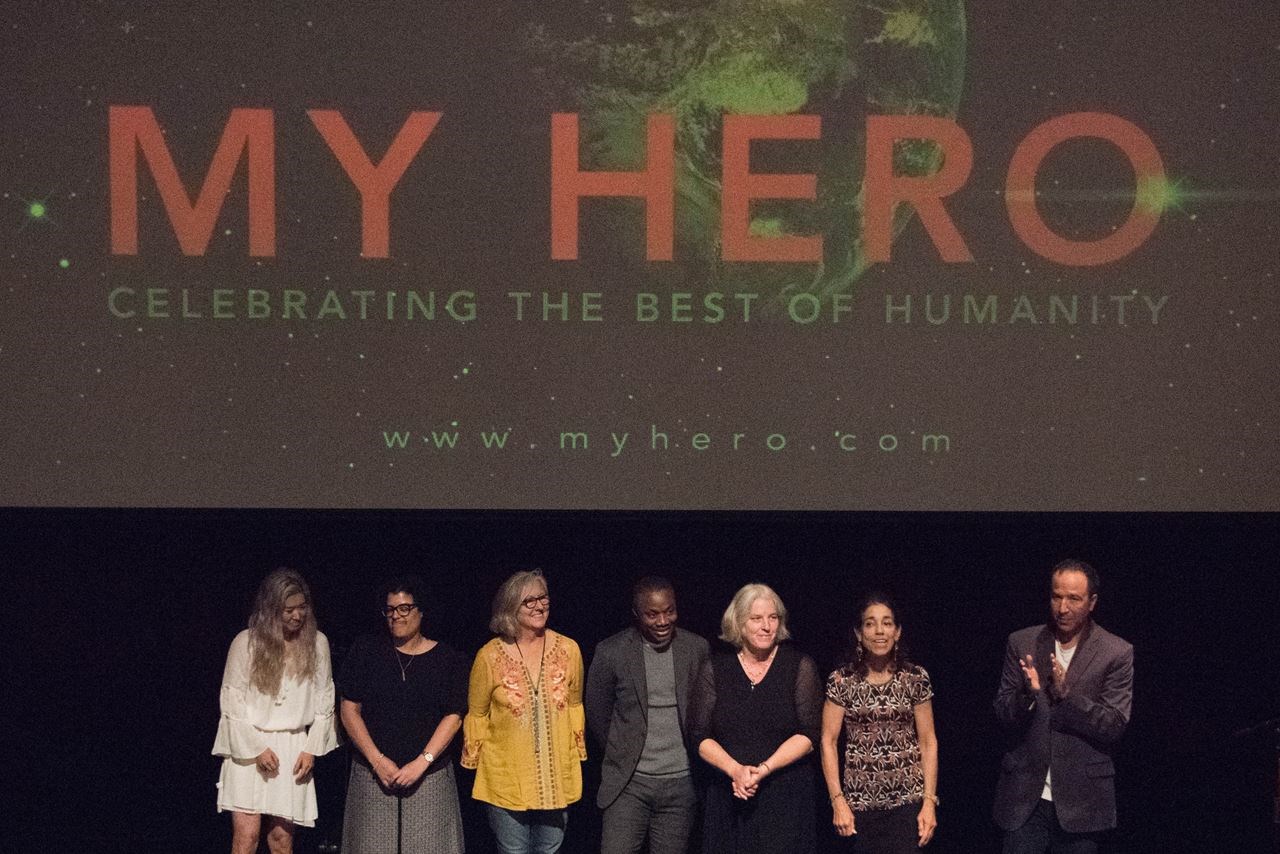 MY HERO mentors (L - R) Xenia Shin, Shannon Luders-Manuel, Wendy Milette, Mohamed Sidibay, Jeanne Meyers, Victoria Murphy, Marc OstrickMY HEROThe evening continued with a special performance for A Night of Heroes - Making Waves in Global Education. The program included a stunning performance of Bella Gaia by composer and director Kenji Williams. His exquisite violin, paired with stunning NASA images, filled the Moss Theater with an ethereal atmosphere. The performance was made possible by a grant from mediaThe foundation Inc. and support from New Roads School.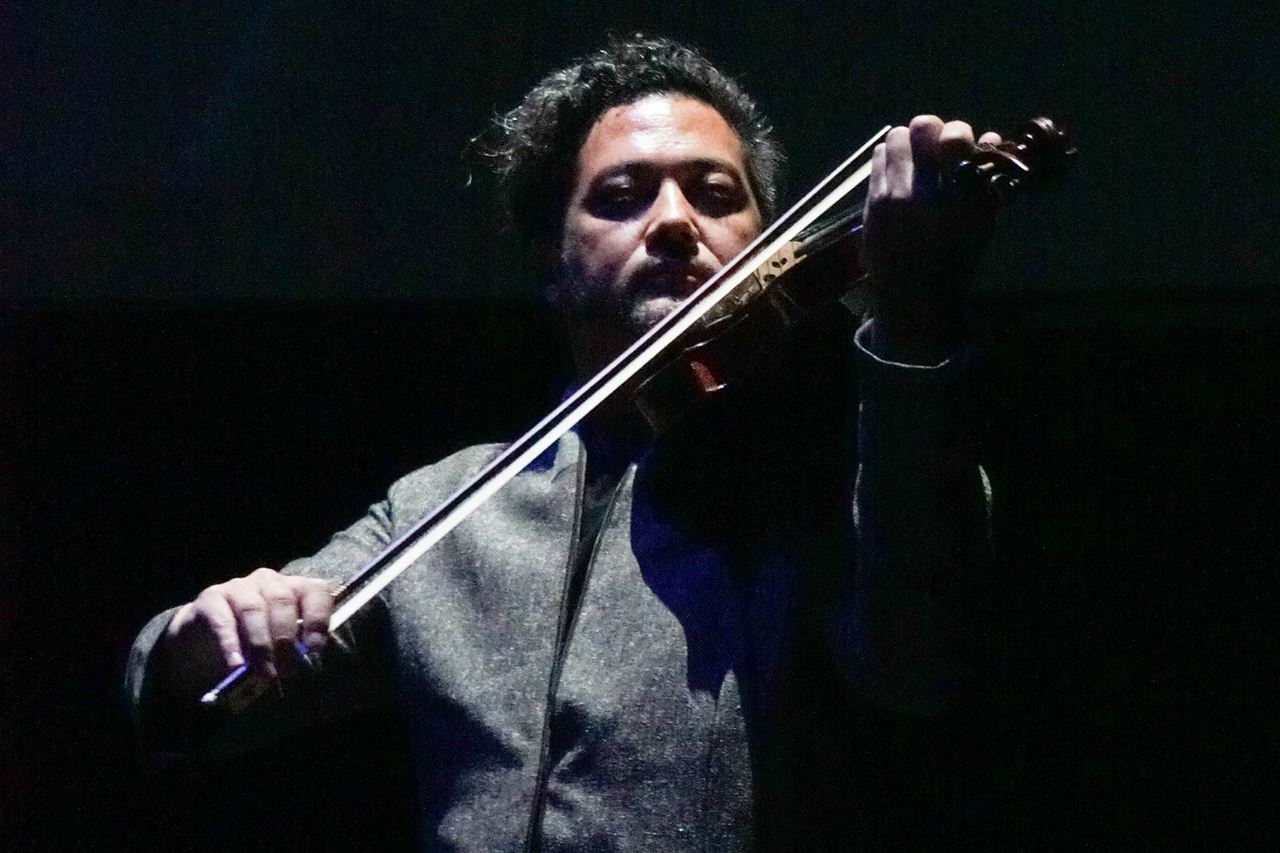 Kenji Williams performs Bella GaiaMY HEROWilliams was joined on stage by Art (Trey) Carlisle, who performed a spoken word rap poem about the environment. Carlisle won MY HERO's 2016 Emerging Artist Award for his high school film Us and Us, a documentary about dehumanization. Carlisle is a student at Soka University of America, where he studies international relations and political science.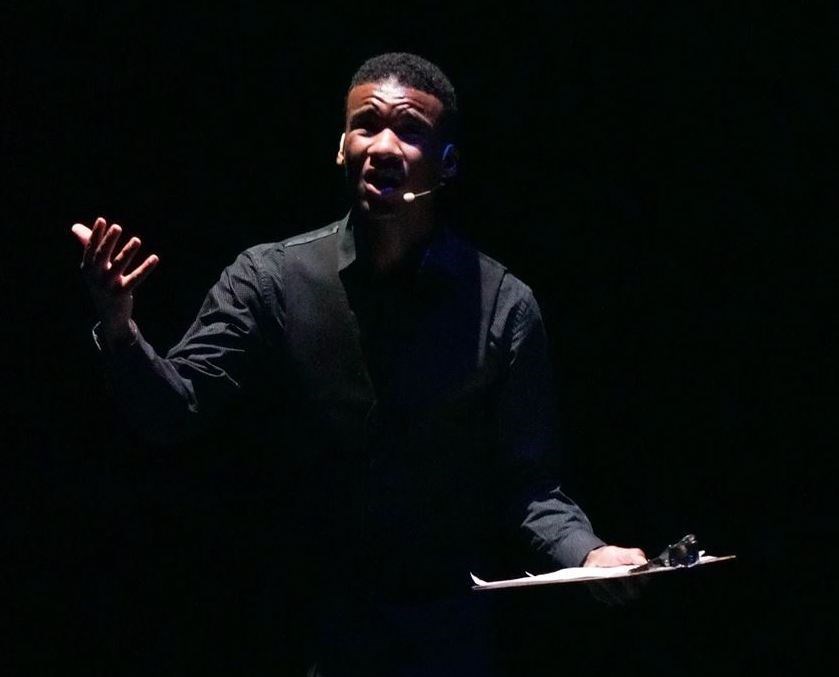 Art (Trey) Carlisle performs a spoken word rapMY HERO
June 8 was World Oceans Day and to celebrate those who safeguard the seas, The MY HERO Project unveiled the winner of this year's Sylvia Earle Ocean Conservation Award — Protecting Blue Whales and Blue Skies. The documentary, directed by Michael Hanrahan, shows the efforts of government agencies, non-profits and private industry working together to save Blue Whales being struck by fast-moving ships in the Santa Barbara Channel.
"We had tremendous partners that were working with us, including, most importantly, the Channel Islands National Marine Sanctuary," said Hanrahan. "It's such an important message to get across. This continues today, whales continue to be ship-struck by vessels moving through the Santa Barbara Channels. So, it's really a beautiful thing when someone who is passionate and feels strongly about the issue, such as my partner in crime in the production Sean Hastings, employs a filmmaker to get the message across to a broader audience."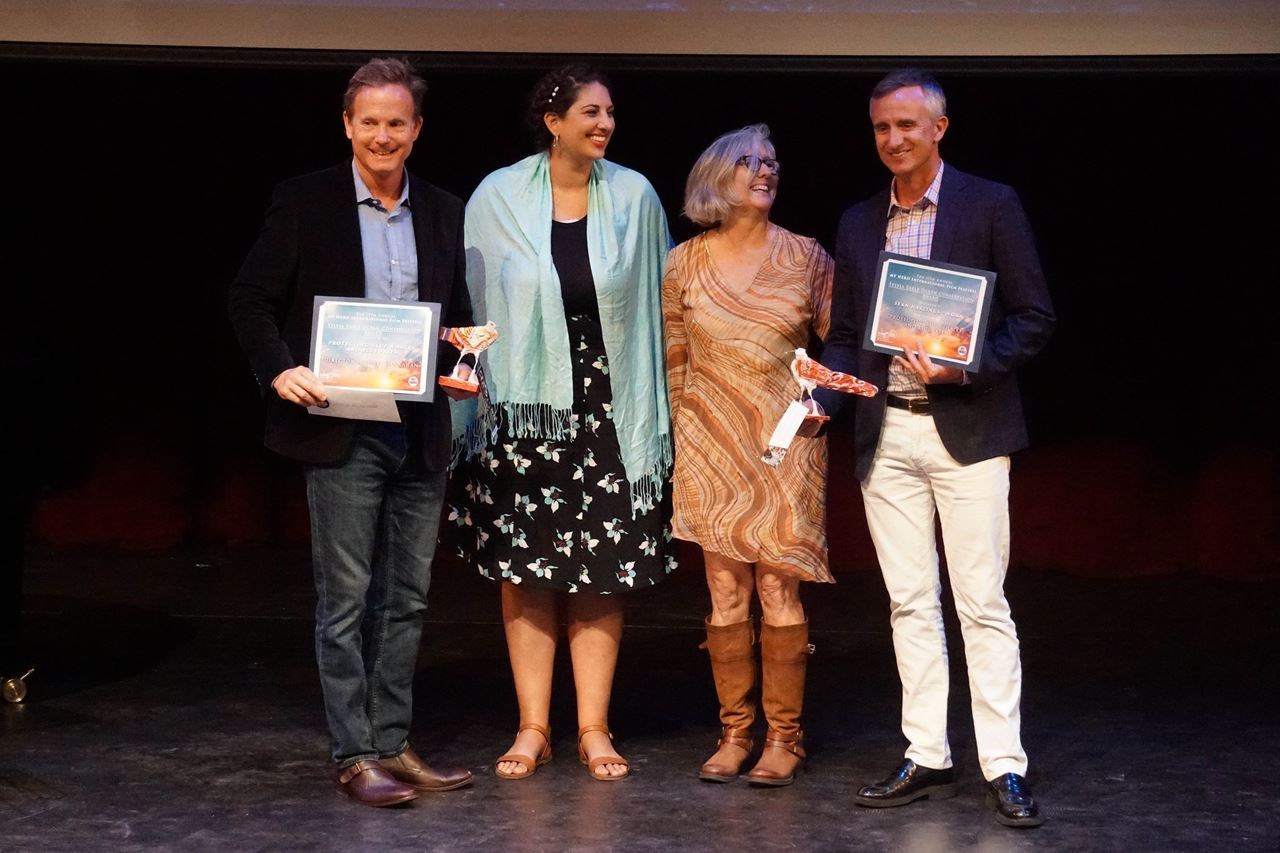 Filmmaker Michael Hanrahan (L.) and Sean Hastings (R.) of the Channel Islands National Marine Sanctuary - NOAA accept the 2019 Sylvia Earle Ocean Conservation Award from One World One Ocean representative Shauna Badheka (Center L.) and MY HERO Media Director Wendy Milette (Center R.).MY HERO"We do this work because we love to do it and the fact that you all came out tonight to celebrate what's going on here and learn about it and pass it on, that is really appreciated," said Sean Hastings, Resource Protection Coordinator for the Channel Islands National Marine Sanctuary. "Whales continue to get struck, and as you saw in the film, it's happening because we have a lot of goods that we like and want and they come over from mostly Asia and there's a really simple and quite easy solution - to just slow ships down."
The annual award, sponsored by MacGillivray Freeman Films' One World One Ocean campaign, goes to a filmmaker who calls attention to heroes working to protect the world's oceans. The award is named for esteemed marine biologist and oceanographer Dr. Sylvia Earle, who has been a National Geographic explorer-in-residence for 21 years and is the founder of Mission Blue. The non-profit unites the campaigns of conservation organizations and launches oceanic expeditions to shine a light on vital ecosystems and to gather support for their protection.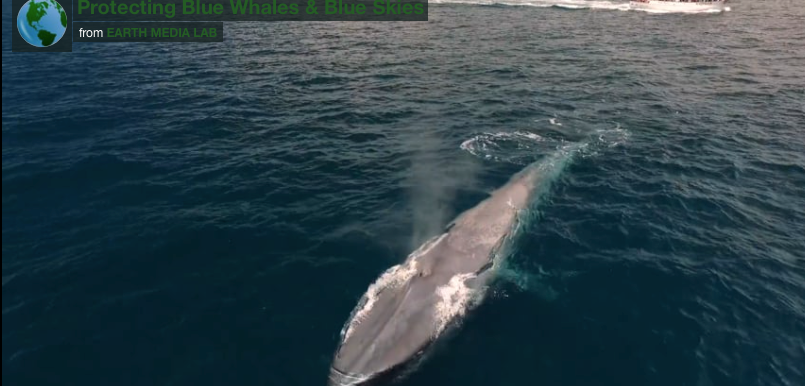 Still from: Protecting Blue Whales and Blue SkiesMY HERO
Whitney Winefordner, a student at Laguna Beach High, performed "My Blue Heart," a song she wrote as a tribute to marine biologist Dr. Sylvia Earle. The song was the Music Video Award winner of the 2018 MY HERO Song Contest.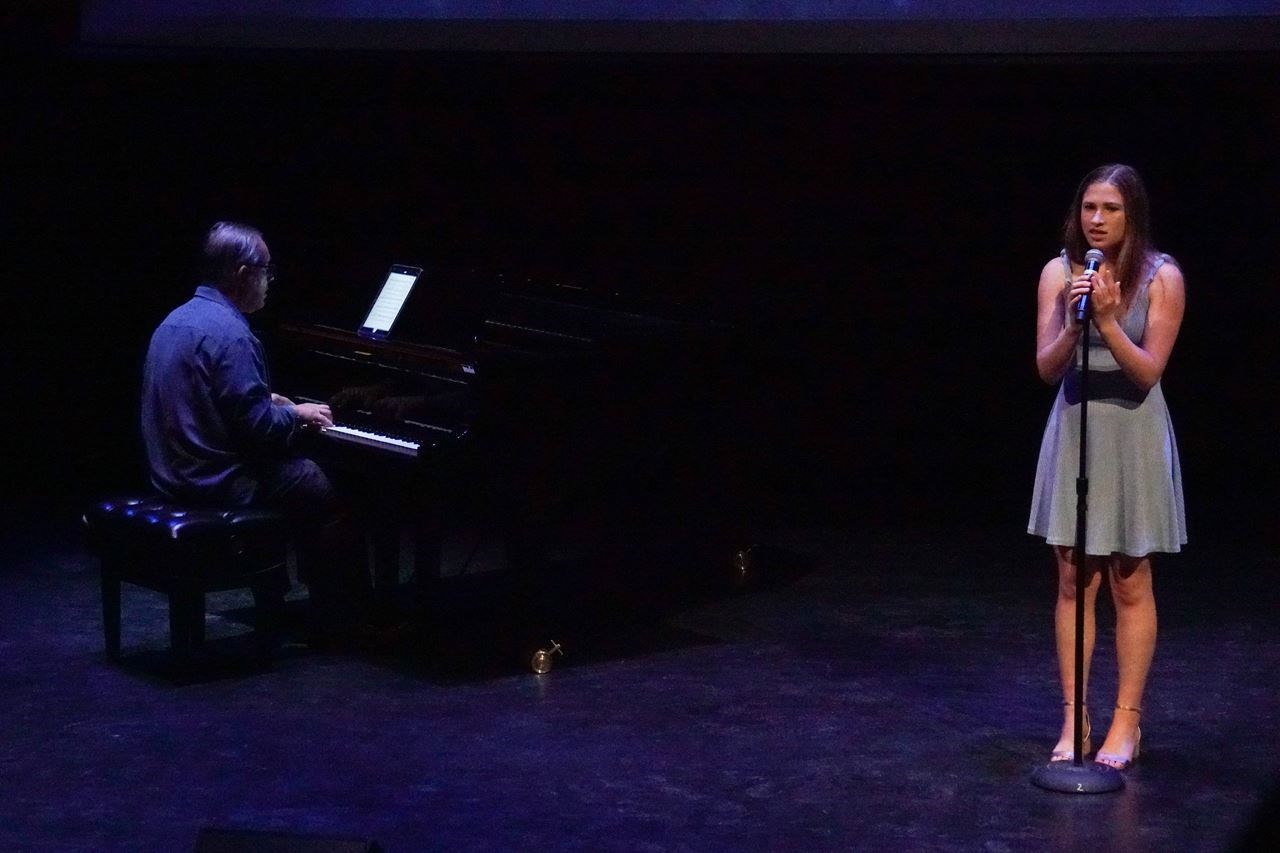 Stu Pearlman accompanies Laguna Beach High student Whitney Winefordner as she sings her original song "My Blue Heart," a tribute to Sylvia Earle.MY HERO
The evening's host was Mohamed Sidibay, a Fordham Law student who shared his remarkable journey from his life as a child soldier in Sierra Leone to his current internship at the New York State Attorney General's office. Sidibay is an outspoken advocate for international human rights, working with UNICEF, UNESCO and other global education partners, including The MY HERO Project.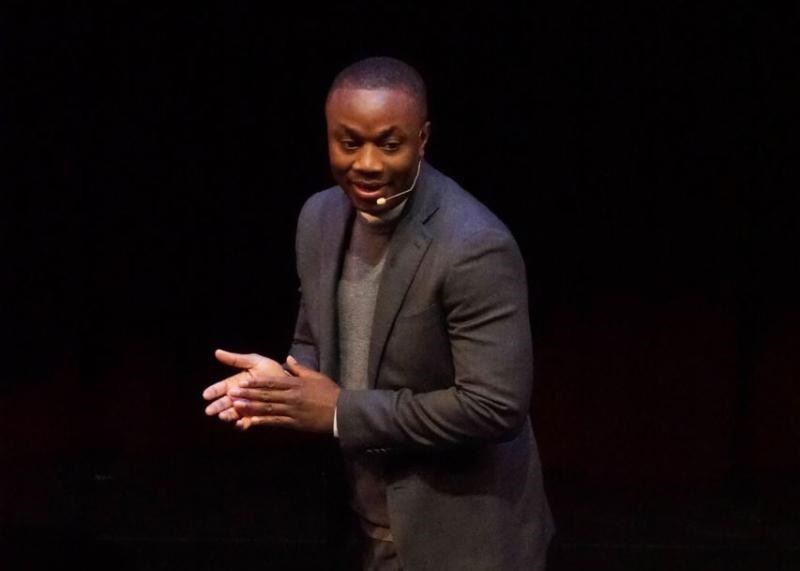 Host Mohamed SidibayMY HERO
On Sunday, June 9, MY HERO presented a free screening of uplifting short films that honored World Ocean's Day and Peace & Social Justice. Art (Trey) Carlisle screened Remembering History: EJI's Legacy Museum & National Memorial for Peace and Justice, a film about the Equal Justice Initiative. Filmmaker Sophie Kim, Los Angeles Youth Poet Laureate and a recent graduate of Harvard Westlake School, screened her film Playas de Tijuana, a poem about the impact of the American-Mexican border wall on families. The films are part of MY HERO's growing multimedia library, which is free and accessible on The MY HERO website.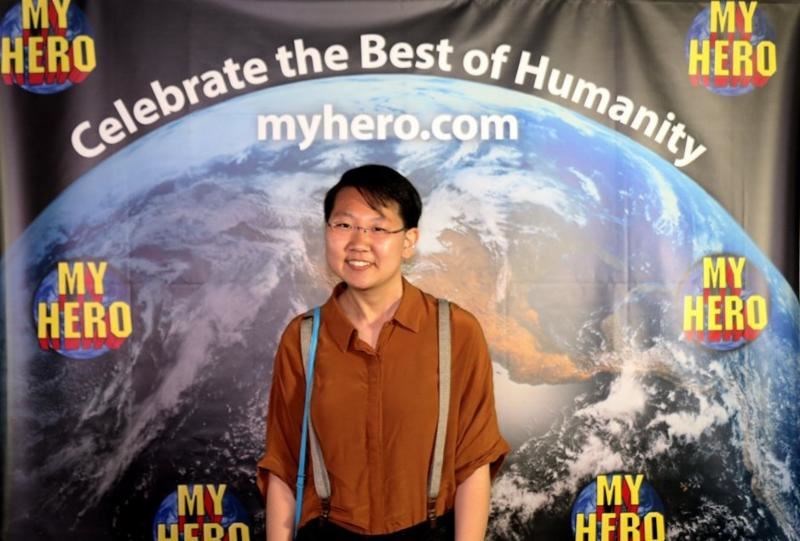 Filmmaker and 2018 L.A. Youth Poet Laureate Sophie KimMY HERO
Missed the screening? Watch the films here.
Sign up for The MY HERO Newsletter to learn more about our
continuing programs and to learn about upcoming events.
The MY HERO Project is a non-profit 501(c)(3) organization dedicated to celebrating heroes from all walks of life through stories, music, art, and short films. We depend on our generous Sponsors and Donors to keep MY HERO resources and lesson plans free and available to teachers in 197 countries. Please help us shine a light on the heroes of the world.
Page created on 6/14/2019 9:51:40 PM
Last edited 7/1/2019 11:27:58 PM