December 2021
FOR IMMEDIATE RELEASE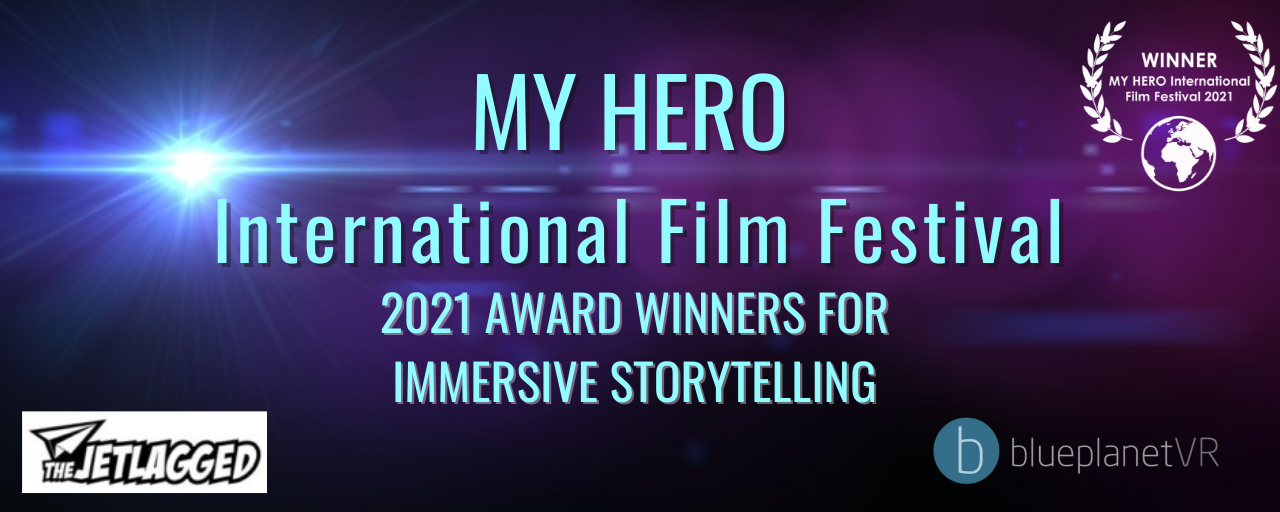 MY HERO2021 IFF IS
MY HERO is proud to announce that Landscapes for the Mind from Blue Planet VR and 360 SEA PLASTIC from The Jet Lagged Production Company have won The Immersive Storytelling awards at the 2021 MY HERO International Film Festival.
Celebrating Virtual Reality for Social Good, the Immersive Storytelling award is for innovative Virtual Reality content featuring stories that promote creativity, engagement, activism and social good.
2021 Award Winners:
Educational Volumetric VR Award | Blue Planet VR - Landscapes for the Mind, directed by: Eric Hansen
Blueplanet VR is a curated collection of over 40 photogrammetric experiences of unique and powerful scenic and cultural heritage locations worldwide, ranging from Borobudur Temple in Indonesia to Bears Ears National Monument in the southwestern US. With a high level of digital production and art direction, BPVR offers compelling 6DOF presence and mobility within these remarkable locations.
Eric Hanson is a leader in volumetric VR and is bringing the vivid experience of visiting a cultural heritage across the globe to a virtual reality platform, thus making magical places in the world more accessible to all. Blue Planet's goal is to create leading volumetric VR content of remarkable locations on the planet.
Eric explained: "This project is a first of its kind, and I think people will find it very compelling as a form of virtual visitation of a myriad of unusual and powerful spatial outdoor locations from across the planet. Our goal is to create true-to-life volumetric VR content of these remarkable locations utilizing advanced technology coupled with experienced environment capture and rich art direction. This will be the closest thing to experiencing these compelling and special places."
On accepting the award at the MY HERO International Film Festival on December 4th, Eric revealed from where the concept for Blue Planet VR originated: "I have spent my life being very affected by nature and landscape and I have always had this life where I worked on feature film and with visual effects and so I finally merged those two interests to create this title." He added: "In order to feel fully present in a scene, you do really need to see the film in VR though. It is the beginning of a new medium for us to tell stories and we are only just beginning to scratch the surface." Eric concluded: "I appreciate very much being invited to the MY HERO Film Festival. It is an honor."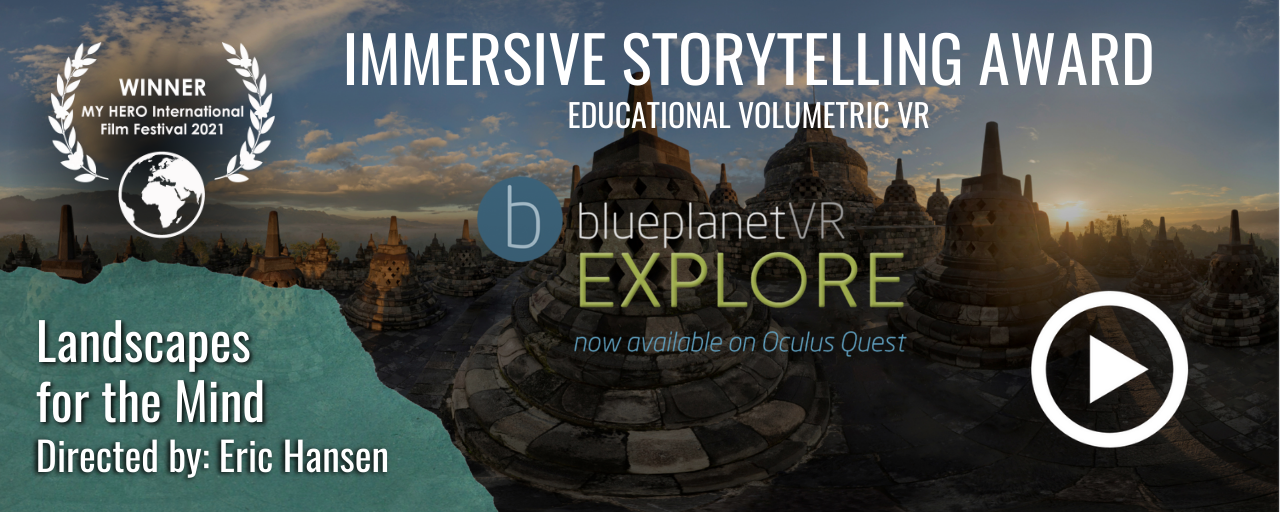 MY HEROBlue Planet VR
For More Information go to: Blue Planet VR
Environmental VR Award | The Jet Lagged - 360 SEA PLASTIC, directed by: Hendrik S. Schmitt from The Jetlagged and Plastic Pollution Coalition.
360 SEA PLASTIC is a film that demonstrates the impact that plastic waste is having on the local and global environment. The filmmakers immerse the viewer in environments that are heavily affected by plastic trash with the intention of raising awareness and challenging the viewers to rethink their plastic consumption, and eventually change their behavior. The shocking scenes are juxtaposed with pristine environments which are not yet affected by plastic pollution in an attempt to ignite the viewer into action.
Said Hendrik: "Our planet is drowning in trash, because we have become addicted to single-use and disposable plastic. Researchers estimate that of the over 8.3 billion tons of plastic ever produced, only 9% has been recycled. The environmental consequences, on land and in our oceans, are severe and undeniable. Even though the world is slowly waking up to the problem, the global volume of plastic waste continues to grow every year.
Frequently, trash gets disposed in the environment, in rivers and in the ocean, where animals get entangled or die from eating plastic. Over the years, the plastic breaks up into smaller and pieces, which accumulate toxins and can persist for up to 1,000 years before fully disintegrating. Plastic particles and micro-plastics make their way into food chains and our water supply – and thus into our bodies."
On receiving the award Hendrik stated: "It's and pleasure and it's a joy to be here with all of you. It is a real honor. With VR, you can take people to those places that they wouldn't ordinarily see. Let's spread the word and make the world a better place."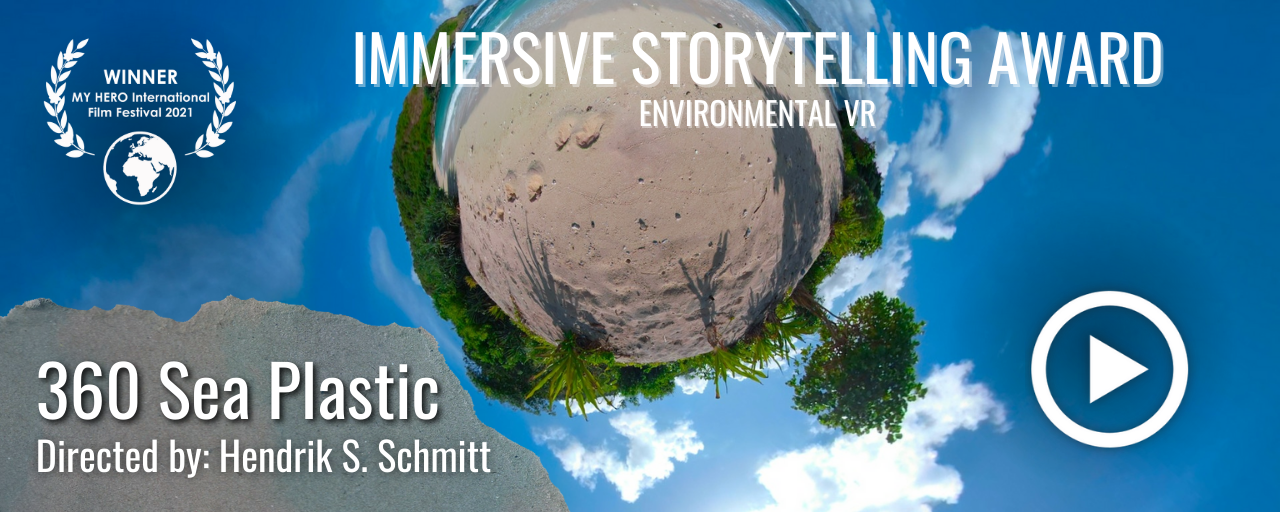 MY HEROThe Jet Lagged
For More Information go to: www.thejetlagged.com
Call for Entries for 2022
The Immersive Story-telling Award offers a wonderful opportunity for creators of VR to share their short films that feature stories that promote creativity, engagement, activism and social good.
To find out more go to: myhero.com/immersive-storytelling-award
Add any story, art, film and music to our global learning project: myhero.com/Start
MY HERO has Media Arts Resources and mentors to help you get started: myhero.com/MediaArtsResources
About MY HERO International Film Festival
The MY HERO International Film Festival brings together professional and youth filmmakers who honor local and global heroes working for positive change in the world. Thanks to generous sponsors, prizes are awarded to elementary, middle school, high school, college and professionals in a variety of categories including documentary, narrative, music video, animation, experimental, and more.
To view the 2021 award-winning films, go to Winners

For more details about MY HERO's International Film Festival, please visit myhero.com/FilmFestival
Page created on 12/15/2021 10:03:04 AM
Last edited 12/15/2021 11:24:30 AM