I am the product of the efforts of a Mexican woman, taught by another Mexican woman to love her country above all things.
Dolores Olmedo Patiño, also known as "Lola," is considered one of Mexico's most well-respected and highly admired women of her time. She boldly forged her own life path and, in the process, likely garnered a few disdainful looks intermixed with the endless words of praise for her position as an independent-minded Mexican woman in the early 20th century.
Ever loyal to her native Mexico, its arts and peoples, Patiño found the art of the famed muralist Diego Rivera to be one of Mexico's greatest riches, worthy of preservation and admiration. Diego, himself, would come to add great richness to her life, as well as she to his, as they became the closest of friends, and some would say, even more. She, herself, was the subject of several of the popular artist's portraits, as well as one of the greatest collectors worldwide of his highly acclaimed work.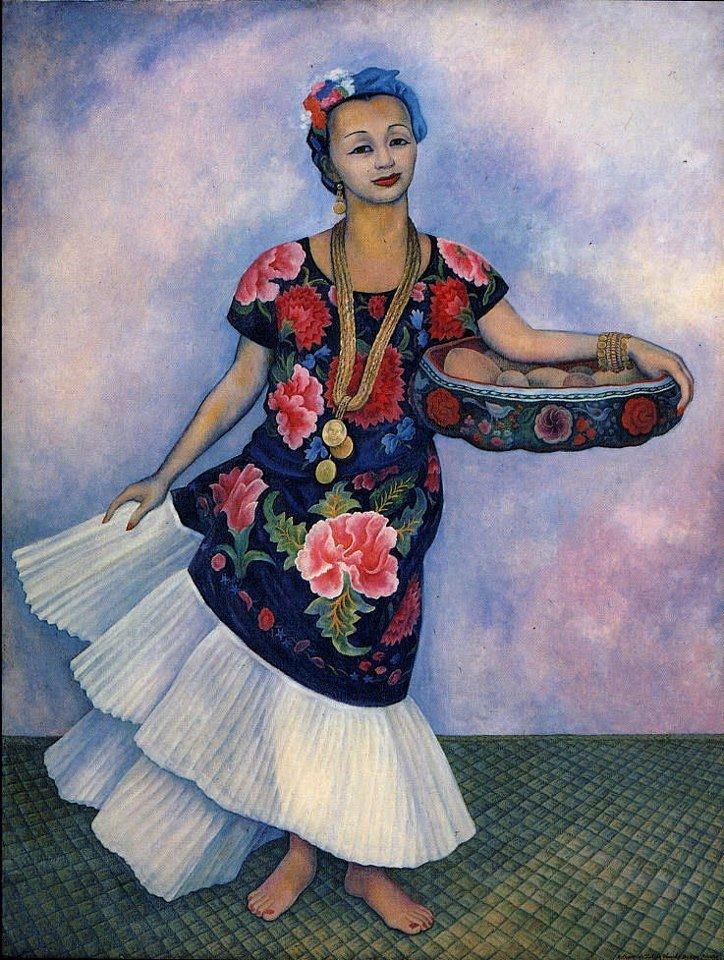 Dolores Olmedoby Diego Rivera/Museo Dolores Olmedo PatiñoYet, her close relationship with Rivera's art was only one aspect of this multifaceted woman. Patiño was also known for her philanthropic works, her keen business savvy (a daring trait for a woman during the time of her business ventures) and her role in her family, as a beloved mother, wife, and sister, and devoted daughter.
Maria de los Dolores Olmedo y Patiño Suarez was born in Tacubaya, Mexico City, on December 14th, 1908. Two years later, Patiño and her family suffered alongside the people of Mexico City as the Mexican Revolution raged, and starvation and danger were imminent. Even at such a young age, these images and experiences would forever become a part of her psyche. Like Mexico, Lola was to become independent and free -- a force to be reckoned with who could withstand any hardship. In 1914 Lola lost her father. Again, this experience molded her resilience and her ability to persevere.
Around 1924 she met Diego Rivera, who painted a revealing portrait of her, shocking her mother, Professor Maria Patiño Suarez. Her mother was the great granddaughter of a well-known revolutionary military man, from a line of five generations of honored warriors. Likewise, as Patiño learned her family's history, she, too, felt compelled to be a revolutionary, to question old regimes and boldly trod into a new day.
Patiño's life and career, though evidently not in the military as were her ancestors, seemed to be filled with one accolade after another, as everything she touched symbolically seemed to turn gold.
Well-educated, she began her graduate work at the Universidad Autónoma de México, studying law for two years at a time when few women reached a university level of education. Yet, her great lifelong passion for the arts and culture of Mexico led her away from that life path and she instead chose a career in art, studying at the National School of Music and the Academy of Saint Carlos (la Escuela Nacional de Música y a la Academia de San Carlos). At the time following the Revolution, Mexico was searching for its own identity once again, and the arts and cultural heritage was an inherent part of doing so.
All the while, she remained a devoted daughter, remaining as close as could possibly be to her beloved mother. After her mother passed away, she took on the role of matriarch for the family, helping keep their tight-knit clan unified. She credits her mother for teaching her most of her life lessons -- both literally as her childhood school teacher, and of course, as her mother and confidant. In fact, it was her mother's words, "share what you have with your fellows," that eventually led her into philanthropic work.
To help her family, she, a natural businesswoman, dedicated herself to a work seemingly unrelated to her studies – creating brick-work for the Municipality of Naucalpan by collaborating with several construction companies. She soon became a highly successful industrialist and a prominent businesswoman, becoming the general manager of a real estate and construction company. Achieving this stature of business prominence would be no easy task in general -- but her gender made these feats all the more remarkable, especially given the era during which she achieved them. Women did not run companies. Women especially did not run construction companies!
Especially remarkable and "revolutionary" was that, by this time, Patiño's marriage to Howard Phillips, an artist, had ended, making her the single mother of 4 children. She was a woman before her time -- a beloved single mother, a business owner, the portrait of a woman so different from most other women of her time.
She continued with her construction company, and through the years added other business ventures. Yet, her love of Mexican art and culture was never deterred, even during her busiest times as a businesswoman and mother. Falling in love with the work of her longtime friend, Diego Rivera, she became one of his works' most prominent collectors. She also came to collect his wife's, Frida Kahlo's, works.
Rivera continued to paint portraits of her, portraying her as a "tehuana," an ideal version of the beauty of Mexican women. After Kahlo's death in 1954, Rivera and Patiño became nearly inseparable from 1955-1957, the year he died. Rivera stayed with Patiño and continued to paint both portraits of her and her children, as well as other mural art on her Acapulco home's property.
She spoke with him about her plans to create a museum with his and Kahlo's work, and he made a list of paintings he wanted her to acquire, many of which she purchased directly from him. She was elected president of the Technical Committee of the Diego Rivera Trust established by the Bank of Mexico. Soon after Rivera conceded to her the copyright to his artwork, written texts, and documents, granting her the Power of Attorney over all the works she owned.
After his death, she, along with Dolores y Guadalupe Rivera Marín, his daughter, asked the president at the time, Adolfo López Mateos, to consider his work and the work of Jose Clemente Orozco a "historic monument." Their request was granted.
She went on to hold positions both in the department of the federal district, el Distrito Federal, and in the National Institute of Fine Arts (Instituto Nacional de Bellas Artes). She was also named general coordinator of the National Council of Tourism between 1963 and 1965. These prominent positions and the seemingly endless number of prominent friends she had gave her the ability to bring exhibitions of her beloved Mexican art to Europe.
Thus, she became known as the defender of Mexican culture and tradition — a title that fit her beautifully. In addition to her promotion of Mexican art, she had long been a believer in the traditions of old, and her work helped to reestablish several of these into the public mindset. One tradition which she held nearest to her heart was the idea that offerings should be left for the deceased on the Day of the Dead, as they would return for them while visiting their loved ones. Death, she felt, was not a final point, but merely a passageway from one life into another. She was well-known for the extravagant offerings she would leave them.
Dolores once stated that everything she had done was "the product of the efforts of a Mexican woman, taught by another Mexican woman to love her country above all things."
In 1962 she acquired La Noria (the well), an 8-acre estate in Xochimilco, which would serve as her home and eventually come to hold her museum and foundation. The Dolores Olmedo Patiño Museum, which opened its doors to the public in 1994, houses 128 of Rivera's works and 25 of Frida Kahlo's, in addition to over 6 thousand archaeological pieces from a myriad of Mexican cultures. In addition, it houses a large collection of antique, Colonial-era furniture, as well as a vast collection of popular art from all around Mexico. Her collection of Kahlo's work is considered amongst the finest worldwide, a collection that provides an overview of her whole career, including greats such as Self Portrait with Small Monkey (1945), The Broken Column and others. It also includes one of the first pencil drawings Rivera made -- a portrait of his mother when he was only 10, as well as The Watermelons, the last work he painted and signed.
Patiño died at the age of 93 on July 26th, 2002. She donated her collections to the people of Mexico, and left a trust in her name responsible for the conservation and exhibitions of the works of art, as well as for their promotion throughout the world.
Alongside her peers, Patiño represented post-revolution Mexico with every fiber of her being. These prominent people of her generation, so many of whom she was close friends with, were self-made individuals, whose talents and individuality, like Mexico itself, both created and redefined history.
For as much as Patiño is known as the foremost collector of Rivera, Kahlo, and another artist, Beloff, she should rather be remembered for the overall wholeness she embraced as a woman. She was not merely an art collector. She was a lover of art, of culture, of tradition. She was a highly successful businesswoman and industrialist. She was the beautiful muse of paintings. She was a philanthropist who bequeathed her collection to her Mexican peoples. And she was the love of her family: a highly devoted daughter and an exceptional single mother to her children, Alfredo, Irene, Eduardo, and Carlos Philips Olmedo. She loved her culture and believed in tradition. Yet simultaneously, she was modern, bold, vibrant, daring, and highly determined.
She was a woman not to be contained. She embraced that which she was passionate about without inhibitions — with the fiery spirit of a woman in love with the beauty of life.