"It's the circle of life, and it moves us all, through despair and hope, through faith and love, 'till we find our place, on the path unwinding" (The Lion King).
Sir Elton John is an Academy Award-winning and Grammy-winning musician and writer. He was inducted into the Rock and Roll Hall of Fame in 1994 and knighted by the Queen of England in 1998. Sir Elton John is a hero because he founded his own AIDS Foundation, he is amicable and charitable, and he is a hard-working musician who has overcome many difficulties.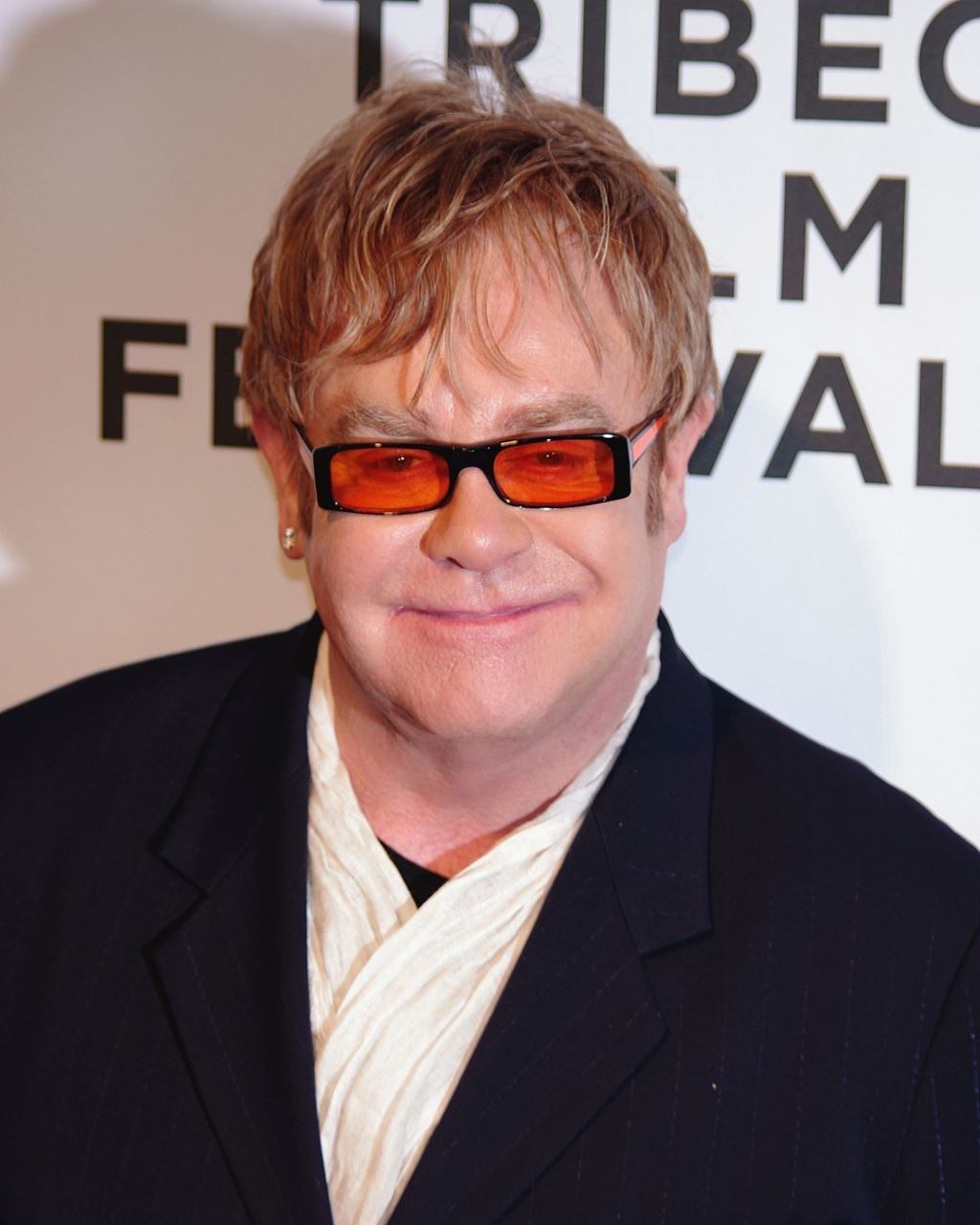 Elton JohnBy David Shankbone (Own work) [CC BY 3.0], via Wikimedia Commons
Elton John (née Reginald Kenneth Dwight) was born in Pinner, Middlesex, London on March 25, 1947. His parents are Sheila Eileen Dwight, a record buyer, and Stanley Dwight, a royal air force trumpeter. Elton began playing piano at age four, and by age eleven had won a scholarship to the Royal Academy of Music. He was somewhat overweight and sensitive about his appearance as a child, which was problematic for him as an adult. His announcement in 1976 that he was bisexual resulted in problems for his music career and the public's perception of him. Following his announcement, there were many crude and nasty comments made about him. This combined with the pressures of fame triggered his depression, which resulted in abuse of alcohol and cocaine. This lasted for the remainder of the latter part of '70s and into the '80s (Elton John). As he remarked to People magazine reporters Fred A. Bernstein and Laura Sanderson Healy, "The gay business really hurt me. A lot of radio stations stopped playing my records" (Elton John). This was during a period of time when he had decided to withdraw from the music business; however, by 1978 he decided to return to the music business: "The early 1990s saw John undergo treatment for alcoholism, drug abuse, and bulimia. Once he was clean and sober, he publicly acknowledged his homosexuality and refocused his energies and talents toward helping others" (Elton John). At this time in our history, the AIDS epidemic was a major concern. Helping others became one of his major contributions to our world.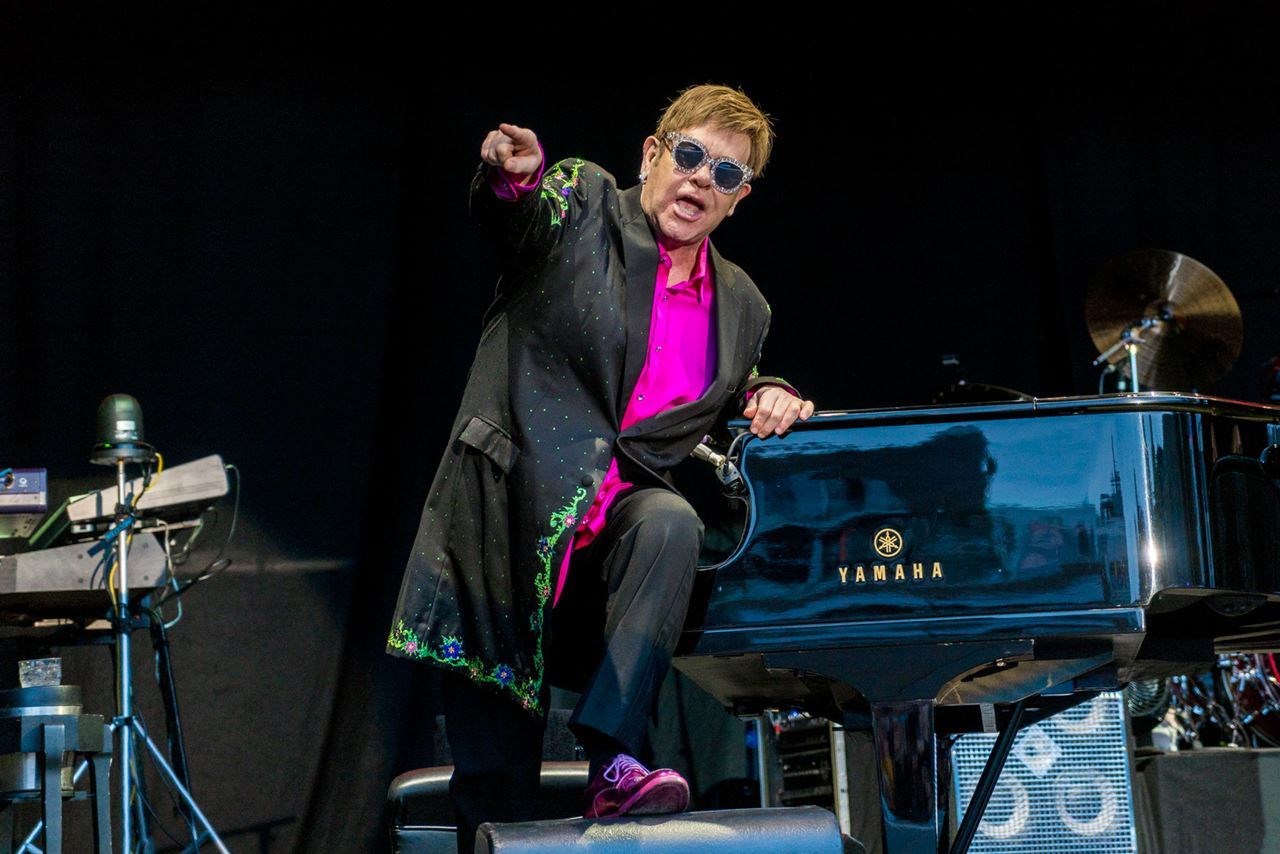 Elton John performing in Kristiansand, Norway, 2017 Date 29 June 2017Jørund Føreland Pedersen [CC BY-SA 4.0] via Wikimedia Commons
One of the most important reasons Sir Elton John is a hero is because of his support for the fight against AIDS by establishing The Elton John AIDS Foundation and raising awareness of this dreaded disease. He met and became friends with Ryan White, a child suffering from hemophilia and AIDS. At Ryan White's funeral, who died of AIDS, Elton John performed "Skyline Pigeon." After this, Elton pledged to donate all his future UK singles to help combat AIDS (Sir Elton John Biography). "Two years later he did the same with his American sales. While talking to Melinda Newman of Billboard, he said, "'It's about time I got off my backside...' he also said, 'We have a long way to go'" (Elton John). Elton John admits that this was a cause worth fighting for and it was time to start finding out more about it. By publicly saying he needed to do something to help change this, and that he needed to get up and do something because he knew people were dying, he was doing a heroic thing that can inspire others. Elton showed his words meant something because he acted on them. Elton had spent years collecting records, and he then auctioned them off at Sotheby's in London. The total proceeds added up to 272,200, which he then donated to other AIDS charities. Elton has occasionally auctioned off some of his stage costumes and clothes. These sales raised almost as much as some of his records (Michael J. Tyrkus and Michael Bronski). Since he is a celebrity, people would hear about Elton making donations, encouraging people to step up and help make a difference as well. Although there is a long way to go before AIDS can be eliminated, Elton is helping to raise money in fight against AIDS. Elton's contributions are two-fold: helping raise awareness and helping to fund research. As they saying goes, one person really can make a difference.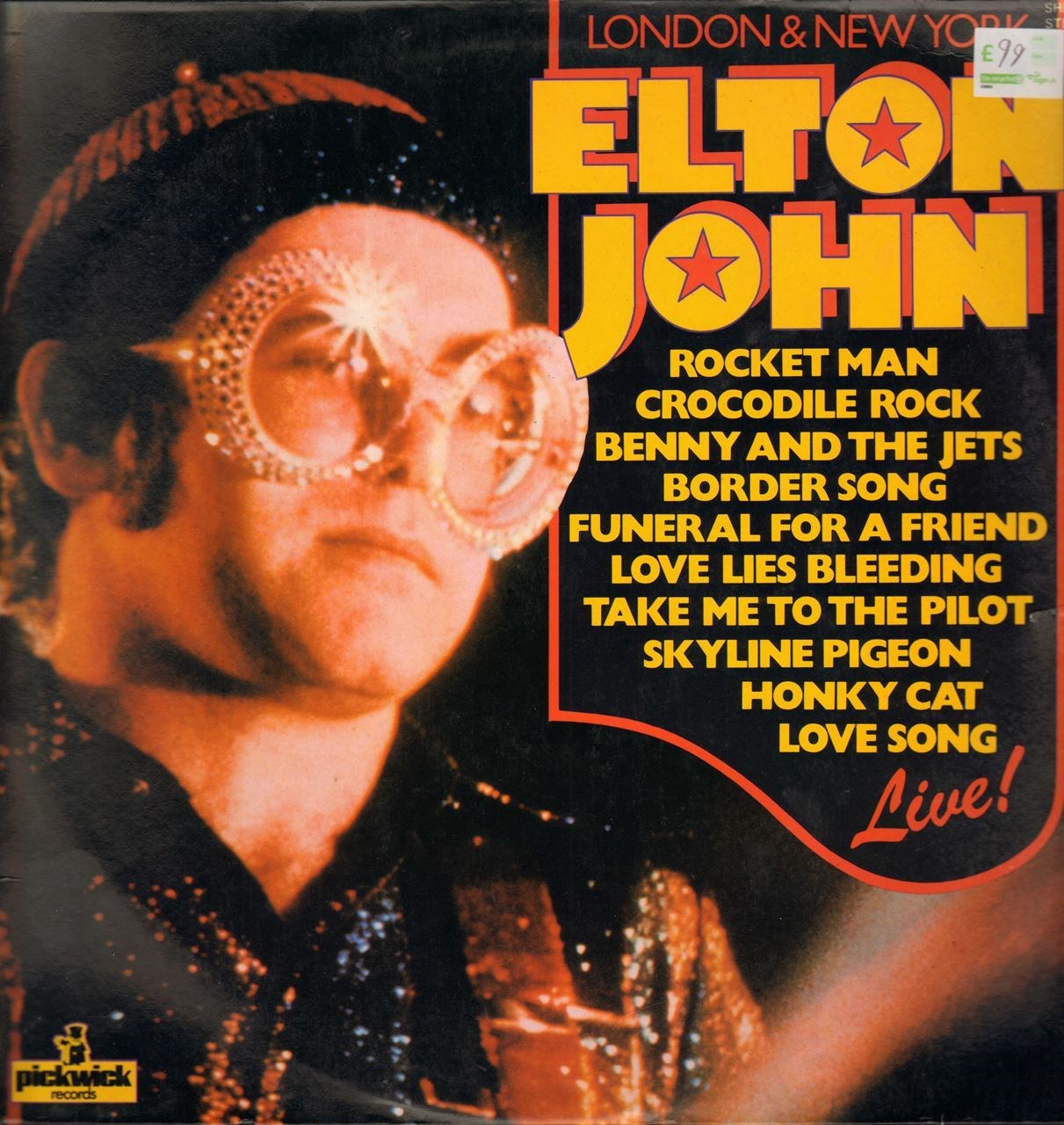 Elton John Live LPMuseum of Hartlepool [No restrictions] via Wikimedia Commons
In 1972 Sir John lost his friends Princess Diana and Gianni Versace. At Princess Diana's funeral, John performed a revised version of "Candle in the Wind," dedicated to his beloved friend Diana. Elton then released it as a single. In just a short amount of time it became the "top-selling single of all time, with more than 30 million copies sold in 1997 alone. John donated all of the proceeds from the recording to the charitable trust established in Diana's name" (Elton John). Elton John took his sorrow over the loss of his close friend and used it in a positive way to help others. This is a heroic act because instead of selfishly thinking only of his sadness over Princes Diana's death, Elton thought of a way to help others. By taking the reworked song and donating the sales, he is not only keeping her legacy alive, but keeping it going in a way that benefits others. In addition, Elton also helped support Save the Children. "In January 2005 John recorded a contribution to a single track cover of Eric Clapton's 'Tears in Heaven,' sung by major recording artists, as a benefit for Save the Children" (Elton John). This is heroic because he was helping children worldwide in need of help. Helping children is probably one of the most heroic things a person can do because all children all are reliant on adults for help. Elton is doing one small act at a time that can add up to make a significant difference in the lives of people everywhere.
In 1973 he launched his own record label Rocket Records. He was inducted into Rock 'n' Roll Hall of fame in 1994. These are major accomplishments and do not happen without hard work and determination. Elton John also co-wrote original songs for Disney's 'The Lion King' with Tim Rice and won an Academy award in 1995. The two also co-wrote the Broadway stage productions for "The Lion King" in 1998 and "Aida" in 2000, which won a Tony Award and a Grammy. Through the years Elton has become a very accomplished musician. These are only a few of his many notable awards. Possibly the most honorable award Elton has earned was being "knighted by Queen Elizabeth II in 1998 for his achievements in music and contributions to charity. John reflected on this honor in an Associated Press report published in the Toledo Blade, remarking that 'I've had a long career and worked hard. But I think the turning point came in 1990, when I got sober and started to do some charity work, particularly for the AIDS problem. A knighthood is the icing on the cake'" (Encyclopedia of World Biography). These are major accomplishments, proving through dedication, hard work and determination anything can be achieved. It also shows that most obstacles in life can be worked through. Elton's long and successful career shows with enough effort, will, and determination, anything can be achieved no matter where you come from or who you were as a child, since he was an overweight child, sensitive about his image.
Sir Elton John is a hero because of his hard work and determination as a musician and as a humanitarian. Elton John founded his own AIDS foundation, donating millions of dollars to the cause and to other charities. He has also overcome numerous personal problems to go on and win countless awards. He is a true hero because he took his own good fortune and went out of his way to help others.
Works Consulted
Argyrakis, Andy, and Argyrakis Andy. "Sir Elton John." Musicians And Composers Of The Twentieth Century (2009): 1. Biography Reference Center. Web. 7 May 2012.
"Elton John." Encyclopedia of World Biography. Vol. 18. Detroit: Gale, 1998. Gale Biography In Context. Web. 18 May 2012.
"Elton John." Gay & Lesbian Biography. Ed. Michael J. Tyrkus and Michael Bronski. Detroit: St. James Press, 1997. Gale Biography In Context. Web. 10 May 2012.
"Elton John." St. James Encyclopedia of Popular Culture. Ed. Sara Pendergast and Tom Pendergast. Detroit: St. James Press, 2000. Gale Biography In Context. Web. 8 May 2012.
"John, Elton." UXL Encyclopedia of World Biography. Ed. Laura B. Tyle. Vol. 6. Detroit: UXL, 2003. 1011-1013. Gale Virtual Reference Library. Web. 7 May 2012.
"Sir Elton John Biography." Bio. Bio., 2005-2011. Web. 9 May 2012. <http://www.thebiographychannel.co.uk/biographies/elton-john.html>.
The Lion King. Dir. Rob Minkoff and Roger Allens. Perf. Matthew Broderick. Disney, 1994. DVD.
Wohl, Alexander. "Elton John." Biography 3.2 (1999): 14. Biography Reference Center. Web.7 May 2012.
Page created on 12/3/2012 12:00:00 AM
Last edited 3/13/2021 6:54:38 AM