Efren Penaflorida
by
Amanda Molinaro
MY HERO Congratulates Efren Peñaflorida, Who Was Named CNN Hero of the Year for His Work With the Dynamic Teen Company.
"In the Philippines, teenage membership in urban gangs has surged to an estimated 130,000 in the past 10 years." Children are pressured to join a gang as early as 9 years old. Efren Peñaflorida was one of those children.
Peñaflorida was born into a poor family and grew up next to a city dump site in the slums of the Philippines. Gang activity was rampant in the streets, and Peñaflorida was often afraid to walk the streets. He remembers being pressured by a gang leader, and refusing to join. The confrontation gave him a new outlook and he realized that he could help divert other children like himself from joining gangs and instead help them become productive members of their community. At age 16, Peñaflorida and several of his friends started Dynamic Teen Company.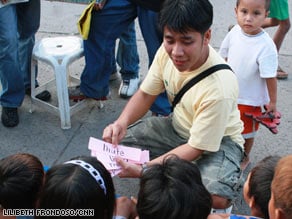 Dynamic Teen Company was created in 1997 to offer his classmates "an outlet to lift up themselves and their community." Peñaflorida and his friends worked on their high school campus, diverting the students' attention away from joining violent gangs and instead encouraging self development activities and community service. In 1999, the Dynamic Teen Company started Care of Impoverished Children, a program to reach out to slum children. Every weekend, Dynamic Teen Company pushes a cart filled with school supplies through the slums. Children between the ages of 2 and 14 flock to the cart every Saturday to learn reading, writing, arithmetic, and English from Peñaflorida and his volunteers. They teach the children to love learning, and the value of education in the hopes of diverting them from joining gangs. They also started a hygiene clinic, where children can take a bath and learn basic hygiene, such as brushing their teeth.
At first, Dynamic Teen Company had difficulties convincing others to support their cause, so they learned to be self-sufficient. They fund their efforts by recycling old bottles and newspapers, and creating and selling crafts. Dynamic Teen Company now has more than 10,000 members and has helped more than 1500 children living in the slums. Where others see problems, they see potential, and have successfully mentored former gang members, addicts, and dropouts. These former gang members and dropouts are now serving as volunteers, mentoring other children and helping to raise funds. Dynamic Teen Company currently has four pushcart classrooms, and they hope to expand so they can give more children an opportunity to learn and to stay out of gangs.
"I always tell my volunteers that you are the change that you dream and I am the change that I dream. And collectively we are the change that this world needs to be."
Page created on 7/31/2015 6:43:25 PM
Last edited 1/7/2020 3:52:16 PM
The beliefs, viewpoints and opinions expressed in this hero submission on the website are those of the author and do not necessarily reflect the beliefs, viewpoints and opinions of The MY HERO Project and its staff.