Guion Bluford
by
Bobby from Eden Prairie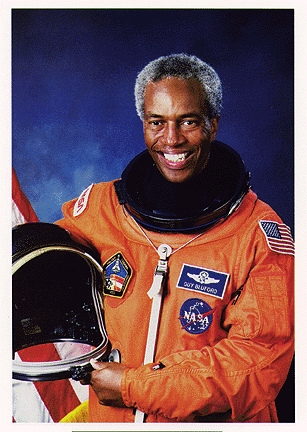 Guion BlufordNASA [Public Domain] via Wikimedia Commons
Guion "Guy" Bluford was the first African American in space. Before he was an astronaut he was a United States Air Force pilot. In his entire career as an astronaut he was in space for 28 days, 16 hours, and 33 minutes.
Guion S. Bluford Jr.NASA [Public domain]
Bluford was born November 22, 1942 in Philadelphia, Pennsylvania. He went to Overbrook Senior High School. He was encouraged very well by his parents. He had three brothers and they were all very encouraged. At his high school he was encouraged to learn a trade because they said he didn't have college potential. He didn't accept that.
Guion got his first Bachelor of Science degree in aerospace engineering from Pennsylvania State University in 1964. Than he went to ROTC and went to flight school and got his wings in 1966. After he got his wings he got put in 557th Tactical Fighter Squadron at Cam Ranh Bay, Vietnam. When Vietnam was over he became a flight instructor. After five years of that he went back to school and got his Master of Science degree with distinction in aerospace engineering from the Air Force Institute of Technology in 1974. When he finished his Masters he went back again and got his doctor of philosophy in aerospace engineering with a minor in laser physics from the Air Force Institute of Technology. After his astronaut career he went back to school again and got his masters in business administration from the University of Houston, Clear Lake, in 1987.
He had four missions to space. They were STS-8 aboard the space shuttle Challenger, which launched from Kennedy Space Center on Aug. 30, 1983. That was the flight that was the end of never having an African American in space. There also was STS 61-A (also aboard the Challenger, which happened just months before it blew up), STS-39 (aboard the Discovery), and STS-53 (also aboard Discovery).
Guy retired from NASA and the Air Force in 1993. He now is a vice president and general manager of the Science and Engineering Group, Aerospace Sector of Federal Data Corporation in Maryland. He has gotten many medals, awards, and accolades, and was inducted in to the International Space Hall of Fame in 1997. It is cool to think that he made such a big moment in America's history and in African Americans' history. I had a fun time learning so many things about Guion when I was researching about him.
Page created on 3/12/2011 12:00:00 AM
Last edited 2/11/2021 7:10:46 AM
The beliefs, viewpoints and opinions expressed in this hero submission on the website are those of the author and do not necessarily reflect the beliefs, viewpoints and opinions of The MY HERO Project and its staff.