Johann Olav Koss, Olympic Champion and Founder of Right To Play – A TRUE HERO

LOS ANGELES, CA- (Dec 17, 2012) - The MY HERO Project, a non-profit devoted to connecting and inspiring children across the world through interactive media, is pleased to announce the "Best of Fest" winner of its 8th Annual International Film Festival, Frank Marshall's Right To Play. The award was presented to the filmmakers on December 15th at USC's School of Cinematic Arts, during the Festival Awards Ceremony. In addition to the "Best of Fest" prize, Right to Play was also selected as the winner of The Ron Kovic Peace Prize.
With this film, Hollywood icon Frank Marshall (Warhorse, Seabiscuit, The Sixth Sense) has captured the powerful story of Olympian Johann Olav Koss and his non-profit organization, Right To Play, in his compelling documentary. Instead of cashing in on his Olympic haul, Johan Olav Koss embarked on a remarkable journey that has established him as one of the world's greatest ambassadors of sports. Koss and his army of volunteers, teachers, coaches and diplomats have used the power of athletics to elevate the lives of the world's destitute children. The workers of Right To Play International support persons with disabilities, children affected by HIV/AIDS, street children, former child combatants, and refugees. They strategically use athletic activities to promote health, develop cognitive and social skills, and engage youth in conflict resolution.

When his film's win was announced, Marshall was deeply moved. "Johann and his organization are literally heroes to children in need around the globe," he stated. "So it's extremely appropriate and a great honor to accept these two awards from The MY HERO Project on behalf of our film on Johann Olav Koss and his incredible organization, Right to Play."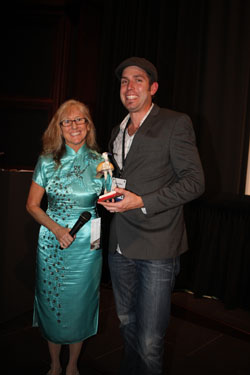 In his own estimation, Johann Olav Koss and his staff teach children a fundamental lesson: how to play. "It actually feels greater to have this goal than it was to fight for a gold medal. In many ways it feels like I have an opportunity to give back for all the things I've been given in my life." And for this Olympic champion, the things he's giving are easy to see in the children he works with: the joyful smiles, the spring in their step and the eyes that can't help but shine with a new reason to hope.

Marshall's excellent documentary on Koss is the first film in the history of The MY HERO International Film Festival to win both "Best of Fest" and The Ron Kovic Peace Prize. Since 1995, the MY HERO Project has worked to bring heroes from every walk of life to the forefront of international media. For the past five years, Ron Kovic has presented an eponymous Peace Prize at the festival as part of his continued fight for peace and social justice.

Kovic is perhaps best known for authoring Born on the Fourth of July, which recounts his harrowing experiences in Vietnam, and was adapted into a screenplay by Ron and Oliver Stone. His award and its accompanying $1000 cash prize go to the film that most artfully celebrates the themes of peace and tolerance. This year, Mr. Kovic was very pleased to make a $1000 donation to The Right To Play organization, in honor of the work of Frank Marshall and Johann Olav Koss.

To view Right To Play and other winners from The 2012 MY HERO International Film Festival, please visit http://myhero.com/winners

To learn more about the Ron Kovic Peace Prize, visit http://myhero.com/kovic

To learn more about the Right To Play organization, visit http://www.righttoplay.com/
Page created on 12/17/2012 12:00:00 AM
Last edited 7/7/2017 10:51:12 PM