Will Parrinello wins big at MY HERO International Film FestivalMY HERO Project
Long-time friend of MY HERO Project, Will Parrinello of the Mill Valley Film Group submitted a fantastic documentary called Rights of Nature to MY HERO's Film Fest. The film is a Goldman Environmental Prize film about the groundbreaking success of Indigenous Cofán activists Alexandra Narvaez and Alex Lucitante to halt illegal gold mining on their territory. The prestigious Goldman Environmental Prize is awarded to outstanding activists working in climate change and other pressing environmental issues, so Parrinello's work has often taken him to exotic locations like Sinangoe in the Amazon, where he lives and works with Indigenous people for several weeks at a time to create films about the winning activists and their communities.
Parrinello has been producing and directing documentaries with his partner John Antonelli at the Mill Valley Film Group for 35 years. He has made award-winning films for theatrical distribution, television, and home video including Dreaming of Tibet, The New Environmentalists, Little Italy, and Mustang - Journey of Transformation, to name just a few.
Every year, Parrinello and his partners at the Mill Valley Film Group produce the films about the six Goldman Prize winners and for many years Parrinello has submitted his documentaries to our Film Festival contests. In addition to his numerous MY HERO film festival awards, Parrinello won MY HERO Film Festival's Best in Fest in 2021 for his stunning documentary, Rainforest Action, about the work of activist Nemonte Nenquimo.
Parrinello was excited to tell MY HERO about his new documentary featuring Cofán activists Alexandra Narvaez and Alex Lucitante. He raved about the important work of Amazon Frontlines and Ceibo Alliance in supporting the activists and their upper Amazonian territories: "They use film and the Internet to tell the stories of Indigenous people who would otherwise have no voice and train young Indigenous people to tell their community's stories using the visual medium." The success of the fight against illegal gold mining in their territories would not have been possible, Will said, without Amazon Frontlines and Ciebo Alliance support and the work of these young filmmakers.
There is no better way to get to know filmmaker Will Parrinello than to hear from him about what it was like filming the Cofán and about the talents of the people who supported his work. So MY HERO interviewed him at some length, as we did last year when Rainforest Action won Best in Fest. This time around, Parrinello went into a lot of detail about the crew's interactions with the Cofán. You can see as he speaks that this was a profound experience for him: his gratitude is palpable. But first, some background on the Cofán and their struggle to save their territory from destruction.
A victory for the Cofán and all Indigenous peoples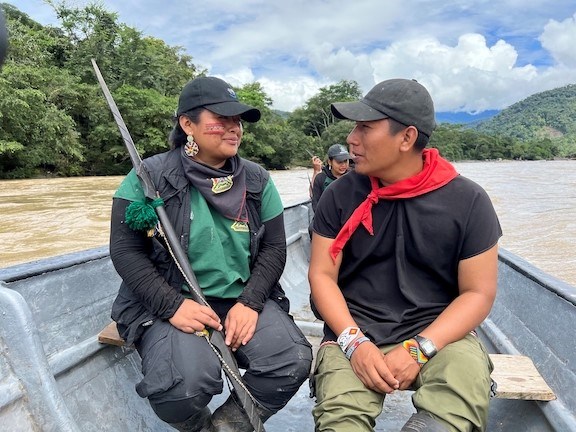 Goldman Prize Winners, Alexandra Narvaez and Alex LucitanteGoldman Environmental Prize, photo Will Parrinello, with permission
In May 2022, two young indigenous Cofán activists from Ecuador, Alexandra Narvaez and Alex Lucitante, were awarded The Goldman Environmental Prize for successfully halting illegal gold mining on 52,000 acres of Cofán territory at the headwaters of the Amazon. Mining camps and heavy machinery were destroying the forest and polluting the Aguarico River: the Cofán were never consulted.
The two Cofán leaders worked with the community of Sinangoe, and with support organizations Amazon Frontlines and Ceibo Alliance, to gather evidence of the violation of their rights and to bring the fight to court. Then they sued the Ecuadorian government for granting the mining concessions without their consent and for violating the rights of nature, as recognized in the country's constitution. They won the case in 2018, canceling all 52 mining concessions and protecting 52,000 acres of biodiverse rainforest, while protecting downriver communities from disaster.
Alexandra, Alex, and the community of Sinangoe then brought their case all the way to the Ecuador's Constitutional Court, where they had huge win: for the first time in Ecuador, indigenous peoples like the Cofán have the guaranteed right to "Free, Prior and Informed Consent" about what happens on their territory. Therefore, The Goldman Prize: the right to decide what happens on their lands.[i]
Waorani Indigenous activist Nemonte Nenquimo, 2020 Goldman Environmental Prize winner featured on MY HERO, noted the award's wider significance:
This award for two Indigenous leaders, who played a critical role in one of the biggest Indigenous rights and environmental victories in recent years, is a clear message to the world. Indigenous peoples have defended our lands for thousands of years and our leadership must be respected and supported if we are to save our planet and future generations from destruction.[ii]
Nemonte, Alex, and Alexandra won The Goldman Environmental Prize Awards for South and Central America for their historic victory for the Amazon and for all indigenous peoples. Parrinello's short documentary about the activists' work can be found on The Goldman Prize website.
The Indigenous Activists, Alexandra Narvaez and Alex Lucitante
Ages 30 and 29, respectively, Alexandra Narvaez and Alex Lucitante live in different villages with their families, all of whom are active in working to protect their territory.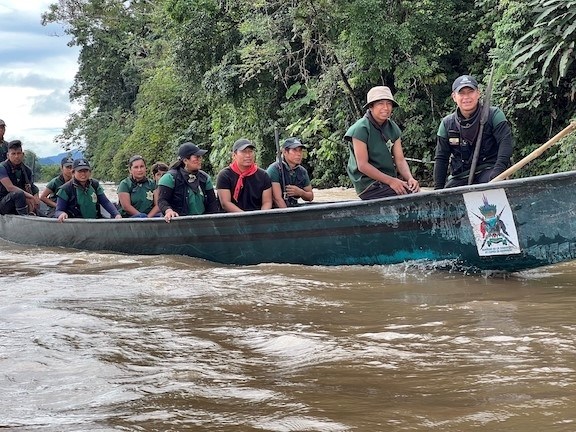 La Guardia in CanoeGoldman Environmental Prize, photo Will Parrinello, with permission
For Parrinello, Alexandra's work to empower women is unique and intentional. She was the first woman to become part of La Guardia, the Indigenous guard and land and river patrol formed by the people of Sinangoe to prevent mining, poaching, and timber extraction on Cofán territory. Since 2019 Alexandra has been the president of a women's association called Shamec'co, which seeks to empower women and safeguard their people's territory.[iii]
Alex Lucitante is training to be a seventh-generation shaman (curaca) in a family of traditional healers that use traditional medicine to help people solve their problems: "Alex straddles his traditional culture and modern Ecuadorian culture in an incredible way, and he is studying to be a lawyer," Parrinello told MY HERO. "Spending time getting to know these two amazing people was a beautiful experience, because they openly espouse their belief in love, compassion, and the interconnectedness of all living things. It's a beautiful way of living life, with an openhearted generosity of spirit. They practice this philosophy in everything they do, including the songs that they write and sing."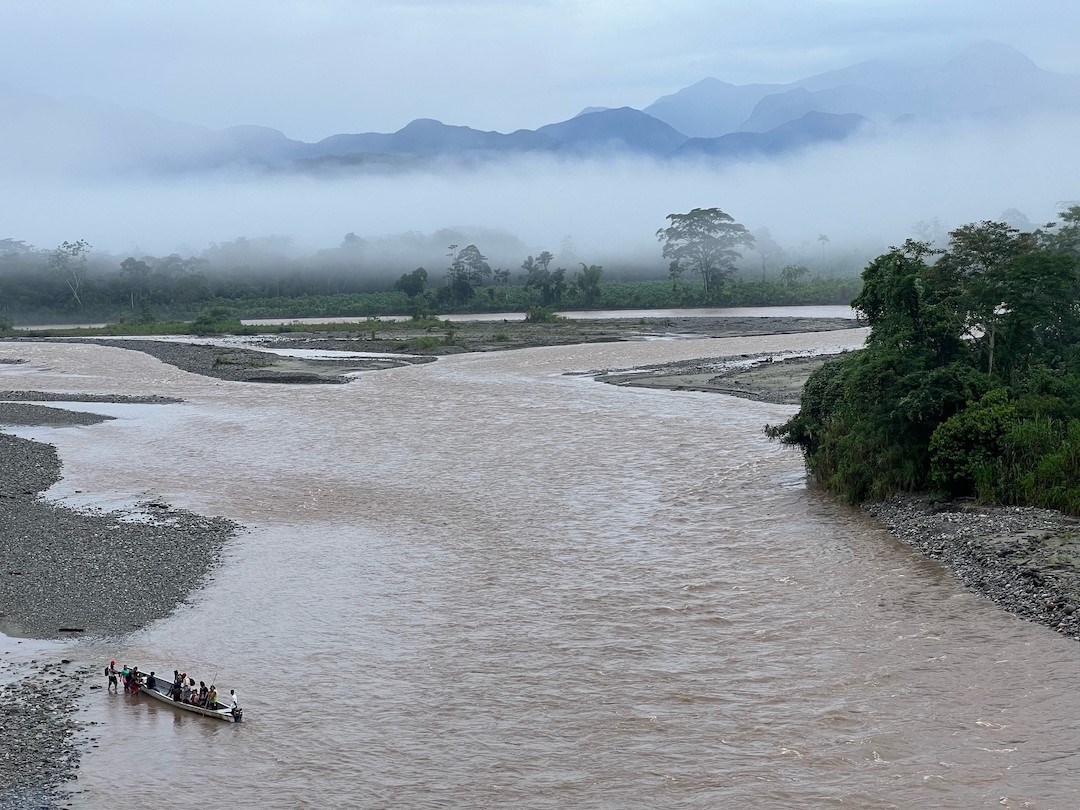 Canoe in Aquarico Rio, SinangoeGoldman Environmental Prize, photo Will Parrinello, with permission
Filming in Sinangoe
Parrinello and his crew shot the film about the work of the two activists during the first two weeks of March in Alexandra's community, Sinangoe.
To get there the crew of four traveled by boat and through mountains, valleys, and hills: the Cofán live at the foothills of the Andes. "This is a very remote watershed at the headwaters of the Amazon," Parrinello told us. "Naturally, it rained every day. After all, it is the rainforest."
The flight took one hour from Quito to Coca, a three-hour drive from Coca, and a one-hour canoe ride with portage across dry land while carrying the crew's equipment.
"Schlepping through the jungle," Parrinello said, "the ground team took good really care of us. Everything had to be in waterproof cases and bags. But it was really uncanny—every time we had to get into and out of a canoe, our knee-high rubber boots would fill up with water," he said, laughing. The Cofán were patient and compassionate with the gringos' challenges and repeatedly tried to teach them how to remove water from their boots without taking them off.
The group stayed in Alexandra's village, where Alexandra and her family cooked the meals for the crew and ground team. They slept in the local schoolhouse.
Nicolás Kingman and Emilio Bermeo of the NGO's Amazon Frontlines and Ciebo Alliance acted as field producers, working with Alex and Alexandra to coordinate the shoots via Zoom meetings, cell phone, and text messages, which, due to the remoteness and unreliable cell phone and internet connectivity, was at times problematic. "They were our eyes and ears," Parrinello said. "They took great care of all the logistics. The locations were very remote, but our field producers knew exactly what gear we had to bring, how to carry the equipment, and all the health needs of gringos (like boiling water and other kitchen health protocols).
"The great thing," Parrinello said, "was that they always knew which shots--and how many scenes—we could film in one day, and they were always tracking the weather. Often our shooting schedule would be interrupted by rain, where we would have to work more slowly, clean our lenses, and often shift scenes from exteriors to interiors to accommodate for the inclement weather."
Fortunately, Amazon Frontlines has a large library of footage on hard drives that they carry with them, which they generously shared with The Goldman Prize crew. "The partnership is what helped make our film great and authentic," Parrinello told MY HERO. "The work was truly collaborative; they provided footage from protests and celebrations outside the courtroom, too. Amazon Frontlines staffers are incredible documentarians themselves. And with the use of multiple cameras, we had great coverage." It was a fantastic collaboration: "We were always teaching each other something. For example, we taught them lighting techniques, while our hosts taught us about working quickly and keeping our eyes open at all times."
Parrinello was particularly impressed with Nixon Andy Narvaez of the Sinangoe Community Guard, a young Cofán from Alexandra's village. Trained by Amazon Frontlines staffers Nico Kingman and Nicholas Mainville, he quickly became adept at shooting, not only with a drone, but also with a video camera.
And, he said, working with Nico Kingman of Amazon Frontlines was a real plus: "Nico Kingman is a talented filmmaker and still photographer in his own right. He's technically adept and really creative at quickly setting scenes up, finding a beautiful frame and keeping things loose, so that people in front of the camera don't become impatient and self-conscious." Clearly, it takes a special kind of collaboration to film these incredible documentaries.
Ciebo Alliance and Amazon Frontlines
Ciebo Alliance and Amazon Frontlines understand the power of storytelling and how visually arresting images of Indigenous people can be. With their traditional face painting and regalia—the Ecuadorian Indigenous people are absolutely striking. Parrinello speaks to the incredible quality of their work:
The two organizations are generating a tremendous amount of media, covering court cases, press conferences, and protests—as well as traditional life and ceremony, showing the people's deep connection to their territory. All of which are then used as incredible short films on various social media platforms. There is a great need for this kind of incredible quality in order to get a broader coalition of supporters to understand the issues and support the cause: this unique storytelling ability makes Amazon Frontlines and Ciebo stand out from other NGO's. It's remarkable, no other organizations are doing this kind of work on this level: they convene every event as both filmmakers and activists.
Their filmmaking expertise is significant on many levels, but most importantly, it brings their message home in a stunning and impactful way in the fight for climate justice, environmental protection, and Indigenous rights.
Training Indigenous youth to make films about their culture, to tell their own story, can't be underestimated. The Cofán bring their own aesthetic to filming, where "seen from the eye of the beholder," they can film things that are important to them. This is not only empowering, but has important implications for the self-determination and voices of Indigenous peoples everywhere.
Importantly, the Cofán also use their filmmaking skills to document and confront illegal miners and make citizen arrests, bringing the law to the remote corners of their territory to halt gold mining and other illegal activities that threaten their territory and way of life.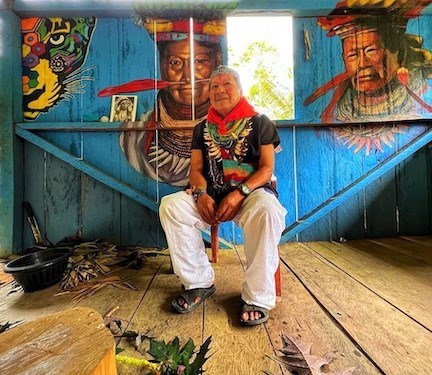 Isidro Lucitante, curaca (shaman) Goldman Environmental Prize, photo Will Parrinello, with permission
The Cofán people's kindness and patience
"The Cofán," Parrinello told MY HERO, "are very down to earth, warm, and loving, and totally committed to protecting their lands. They're a tightly knit group, all unified in their struggle and in their beliefs."
Their compassion and loving kindness is something the Goldman Prize crew will never forget. One morning, Alex's family started singing in the kitchen and Parrinello and the crew were surprised and delighted to find they were including them in their songs! Alex's dad was singing in Cofán and the others were in Spanish, while his brothers played guitar, mouth harp, and harmonica. The songs were about the interconnectedness of all living things on Mother Earth.
Parrinello said that being around people with such open hearts and loving approach was infectious, that for two weeks they experienced this every day. "But the day we said good-bye, we could see that this calm, loving approach had not been fully ingrained in us after all. We felt this sensibility slipping away, with a sort of remorse at its loss as we did our final shoot before getting ready to leave."
"So lastly, I want to tell you a funny story," Will said:
We were filming Alex's interview in the yard of his parent's home, with their dogs, chickens, and children playing. His parents' home has an elevated living space, so we set up below it, in the open common space underneath the house. Although we had scouted the location the afternoon before, we didn't realize there would be twenty-five chickens feeding and crowing throughout the morning. We had to stop filming 15 or 20 different times and I began to pull out my hair. We employed Alex's young nephew to wrangle the chickens. He was running around with two rakes, one under each arm like a big bird, which was the only thing that was effective in scaring off the chickens and getting them to pipe down. I initially started out as a sound recordist so I'm more particular about sound quality and those chickens were driving me crazy. Then, when Alex got emotional at one point during his interview, his voice beginning to waver while he was describing what the miners were doing to his river, the roosters began to crow followed by all the chickens. I thought I was going to lose my mind as I knew we weren't getting that moment back. Ahhh!!! Alex's young nephew had lost interest in his gig wrangling the chickens, so I jumped up yelling, grabbed and rakes and began running around flapping my arms and squawking. Alex recovered and laughing, he sang me back to the house where we continued filming.
Parrinello's new film beautifully documents how Alex, Alexandra, and the people of Sinango halted gold mining in their Indigenous territories, setting a precedent for Indigenous peoples everywhere and helping to save our planet from destruction. As Parrinello describes it, Informed by ancient ceremony and the wisdom and knowledge of their elders, the Cofán have been able to address the complex questions their communities face in the modern world. Parrinello's level of respect and sensitivity to the people he films is one of the reasons his films are all so outstanding. He noted at the end of our interview "For the Cofán, the Earth has all the answers…The Cofán are guardians for everyone and the interrelationship between all living things."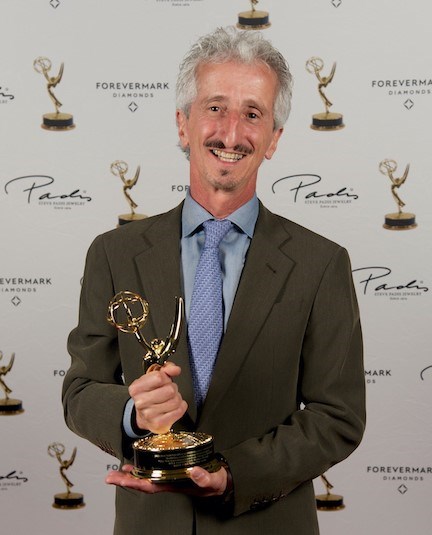 2014 Northern California Emmy Award ceremony, where Mill Valley Film Group won an Emmy for their series, The New Environmentalists in the category, Outstanding Achievement in Environment Program Special. NATAS/NorCal., with permission
About Will Parrinello
Will Parrinello has been producing and directing documentaries with his partner John Antonelli in the Mill Valley Film Group for 35 years. He has made award-winning films for theatrical distribution, television, and home video. His credits include Dreaming of Tibet, an intimate portrait of three Tibetan exiles, which received an Audience Award at the Amnesty International Film Festival. Their multiple Emmy Award winning PBS series The New Environmentalists, narrated by Robert Redford, profiles Goldman Environmental Prize recipients and received the Persistence of Vision Award at the Wild & Scenic Environmental Film Festival and Sol d' Or Award at the Barcelona International Environmental Film Festival. He was honored by the Chicago International Film Festival with a Gold Hugo Award for Little Italy, an affectionate exploration of Italian American identity. Parrinello co-produced and edited Antonelli's feature length documentary Kerouac. This profile of the beat generation author was broadcast on PBS, A&E, and The Learning Channel and played theatrically across the U.S. He shot and edited In The Light of Reverence, a film about Native American sacred lands, which was the top rated program in PBS/POV's 2001-summer season. Parrinello was a director of photography on the Academy Award nominated documentary Tell The Truth & Run: George Seldes and The American Press.
---
[i] Amazon Frontlines https://amazonfrontlines.org/campaigns/our-territory-is-our-decision/ downloaded 7/10/22.
[iii] See One Earth https://www.oneearth.org/conservation-hero-alexandra-narvaez/
FOR MORE INFORMATION
Watch the film about Alexandra Narvaez and Alex Lucitante in Spanish:
https://www.goldmanprize.org/recipient/alexandra-narvaez-alex-lucitante/
Watch the film in English:
https://www.youtube.com/watch?v=MEfzSpHTkLg
Will Parrinello and the Mill Valley Film Group:
/will-parrinello-mill-valley-film-group-will-parrinello-wins-2021-best-in-fest
To view other Mill Valley Film Group documentaries on MY HERO:
/mill-valley-film-group-goldman-environmental-prize-and-other-short-films
Mill Valley Film Group Website: https://www.mvfg.com
Water For Life: A Documentary Film Mill Valley Film Group, with permission
Parrinello's most recent film, Water for Life, powerfully tells the stories of three Indigenous water keepers in Central and South America, fighting to protect the land of their ancestors against the interest of the state, foreign governments and multinational corporations. All are Goldman Environmental Prize recipients. It's a story of courage and determination, betrayal and corruptions, death threats and murder, and of unexpected victories in the countryside and in the courts. It is a story that asks how economic development can grow in harmony with environmental protections and why we tolerate unbridled greed and profiteering at the expense of human life and our precious planet. Above all, Water for Life illuminates a growing recognition of Indigenous Rights and a rising demand for corporate responsibility and environmental justice that's being seen around the world. It is a story that begins and ends with water.
About the work of the Indigenous activists Alexandra Narvaez and Alex Lucitante:
The Film https://www.goldmanprize.org/recipient/alexandra-narvaez-alex-lucitante/
Listen to a message from Alexandra Narvaez and Alex Lucitante and read more about their work:
https://amazonfrontlines.org/campaigns/our-territory-is-our-decision/
To learn more about The Goldman Environmental Prize, see https://www.goldmanprize.org
To meet all the 2022 Goldman Prize Winners:
https://www.goldmanprize.org/meet-the-winners/
Amazon Frontlines:
https://amazonfrontlines.org/work/defending-territory/
https://amazonfrontlines.org/work/telling-stories/
https://amazonfrontlines.org/work/reviving-culture/
Two of Amazon Frontlines' best films:
https://vimeo.com/586029251

https://amazonfrontlines.org/campaigns/who-should-decide/

The Ceibo Alliance:
https://www.alianzaceibo.org
https://amazonfrontlines.org/videos-categorias/ceibo-alliance/
https://amazonfrontlines.org/who-we-are/our-partners/
Watch one of Will Parrinello's favorite Ceibo Alliance videos:
https://amazonfrontlines.org/videos/a-journey-for-clean-water-with-the-waorani-people/
FILM CREDITS:
Producer/Director: Will Parrinello
Director of Photography: Vicente Franco
Editor: Quinn Costello
Writer: Sarah Kass
Field Producer/Fixer: Nico Kingman and Emilio Bermeo
Sound Recordist: Francisco Gangotena
Drone Operators: Nicolás Mainville and Nixon Andy Narvaez
Additional Cinematography:
Mitchell Anderson, Amazon Frontlines
Nico Kingman
Nixon Andy Narvaez
Jerónimo Zuñiga
Post-Production Supervisor: Kylee Acevedo
Assistant Editor: Majo Calderon
Archival Footage Courtesy of:
Amazon Frontlines
Ceibo Alliance
Adobe Stock
Pond5
Narrator: Sigourney Weaver
Translation Voice Over: Yeni Alvarez and Abie Hadjitarkhan