Brett Whitcomb and Bradford Thomason have been awarded the MY HERO Media Award at the 18th Annual International Film Festival 2022 for their film, 'Butterfly in the Sky.' The film explores the creation of the PBS show 'Reading Rainbow,' an American educational show which featured a children's picture book on each episode, often read by a celebrity. The show was initially created to try and tackle 'summer loss phenomena;' children often lose some of their reading ability over the summer, as they tend not to read as much as they do during term time.
Whitcomb and Thomason have been making films together since 2006 and have created a number of films including 'GLOW: The Story of the Gorgeous Ladies of Wrestling' (2006), 'A Life in Waves' (2017) and 'Jasper Mall' (2020). They both watched 'Reading Rainbow' growing up and had the idea in the back of their minds for some time, so when Whitcomb brought it up, they started researching immediately.
The show had been on air for 26 years, with 155 episodes, which posed a slight difficulty for Whitcomb and Thomason when selecting which parts of 'Reading Rainbow' to focus on in the film. There was a multitude material to choose from. Furthermore, upon researching, they realised that there wasn't much written about the show and its creation. When they reached out to the creators, however, and saw their passion first hand, they understood how important making the film was.
They spoke to several of the people behind 'Reading Rainbow,' including Larry and Cecily Lancit, Twila Liggett and, of course, LeVar Burton.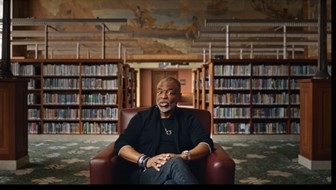 LeVar BurtonBrett Whitcomb & Bradford AllenLeVar Burton is an American actor, director and television host and was the host and executive producer of 'Reading Rainbow.' He was extremely generous with his time and was more than happy to contribute to the making of 'Butterfly in the Sky.' Talking to MY HERO, Whitcomb and Thomason explained:
LeVar Burton is an icon, and we knew going into the film that he'd be a pillar of our story. He's an incredibly inspiring person and his work on 'Reading Rainbow comes from a real place. He wasn't just playing a role. His mother was an English teacher, so reading has been an important part of his life for his entire life. […] He gave us one of the best interviews of our career [and] we're grateful to have him in the film.
After the show ended, LeVar Burton has maintained the Reading Rainbow brand, adapting and using newer formats to continue to inspire and get the children of today reading. In 2012, for instance, he created an immersive version of Reading Rainbow for the iPad and it quickly rose to being the highest-rated educational app. Burton continues to inspire and advocate for children's education, even years after the show's final episode aired.
Brett Whitcomb and Bradford Thomason are equally passionate about reading's ability to inspire and wanted to highlight the importance of reading that 'Reading Rainbow' explored. They also hope that 'Butterfly in the Sky' will emphasize just how passionate the team behind 'Reading Rainbow' were about the show and its purpose.
Brett Whitcomb attended MY HERO's Special Awards Ceremony on Saturday 19th November 2022 to accept the MY HERO Media Award on behalf of himself and Bradford Thomason. On winning the award, Whitcomb said:
"Thank you so much to MY HERO Film Festival, we're super honored. This film was really important to Brad and I because we grew up watching the show and it was probably some of the earliest documentary-style footage we saw so it definitely shaped me into who I am today. […] I just want to acknowledge all the producers, directors, filmmakers and educators that poured their hearts into making 'Reading Rainbow,' also Bryan Storkel, who produced our film, and the company XTR, who we couldn't have made this film without."
Watch Brett Whitcomb accepting the award at the MY HERO International Film Festival: https://myhero.com/2022-media-award
You can view an excerpt of 'Butterfly in the Sky' at: /butterfly-in-the-sky-excerpt
Find out more about Reading Rainbow at: www.readingrainbow.org
Find out more about the MY HERO Media Award: /media-award
About MY HERO International Film Festival:
The MY HERO International Film Festival brings together professional and youth filmmakers who honor local and global heroes working for positive change in the world. Thanks to generous sponsors, prizes are awarded to elementary, middle school, high school, college and professionals in a variety of categories including documentary, narrative, music video, animation, experimental, and more.
To find out more about the Film Festival go to: /Films/festival
Join us on November 19th at 2pm PST for the 18th MY HERO Film Festival Ceremony, the celebration of the best of humanity. The featured winning short films shine a light on activists, peacemakers, environmentalists, humanitarians, artists & others who make a positive impact in the world. Congratulations to the filmmakers for bringing these important stories to life. Thank you to our prestigious Awards Presenters for their vision and generosity! Register HERE.
Save the date for the Family-Friendly Awards Celebration on December 10, 2022, at 10 am (PST). Festival winners and their heroes will be on hand to answer questions and share their stories. Short clips from select films will be screened. Categories include narrative, documentary, music videos, animation, experimental, trailers, spoken word and PSAs. Awards are given to winners at Elementary, Middle School, High School, College and Professional levels. Register HERE.
To view the 2022 MY HERO International Film Festival Program,
Click here
View all winning films online:
Page created on 11/15/2022 12:07:32 AM