CONTACT: JEANNE MEYERS FOR IMMEDIATE RELEASE
Co-founder/Director
The MY HERO Project
[email protected]
949-376-5964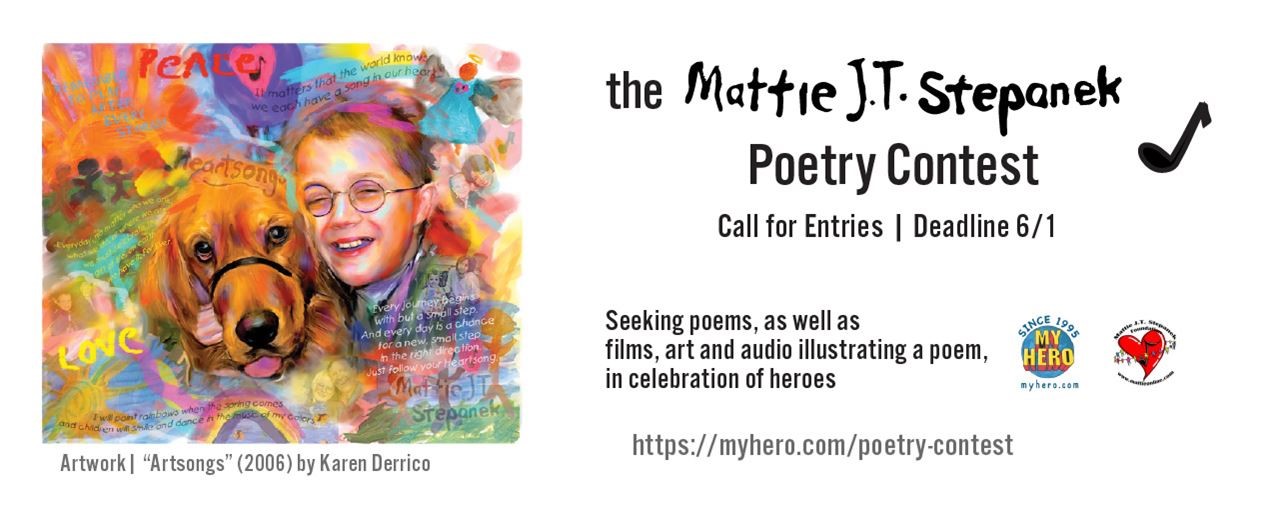 Poetry ContestMY HERO
CALL FOR ENTRIES: MATTIE J.T. STEPANEK POETRY PRIZE 2022
MARCH 1, 2022 - LAGUNA BEACH, CA - April is Poetry Month and, once again, The MY HERO Project and the Mattie J.T. Stepanek Foundation are teaming up to honor a young poet who touched the hearts of millions during his brief and spectacular time on earth — The Mattie J.T. Stepanek Poetry Contest is seeking heartsongs — original poems, films, and audio.
Mattie was a young best-selling poet and peace activist, who encouraged everyone to 'listen to their heart song and to play after every storm." He died at age 14 of dysautonomic mitochondrial myopathy, a condition similar to muscular dystrophy, but not before making his mark. As a poet, peace activist and motivational speaker, Stepanek earned a global following. He was friends with Oprah Winfrey and former president Jimmy Carter called him, "the most extraordinary person who I have ever known." Stepanek encouraged everyone to sing the song in their heart.
"A heartsong doesn't have to be a song. It can be your message, your feeling—some people might even call it a conscience. Even though that's not really what it is. It's what you feel you need to do." - Mattie J.T. Stepanek
The deadline is June 1st, 2022. Jeni Stepanek, Mattie's mother, will help select the winning poems. Submissions are welcome from poets, artists, filmmakers, spoken word artists and students. Learn more.
Enjoy the winning entries from 2021.
Submit your poetry, songs, films, and audio.
Page created on 2/28/2022 12:00:00 PM
Last edited 3/22/2022 12:26:58 AM