Dr. Elizabeth Kalko was a host researcher for Jason XV's expedition to Barro Colorado Island, Panama. A renowned scientist, she is the head of the Department of Experimental Ecology at the University of Ulm, Germany, and a Staff Scientist at the Smithsonian Tropical Research Institute. Along with her talented peers, she will guide student and teacher "Argonauts" through a journey of discovery in the rainforest.
Dr. Kalko became interested in plants and animals when she was a small child. She was especially interested in the extinction and loss of certain species, and how humans impact the environment. She was given the opportunity to join a biological excursion to the Mediterranean Sea and loved it. There, she encountered bats for the first time. The scientist leading the excursion had brought recording machines and tested ulrasound signals with the bats, and this really sparked her interest. They would later become her favorite subject of study as a scientist.
She finished her studies in Germany, and then went to the US and worked at the National Museum of Natural History, Washington DC and at the Smithsonian Tropical Research Institute (STRI) in Panama. She has done research work in Panama for over 10 years and has been on staff at STRI since 2000.
Dr. Kalko is currently involved in several research projects, all involving bats. She studies the foraging behavior of bats—what they eat, and how they find it, and the social behavior of bats-- how do the different bat species live? She uses radiotracking, where, for a short period of time, the bats carry a little, light-weight transmitter attached on their backs. By picking up the signal of the transmitter the scientists are able to follow the bats in the forest and to distinguish between hanging and flight time, helping them better understand bat activity. They are also currently working on a book, to help people, particularly those working in the Amazon area, to identify bat species. She wants to help dispell the myths that bats are "ugly" or frightening, or "drink blood," by showing instead all the benefits bats offer their ecosystems.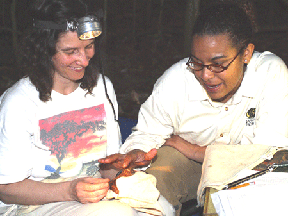 One of her most exciting experiences as a scientist was when she discovered a new bat in Panama. She saw it in her net early one morning, and noticed it was different than any other she had seen before, with huge ears and silver-white bellies and a dark-grey back. She recorded the information but set the 2 bats free, then realized later that she couldn't prove she had found a new bat because she had released it. So she and her team set out to find more, and did, studying a male and female bat in a flight cage, recording their echolocation calls and taking data which is now at the National Museum of Natural History in Washington. That type of bat had never before been seen in Central America and no one has seen or captured them ever since.
Dr. Kalko loves working in the Panamanian rainforests because they are such a dynamic, changing, and exciting environment. She loves the diversity she finds there, which allows her to make new discoveries every time she returns.
Although the job of a scientist is hard work, she loves what she does and finds being in nature a great pleasure. She tells students to pursue what they love so that they may enjoy what they do in the future. She hopes that the Argonauts came out of the experience understanding that the earth still has many fascinating and diverse forests which should be studied to better understand how to preserve these wonderful ecosystems. She wants the students to realize that they can pursue a career in science, or education, or politics, and help contribute to preserving these irreplaceable places.
Page created on 11/2/2004 10:58:12 AM
Last edited 1/9/2017 9:52:32 PM
Extra Info
The main interview with Dr. Kalko was conducted by the Jason Project.