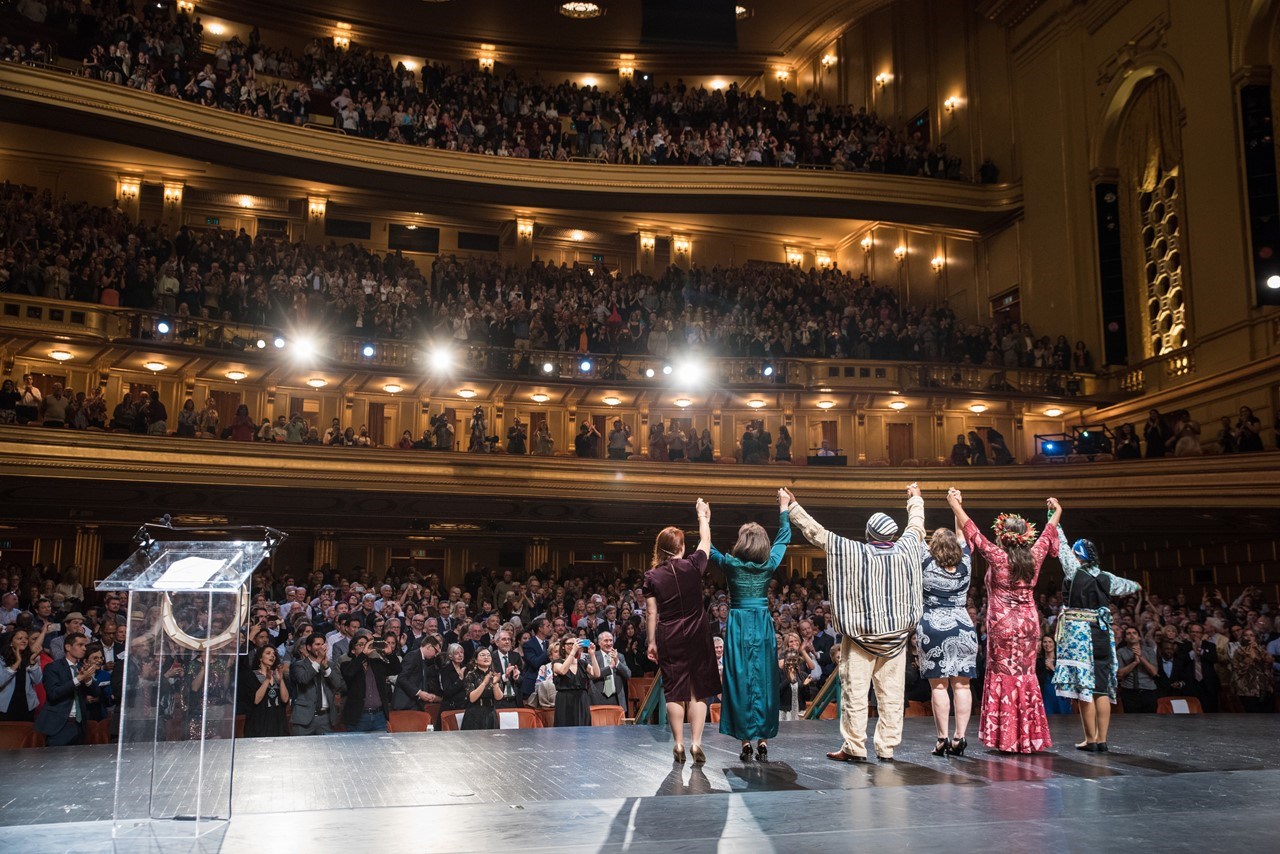 Goldman Environmental Prize Award Ceremony, 2019Goldman Environmental Prize, with permission
The MY HERO Project is proud to announce that the remarkable nonprofit, the Goldman Environmental Prize, will be awarded the 2021 MY HERO Media Award at our 17th Annual International Film Festival, to be held virtually on December 4, 2021 at 2 PM PDT. The Media award is given to groups or individuals who use media to create positive change in the world, which the Goldman Environmental Prize is doing on a significant scale.
The Goldman Environmental Prize, also known as the "Green Nobel Prize," is the world's foremost award honoring grassroots environmental activists by recognizing individuals for sustained and significant efforts to protect and enhance the natural environment, often at great personal risk.
The organization's mission is to honor the achievements and leadership of grassroots environmental activists from around the world, inspiring all of us to take action to protect our planet. The Prize has had immeasurable global impact through the award process. The ongoing support that Prize winners receive and the role of the Goldman Prize in convening local and international partners around the activists' work and connecting activists to one another has had immeasurable impact.
For 32 years, the Goldman Prize has honored and supported six grassroots environmental heroes each year from roughly the world's six inhabited continental regions: Africa, Asia, Europe, Islands & Island Nations, North America, and South & Central America.
Prize recipients are grassroots activists like Majiga-Kamoto and Chibeze Ezekiel, below, who focus on protecting endangered ecosystems and species, combating destructive development projects, promoting sustainability, influencing environmental policies, and striving for environmental justice. They are often women and men from isolated villages or underdeveloped cities who choose to take great personal risks to safeguard the environment.
Jeanne Meyers, co-founder and Director of MY HERO, wrote:
We are so impressed with the remarkable impact the Goldman Environmental Prize is having by awarding ordinary people who are doing extraordinary things to help the environment with the Goldman Environmental Prize. Year after year we are inspired by the remarkable heroes the Prize chooses to honor. Some of their films about outstanding grassroots activists have been submitted to MY HERO Film Festival in the past, where these films have received numerous awards over the years.
Six Prize recipients are honored each year: to date the Prize has honored 206 winners (including 92 women) from 92 nations, shining a light on critical issues facing the Earth. But while there are only six winners each year, the award inspires activists throughout the world.
When MY HERO asked, "What is the role of the Goldman Environmental Prize in the global environmental movement?" Ilan Kayatsky, Communications Director for Goldman Prize, humbly replied, "A convener." The Goldman Prize is, in fact, helping to convene a global community, a network of connections and support for grassroots activists working on environmental issues, something the activists MY HERO has spoken with say has made a huge difference in the impact of their work.
Goldman Environmental Prize: History and Impact
Building upon a lifelong commitment to environmental protection, in 1989 Richard N. Goldman (1920-2010) and his wife Rhoda H. Goldman (1924-1996) established the Goldman Environmental Prize to recognize ordinary individuals working at the grassroots level to protect and enhance our environment.
Ilan Kayatsky told MY HERO that the Goldmans were "classic philanthropists who felt an obligation to support people working on issues they cared about." This was at a time when most people were not aware of grassroots movements to safeguard the environment, where people often work in situations that put their lives at risk
Three descendants of the founders—John D. Goldman, Susan Gelman, and Jennifer Goldman— continue in their spirit of philanthropy to make the world a better place. The nonprofit is funded by a private family foundation, creating a powerful legacy for our world.
Susie Gelman, Vice President of the Goldman Environmental Foundation stated:
When it comes to the environment, the global community of grassroots activists, leaders, thinkers, and philanthropists is only growing and becoming more sophisticated, more united, more powerful. These Prize winners have so much to teach us about the path forward and how to maintain the balance with nature that is key to our survival. These phenomenal environmental champions remind us what can be accomplished when we fight back and refuse to accept powerlessness and environmental degradation. They have not been silenced—despite great risks and personal hardship—and we must also not be silent, either. It takes all of us.
The 2021 Prize recipients include six environmental activists from Peru, the United States, Bosnia and Herzegovina, Japan, Vietnam, and Malawi. During the last four years, 75% of awardees have been women.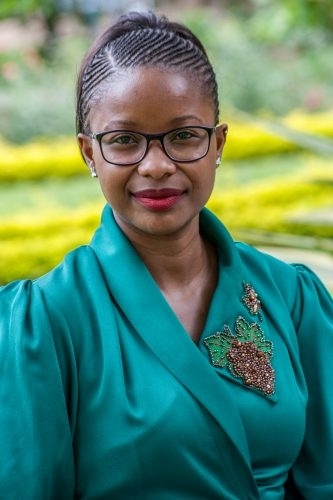 Gloria Majiga-Kamoto, 2021 Goldman Prize Winner for AfricaGoldman Environmental Prize, with permission
Gloria Majiga-Kamoto: 2021 Goldman Prize Winner for Africa
Thirty-year-old Gloria Majiga-Kamoto is a 2021 Prize winner from Malawi working on policy advocacy in support of a national ban on thin plastics. Concerned about the environmental harm caused by mounting plastic pollution in Malawi, she fought the plastics industry and galvanized a grassroots movement in support of a national ban on thin plastics, a type of single-use plastic. As a result of her dedicated campaigning, in July 2019 Malawi's High Court upheld the ban on the production, importation, distribution, and use of thin plastics. This is the first Prize for Malawi.
Gloria told MY HERO that she was totally surprised when she got the call that she was awarded the Prize:
I was in my office late at night… It was the craziest moment; I was completely unprepared. I felt like my life had really changed. Never in my lifetime did I think I would get this award. I like to work in the background, so this was overwhelming.
It's interesting because in doing this work, you don't think you'll get recognized. The reward is people doing better, having a good life, and the environment doing well.
Also, I was quite young and there were other activists who had been doing work longer than me, so it was quite an honor, not just for me but on behalf of their work and the foundation they had laid.
The work of Gloria and her team has not been easy. Gloria said that what she appreciates most about the award is getting into a global network with other environmental activists: "It's like you become part of a family, we support each other like a family. Policy advocacy can be long and frustrating work: The Goldman Prize is a life changer. They come in and show you that it's okay to want more for the world."
She added, "We often don't feel we are doing enough, that we don't have enough impact…it's inspiring to see that it's not about being in the limelight that wins the award, but the work we put in, the importance of the work we do."
Support for the Prize Winners
One of the most powerful components of the work of Goldman Environmental Prize is the ongoing support and follow-through they provide the Prize winners. The Prize is dedicated to giving the activists a wider and more effective platform, greater media exposure, connections with partners that help provide more opportunities for funding to build capacity, and much more.
As noted on the organization's website, the benefits of winning the Prize are significant:
The Goldman Prize amplifies the voices of these grassroots leaders and supports them with:
International recognition that enhances their credibility
Worldwide visibility for the issues they champion
Financial support to pursue their vision of a renewed and protected environment
Capacity building support to deepen the efficiency of their work
Networking, learning, and connection with other grassroots leaders
Ilan Kayatsky told MY HERO, "There so much doom and gloom in the world these days; we hear about irreversible changes to the environment, species extinction, and so on. But there are so many people around the world refusing to be cowed by inertia that are still doing the work, despite the risk."
Kayatsky explained that many of the Prize winners work in remote regions, sometimes without Internet or cellular service. When they receive the Prize, they become connected with other Prize winners from over the years on a private Google group where they support one another and share knowledge. As a matter of course the organization also connects the activists to international partners, global funders, and policy makers to help increase their capacity.
Most importantly, the support of Prize winners is not just for a year--it's ongoing. The organization's staff will continue to stay involved and up to date on the needs and activities of the activists, including supporting Prize winners at risk. They bring in security experts to provide preemptive support (for personal and digital security, for example) and to mitigate known risks, if needed. Assistance may also include letters of support, action alerts, and PR support to risk assessments, urgent defense grants, and access to pro bono legal assistance. Goldman Prize support for past and present Prize winners has been invaluable in the global fight against environmental destruction.
The Goldman Prize also has a grants program to help support past Prize recipients' work. And they convene regional meetings in each geographic location where the Prize is given to help create networks and networking opportunities and build support among past and current Prize recipients.
Kayatsky also emphasized that the organization makes sure the activists' work is in the news locally in their home communities. PR stringers work in each country to target media and social media, reminding people locally that "the world is paying attention." Shining a light on activists fighting internal battles is a huge part of the nonprofit's contribution to the environmental movement.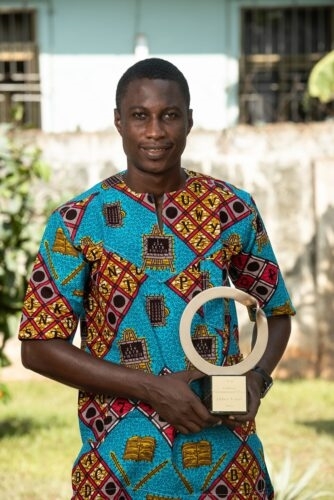 Chibeze Ezekiel, 2020 Goldman Prize Winner for AfricaGoldman Environmental Prize, with permission
Chibeze Ezekiel: 2020 Goldman Prize Winner for Africa
Chibeze Ezekiel of Ghana was awarded the Goldman Environmental Prize for Africa in 2020 for his efforts to build a youth movement and mobilize community members to stop the construction of a 700 MW coal-fired plant.
Chibeze succeeded in stopping China from making Ghana a coal client state and forced the Ghanaian government to honor its climate conference commitment to embrace sustainable energy production.
As part of the process China decided to support the development of Ghana's Renewable Energy Master Plan. China has the odd distinction of being the greatest proponent and user of coal fired power as well as the greatest proponent and user of sustainable energy. It's no small fete that this group of idealistic, young, underfunded activists stopped Chinese-backed coal.
Chibeze talked with MY HERO about the huge impact that receiving the Prize has had on his work during the last year: "Being in the limelight and getting media attention during the COVID crisis, NGOs wanted to learn from us and partner with us. The award provided a huge platform to connect with other activists for knowledge, learning, and sharing to help strengthen our advocacy work in Ghana and beyond."

Since receiving the Prize Chibeze has worked more closely with international and local partners working in Ghana for his organization, Strategic Youth Network for Development (SYND), which works to increase the impact of young people working for environmental and social change in Ghana. Partners include 350.org, one of the biggest international platforms on climate change, SLYCAN Trust, Africa Climate Reality Project (ACRP), Student Energy, 25onehundred, SIPRI and ACCESS Coalition (where SYND is now the West Africa Regional Node). Chibeze was named to 350.org's board within a year of receiving the Goldman Prize.
During our interview, Chibeze also shared that his organization has received recognition and support from the French Embassy, British Council and British High Commission, World Bank and UNDP. As a result of this support, he and his team have been able to contribute and influence climate change processes at the local and national levels from a youth perspective. For instance, Ghana's National Adaptation Plan (NAP) and the Nationally Determined Contributions (NDCs) specifically capture the role of young people in the planning and implementation processes.

Chibeze said that the most important thing about the Goldman Prize is that it encourages more activism, "for us not to give up." Having worked for nine years to bring young people to the table in high level talks about climate change in Ghana, he says, "It is now proven beyond a doubt that given the right resources, youth can influence climate change: Youth as a change agent in the fight against climate change." Chibeze and his young activists represented Ghana at COP26 in November 2021.
The Award Ceremony
It's not surprising that among award recipients and members of the grassroots environmental movement, the Goldman Environmental Prize is known as the "Green Nobel Prize." Six Prize recipients are selected each year by an international jury; confidential nominations are submitted by a global organizations and individuals. In typical years, the winners are announced in April to coincide with Earth Day and are celebrated in a gala award ceremony, with additional award ceremonies held around the globe with important partners and policy makers.
The 2021 Award Ceremony was virtual, as it was in 2020. The gala event featured Jane Fonda as host, musical guests Lenny Kravitz, Baaba Maal from Senegal, and the Ndlovu Youth Choir from South Africa, with Sigourney Weaver and a special appearance from Ugandan climate activist Vanessa Nakate.
Important takeaways include Fonda's introduction where she says, "You too can be a hero" and "ecological destruction is not inevitable" and an inspiring introduction by Susie Gelman, Vice President of the Goldman Environmental Foundation, emphasizing the important strides being made in addressing our climate emergency and struggles for social justice.
One of the most outstanding parts of the virtual event are the featured films about the Prize winners, films that capture the life and spirit of the activist and the work they are doing, showing beyond a doubt that ecological destruction is not inevitable.
Mill Valley Film Group on locationWill Parrinello, with permission
The Films of the Prize Winners
The Goldman Environmental Prize film, The Goldman Prize, and the films the organization produces each year about the six Prize winners exhibit true excellence in filmmaking and show the power of film to highlight activist heroes who are creating change in the world. These are true environmental heroes who have placed themselves squarely in harm's way to battle intimidating adversaries while building strong grassroots support.
Masters of short form documentaries, Will Parrinello and his partners John Antonelli and Matt Yamashita at the Mill Valley Film Group have been making short film documentaries for the Goldman Prize each year since 2004. They devote half of the year to producing the films, traveling around the world to film the six Prize winners on location. Each film features the lives and work of one of the six Prize recipients.
The film crew, Parrinello said, consists of one of the three producer/directors and a cinematographer, often travelling to remote locations where they collaborate on the films with a local bilingual sound recordist and field producer. The field producer is often a journalist or filmmaker who is familiar with the Prize winner and their story.
He added, "By teaming up with locals, we're practicing 'immersive journalism' techniques, allowing our local producer to help shape the stories, with their knowledge of the environmental issue and their own culture. Our approach is, we're here together, we're not just 'taking pictures' we're giving back. The point is to produce authentic stories of living, breathing people, their lives and realities."
Parrinello told MY HERO, "We feel somewhat like prize winners ourselves each year, as we gather our film team to head out to another far-lung corner of the world, telling these amazing stories. Although as filmmakers we wouldn't trade our good fortunes for anything, there are often rather daunting challenges to our assignments. On more than one occasion, we have had to enter countries posing as tourists in order to film a subject that the government or corporate entities would not approve of."
Their days on location can be demanding, Parrinello said:
But we enjoy every minute of the journey. We spend a week or two in country, getting to know the Prize recipients, coordinating between our two different worlds, collaborating to make a film that accurately reflects their impressive achievements and the passion that drove them to succeed. I always tell the Prize recipients that our work on their film is a partnership. If together, we don't make a film that we're both proud of and that you would use to support your work, than we will have failed.
The crew films dozens of short scenes and a ninety minute oral history interview. Parrinello added, "Then each producer heads back home to edit five to ten hours of footage to make a four to five-minute film. It all works in kind of a tag team fashion. When one returns from location, another departs."
Many of the more than 100 short films produced by the Mill Valley Film Group for the Goldman Environmental Prize have been edited into 30-minute PBS programs for the series, The New Environmentalists. Hosted by Robert Redford, the series has received awards from film festivals around the world, and four Regional Emmy Awards for Outstanding Environmental Program Special.
For Parrinello, doing this work and getting to know these heroes, has been an amazing journey: "It has been a real gift to witness the activists' passion and dedication. A number of years ago, when I told Ghanaian Prize recipient Rudolf Amenga-Etego that I felt like I wasn't doing enough to help the cause, he looked at me quizzically, then said, 'You're a story teller and you'll be doing a lot if you simply continue to dedicate yourself to telling these important stories to the world. These grassroots activists inspire us to be better people, to do more to protect our planet.'"
When asked about the impact of the Goldman Prize, he said, "Their recognition of the achievements of these inspiring activists shines a light on issues and people otherwise ignored." The organization, he adds, is a game changer, taking local issues to an international level—as Kayatsky said above, reminding people that the world is paying attention.
The Goldman Environmental Prize won the MY HERO Media Award for its dedicated and remarkably thorough efforts to save our planet from environmental destruction.
LINKS
The work of the Goldman Environmental Prize: https://www.goldmanPrize.org
The work of Gloria Majiga-Kamoto: https://www.goldmanPrize.org/recipient/gloria-majiga-kamoto/
The work of Chibeze Ezekial: https://www.goldmanPrize.org/recipient/chibeze-ezekiel/
Goldman Prize films about the activists: https://www.youtube.com/user/goldmanPrize/videos
Mill Valley Film Group: https://www.mvfg.com/
MY HERO International Film Festival:
To view the 2021 award winning films, go to https://myhero.com/Winners
For more details about MY HERO's International Film Festival, please visit myhero.com/FilmFestival