"A good painting to me has always been like a friend. It keeps me company, comforts and inspires" (Hedy Lamarr). Hedy Lamarr explains herself in this quote as if she was a picture, beautiful and inspiring. Her career started with her beauty. Born in Austria, November 9, 1913, she went to Max Reinhardt's famous acting school to become an actor, starring in her first movie, "Ecstasy." But when Hedy was 19, she married Friedrich Mandl, who was a munitions manufacturer. This marriage first introduced Hedy to inventing. She moved to the US in 1937, and she became a famous movie actor in Hollywood. In 1940 Hedy first introduced her idea of frequency hopping, a system that would stop radio taping and jamming for torpedoes. In 1942 it was finished and patented. Now that system is known as the basis of wifi and bluetooth. Although known for her acting, Hedy Lamarr was an inventor whose selflessness and hard work made her a hero.
MY HERO Recommends Hedy Lamarr and Howard Hughes' Relationship
Hedy Lamarr and Howard Hughes' relationship was built on a love of invention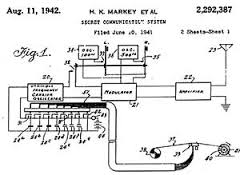 Hedy Lamarr was selfless in her work and cared for those who fight our wars. While married to Friedrich Lamarr, she learned about systems in her time between her husband's work and dinners. "Lamarr and Antheil received a patent in 1942, but their ideas were not put to significant use until the Cuban missile crisis of 1962" (Casey). The Navy had deemed the invention too expensive and time consuming to fit all torpedoes with the new system. So the patent sat, not to be used for twenty years, and eventually Hedy's patent for her device would run out. When the system was finally used, "[n]either Lamarr nor Antheil ever received royalty payments for the commercialization of their patent" (Chen). Although Lamarr and Antheil had stopped working on the system, the world had not. Their once patented system is now known as wifi and bluetooth. Even though her system wasn't used in WWII, Lamarr still helped by raising money for the war. With no profit for her inventions and with her love for our military, she shows her selflessness.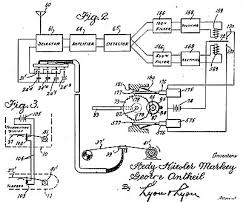 Hedy's hard work and determination created spread spectrum communication with her limited knowledge. "At 19, Lamarr had married Friedrich Mandl, a munitions manufacturer...she was forced to flee in 1937" (Chen). Hedy had been married to Friedrich for four years. In the four years Hedy learned everything about engineering from her husband's work and dinner conversations. After Hedy Lamarr had moved to Hollywood she starting acting again, but "In 1940, Lamarr presented her concept of 'frequency hopping'" (Casey). "Lamarr and Antheil received a patent in 1942" (Casey). Lamarr spent two years of her life dedicated to creating a system to fight the Nazis in WWII. Even though it wasn't used in WWII, later her invention helped us during the Cold War to communicate. Hedy Lamarr was a determined and hardworking person, because all of her learning experience was acting school and four years of marriage with a munitions manufacturer. In the end Hedy was still was able to actively contribute two years of work on a system that would have changed WWII.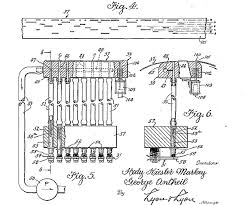 Hedy Lamarr was a hard worker and a determined person who cared about the war and wanted to help. She showed these characteristics through her hard work, which created a legacy that will go on for many years into the future. "All creative people want to do the unexpected" (Hedy). She was a creative person who made something so unexpected in her time, she should forever be remembered for it.
Works Cited
Schwartz, Casey. "Hedy Lamarr." Encyclopaedia Judaica, edited by Michael Berenbaum and Fred Skolnik, 2nd ed., Macmillan Reference USA, 2007.
Biography in Context, link.galegroup.com/apps/doc/K2587511775/BIC1?u=powa9245&xid=e5f6aa22. Accessed 27 Apr. 2017.
Chen, Cathaleen. "Hedy Lamarr: Actress by day, tech inventor by night." Christian Science Monitor, 9 Nov. 2015. Biography in Context, link.galegroup.com/apps/doc/A434124960/BIC1?u=powa9245&xid=9aa351bd. Accessed 28 Apr. 2017.
Page created on 5/24/2017 12:00:00 AM
Last edited 4/7/2021 3:58:46 AM