Jacques Cousteau (French)
by
Jeff Trussell
Nous disposons de très peu de temps pour échouer ou réussir à assurer un avenir durable à nos espèces.
A la mort de Jacques Yves Cousteau, le monde perdit plus qu'un simple valeureux biologiste et océanographe. Le monde perdit le plus grand guide des royaumes non-identifiés que constituent les océans de la planète. A travers ses documentaires et livres, Cousteau contribua, plus que quiconque, à nous faire comprendre les océans.
Cousteau est né le 11 juin 1910 à St André-de-Cubzac, en France. Il est le fils d'Elizabeth et de Daniel Cousteau. Il passa la majeure partie de son enfance près de la mer à nager et à bricoler des gadgets comme des caméras sous-marines et des jouets mécaniques. Après ses études secondaires, il s'enrôla dans l'armée française et combattit remarquablement dans la Marine pendant la seconde guerre mondiale. Durant ses années dans la marine française, il conçut et testa le scaphandre qui précéda les systèmes SCUBA utilisés aujourd'hui par les plongeurs à travers le monde. Son scaphandre fut utilisé, après la seconde guerre mondiale, par les alliés pour enlever les mines de l'ennemi dans les eaux internationales.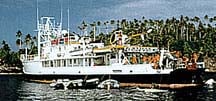 Vers la fin des années 40, Cousteau entreprit de réaliser le rêve de sa vie qui était de trouver de nouvelles méthodes d'exploration du monde océanique. En 1948, il acheta le bateau Calypso qui était à la fois un yacht et un laboratoire marin. Ce bateau devint aussitôt synonyme de Cousteau et de ses aventures marines. En 1956, grâce à la Calypso et à son équipage, la position de Cousteau comme étant le plus célèbre biologiste du monde fut confirmée quand il reçut un prix académique pour son documentaire sous-marin époustouflant, Le monde silencieux.
Parmi les 120 documentaires que Cousteau a réalisés dans sa vie, le plus important fut Le monde sous-marin de Jacques Cousteau, une série télévisée qui démarra en 1968. Cette série apporta d'inoubliables images à des milliers de foyers, des images des alentours du bas fond exotique marin peuplé de récifs de corail et d'effroyables requins. Elle contribua à apporter une meilleure compréhension d'une partie du monde que peu de gens avaient visité jusque-là. La série a aussi eu le mérite d'éclairer le grand public sur les problèmes qui frappent les environnements marins, car l'empiétement humain est une menace pour les véritables fondements aquatiques dans le monde entier.
Aujourd'hui, la société Cousteau basée à Paris continue l'œuvre de Jacques Cousteau. La société produit La découverte du monde, une série documentaire lancée par Cousteau lui-même en 1986.
En juin 1997, Jacques Cousteau laisse derrière lui deux mondes : la terre sur laquelle vivent sa famille, ses amis et admirateurs et la mer peuplée de ses innombrables espèces mystérieuses.
En tant qu'admirateurs du monde de Jacques Cousteau, peut-être le meilleur moyen de perpétuer son oeuvre est de respecter la vie des espèces marines qu'il défendait pour qu'elles puissent continuer à exister pour les générations à venir.
Page created on 7/9/2015 3:24:21 PM
Last edited 7/9/2015 3:24:21 PM
The beliefs, viewpoints and opinions expressed in this hero submission on the website are those of the author and do not necessarily reflect the beliefs, viewpoints and opinions of The MY HERO Project and its staff.
Extra Info
Contact : la société Cousteau, 870 Greenbrier circle, Suite 402 Chesapeake, VA 23320/(804) 523-9335