"I would say the top thing I think about every single day of my life, other than my fans, loving the music, and my family being healthy, is social justice and equality." - Lady Gaga
MY HERO supports Lady Gaga and her benefit for the global pandemic of the Coronavirus on April 18!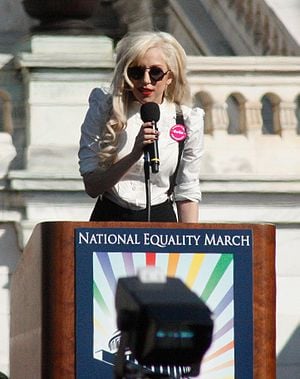 Lady Gaga giving a speech at the National Equality March

LadyGaga-EqualityMarch.jpg: https://www.flickr.com/people/ryanjreilly/derivative work: DynaBlast / CC BY (https://creativecommons.org/licenses/by/2.0)
Fighting for Equality With Her Music
When you hear all this talk about heroes, heroic qualities and such, the image of a 25 year-old, world-wide pop star who does seem a bit crazy doesn't pop into your head. But I'm going to prove to you that Lady Gaga is indeed a hero.
Stefani Joanne Angelina Germanotta, better known by her stage name Lady Gaga, is an American pop singer-songwriter, dancer and activist. She was born on March 28th, 1986 in New York to Joseph and Cynthia (née Bisset) Germanotta and is of Italian descent. She attended a private catholic school in the Upper East Side and, while in school, Gaga was bullied all the time for not coming from a rich background like most of her classmates. It must have taken a lot of courage to stay in that school when everyone saw her as being different. When she graduated, she found out she was one out of 20 people who made it into the Tish School of Arts at NYU, but dropped out to follow her musical career. By the age of 20, Lady Gaga was signed to Interscope Records and was writing songs for other artists. But once her first single dropped in 2007, everything changed. She was no longer "Lady Gaga, the songwriter nobody knew about," she was now "Lady Gaga, the pop super-star."
They say that when you've achieved fame, you've succeeded, but Lady Gaga didn't feel that way. She felt like to achieve success she had to speak up for those who couldn't, and used her newfound celebrity status to leverage change. Ever since her rise to fame began, Lady Gaga has been campaigning for gay rights and to abolish the "Don't Ask Don't Tell" policy against gay soldiers in the military. She gave speeches at rallies everywhere, the most popular being in Portland, Maine in 2010, to inspire people to join her cause not just for her, but for the people who needed it. That particular rally in Portland, which was in the media unlike most of her other rallies, started a chain reaction.
My Hero suggested viewing: Lady Gaga Talks about Being Bullied
Many people began to see that the DADT policy was taking away the human right of free speech from those soldiers. Lady Gaga said, "I have called both of the senators that operate in my district. I will not stop calling until I reach them." And finally, they listened. DADT was abolished on September 20th, 2011, and finally, those gay, lesbian, bisexual and transgender soldiers were able to serve their country openly. All of this started because of a rally and because she had the perseverance and dedication to keep going with this until the end.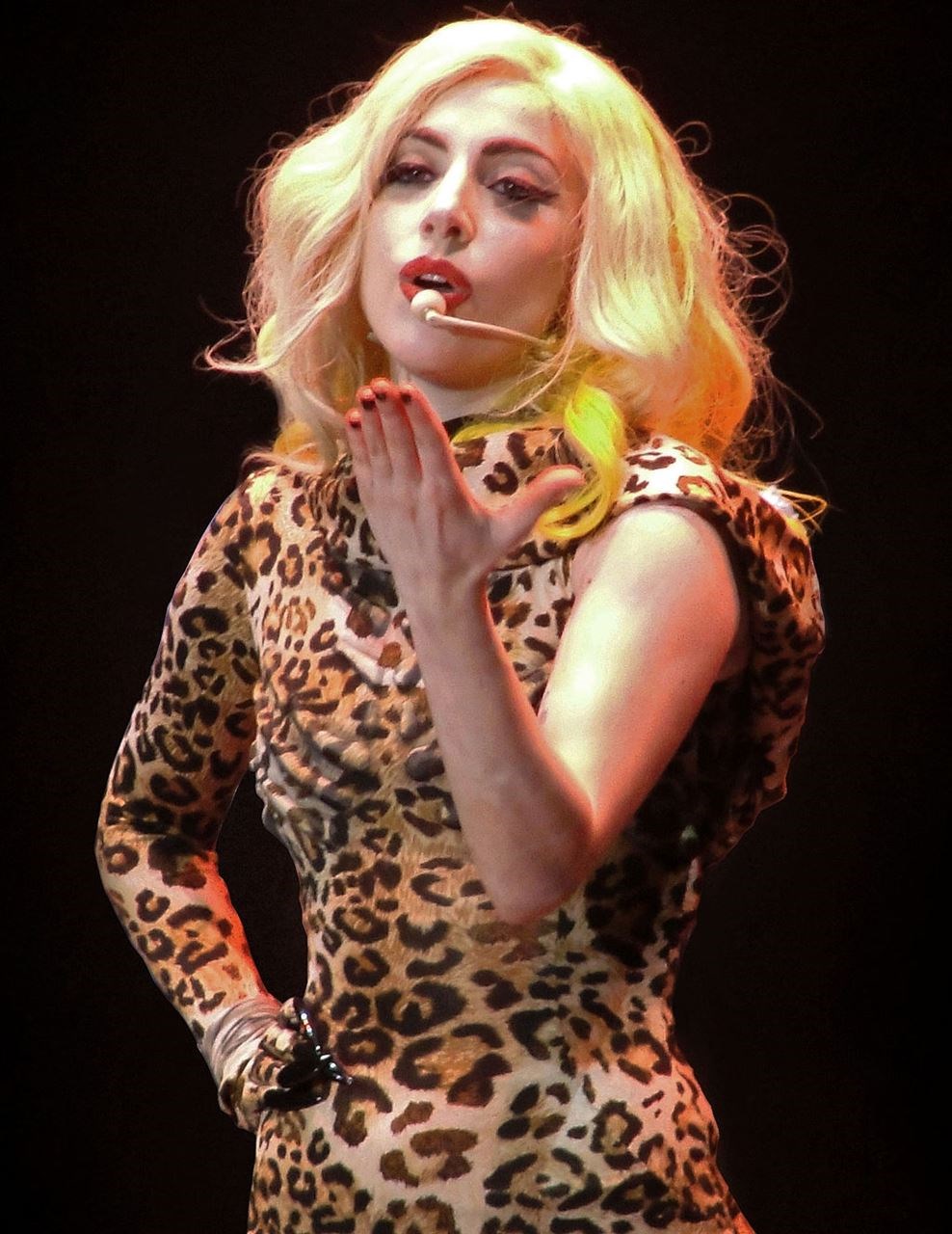 Lady GagaThe_Monster_Ball_-_Poker_Face_revamped2.jpg: John Robert Charltonderivative work: Chasewc91 / CC BY (https://creativecommons.org/licenses/by/2.0)
Although that may be her biggest accomplishment to date, Lady Gaga has accomplished other things. She combined forces with Cyndi Lauper and MAC Cosmetics to release a line of lipsticks called Viva Glam, to help raise awareness for HIV/AIDS. Even though she didn't collaborate on the "We Are the World 25" song for Haiti relief after the earthquake, she did donate all the proceeds from her concert and online store on January 24th, 2010 and raised over $500,000 for Haiti Relief Efforts. When the earthquake and tsunami happened in Japan earlier this year, she tweeted a message to her then 8 million followers on Twitter that had a link to buy a bracelet she helped design, in which all proceeds went to earthquake relief in Japan. Those bracelets alone raised over $1.5 million. She's also an anti-bullying activist, and her most recent album "Born This Way" reflects that. "Don't hide yourself in regret / Just love yourself and you're set / I'm on the right track baby / I was born this way" she sings in the title track "Born This Way." "I just want to be myself / And I want you to love me for who I am / I just want to be myself and I want you to know / I am my hair," she pleads in "Hair," "I've had enough / This is my prayer / That I'll die living just as free as my hair / I've had enough / I'm not a freak / I just keep fighting to stay cool on these streets." And I think that songs like that help people get through bullying and to know that it does get better, that it's okay to be different as long as you know who you want to be.
So, in conclusion, I do consider Lady Gaga as a hero, but not because she's famous. Because of all her courage in the past, perseverance, individuality, dedication to what she believes in and how she inspires people. She doesn't do it for the publicity, or to be more famous. She does it because she wants to, and she uses her celebrity status as a voice to reach out and help get the word around. I believe she will continue to use her celebrity status, not for her own personal gain, but for the gain of our society.
Page created on 10/21/2011 12:00:00 AM
Last edited 3/13/2021 9:49:21 PM